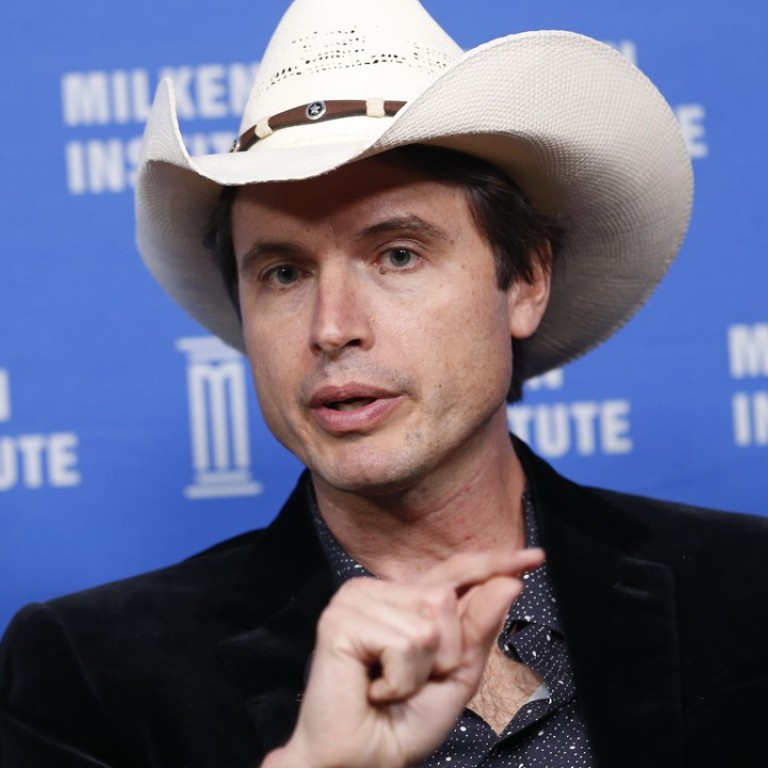 The younger Musk and his campaign to champion 'real' food for everyone
Weekly, mostly 20-somethings spend about 15-20 hours doing farm work, 10 hours handling the business side and 10 hours getting coached by Musk's urban farming incubator Square Roots' in-house agriculture experts and mentors
In sunny California, Elon Musk is upending America's auto and space industries. And in a cold, gritty section of Brooklyn, his brother Kimbal has embarked on a project that is just as significant in its own way: trying to reboot the food system.
The younger Musk is the co-founder of Square Roots, an urban farming incubator with the goal of teaching young people how to farm in cities while preaching the importance of locally sourced, non-processed food.
Having shown its potential during the past two years in the car park of a closed factory near public housing estates of Brooklyn's Bedford-Stuyvesant, Square Roots is ready to branch out.
It is looking to set up plots – each the equivalent of two acres of farmland – in cities across the US. They are "hydroponic", which means the crops grow in a nutrient-laced water solution, not soil.
The sites in contention, all of which had to pledge support from local governments and businesses, are in Chicago, Denver, Memphis, Indianapolis, Pittsburgh, Boston, Detroit, Los Angeles, Tampa, Atlanta, Dallas, Cincinnati, St. Louis, Washington DC, and a second site in New York.
Musk and Square Roots' CEO Tobias Peggs will narrow the list down to 10 later this year.
In Brooklyn, budding agricultural entrepreneurs set up year-round farms inside 10 retired metal ocean shipping containers and grow crops like microgreens, herbs and strawberries.
"I want them to get to know entrepreneurship through food," said Musk, who says he counts both growing business and food as big passions.
In 2004, he co-founded The Kitchen Restaurant Group, which opened eateries in Colorado, Tennessee, Illinois and Indiana.
Musk, who sits on the board of directors of his brother's electric car and solar power provider maker Tesla, also co-founded Big Green, an organisation that installs gardens in underserved schools and teaches children about the importance of eating natural food.
With so much on his plate, Musk leaves the day-to-day running of Square Roots to Peggs. They usually talk twice a day, Peggs said. The two met while working at OneRiot, a social media target-advertising company in Colorado, which Walmart acquired in 2011.
Peggs has a doctorate from Cardiff University in Wales in artificial intelligence but can just as easily switch to extolling the virtues of freshly-picked peppery arugula.
"By 2050, there'll be 9.6 billion people on the planet with 70 per cent of them in urban areas. That is driving a lot of investment and interest in urban farming," he said.
"Our thinking was if we start in New York and we can figure out solutions … then we'll be able to roll out those solutions to the world."
To initially get set up in Brooklyn back in 2016, Square Roots raised US$5 million in – no pun intended – seed money, Peggs explained. For each of the 10 new locations around the country, slightly more than US$1 million is needed.
Peggs said the farmers find buyers for their produce, like stores, restaurants and individuals, though they also inherit the clients list from previous Square Roots participants. Some of Square Roots' staff of 14 help generate leads, too. Thirty per cent of what they earn goes to Square Roots, and expenses are another US$30,000. That leaves them with an annual profit of US$30,000-$40,000.
A single 40-foot container provides 320 square feet of growing space. It is outfitted with long, narrow towers studded with crops that are hung on tracks from the ceiling in rows, like vertical blinds.
The plants get their water and nutrients from irrigation pipes running along the tops of the towers and their sunlight from dangling narrow strips of LED lights. Besides arugula, crops include kale, radicchio and pak choi.
"What we've proved in the first phase is we can take young people with no experience in farming and get them very, very quickly to grow really high-quality food that people want to buy," he said.
Over the year-long programme, the young, mostly 20-something farmers learn about not only agricultural science and farm management but also marketing, community outreach, leadership and business, according to Peggs.
During a typical week, they spend about 15 to 20 hours doing farm work, 10 hours handling the business side and 10 hours getting coached by Square Roots' in-house agriculture expert and the team of mentors the company has assembled.
Last year's group was comprised of 10 people, and this year's has six. More than 1,500 individuals have applied to Square Roots, the company said.
The programme has attracted participants like Hannah Sharaf, who sells her weekly yield of 25 to 30 pounds of microgreens to office workers for US$7 per 2.25-ounce bag. Sharaf, 27, said she is fascinated by "how food affects the body," prompting her to give up a career in international marketing. "I really want to be a farmer. I'm exploring both urban and soil."
"High-profile, really cool projects are important, because they draw attention to urban agriculture. They fascinate people. They attract capital, and that helps to grow the sector," said Nevin Cohen, research director of the City University of New York's Urban Food Policy Institute.
Part of the draw is the boldfaced name attached to it: Musk. That could make urban farming a bigger topic in the national conversation about local and fresh food, which also is driven by thousands of small activists, some of whom have been advocating for decades.
"I don't enjoy the industrial food system. It's definitely not good for America or the world," Musk said, citing high obesity rates, the thousands of miles food has to be shipped and the lacklustre taste. "We're very excited to teach America about real food."
But Musk acknowledged that not everyone can afford that – including some of Square Roots' neighbours. At least, not right now.
"It's not something restricted to the urban elite," he said. "Our mission is real food for everyone. We need food to be delicious and young entrepreneurs to be empowered."
This article appeared in the South China Morning Post print edition as: Kimbal Musk finds fertile ground for food business