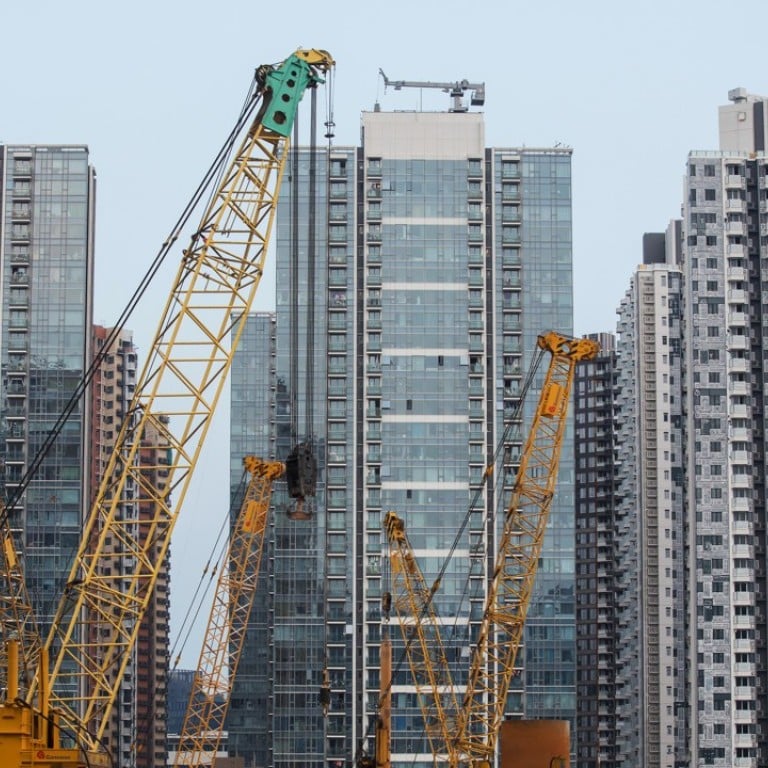 Three makes a trend, as CLSA becomes third bank to forecast Hong Kong's home prices to drop
Headwinds that triggered the three corrections in the city's home prices from 2005 to 2016 are now all in play, analyst says
Hong Kong home prices will drop 15 per cent over the next 12 months, investment bank CLSA said, joining an increasing number of financial institutions predicting drops in the world's most unaffordable housing market.
"Hong Kong's property market is having its worst combination of fundamentals in 15 years with rising interest rates, a slowing economy and depreciating yuan," wrote Nicole Wong, regional head of property research at CLSA, in a report released on Monday. "Sentiment could deteriorate at any time as prices are unaffordable."
Hong Kong's housing prices have risen for 27 straight months.
CLSA joined Citibank and UBS in predicting a sharp downturn, saying the city faces "the worst headwind in 15 years".
Wong noted that the headwinds that triggered the three corrections in the city's home prices from 2005 to 2016 – a mortgage rate rise, a global financial crisis and yuan depreciation – are now all in play.
"Hibor is approaching 2 per cent, from under 1 per cent for most of the past nine years," wrote Wong. "The 17 per cent correction in the Hang Seng Index indicates a slowing economy, while [the] yuan has depreciated 9 per cent so far."
Often used as a reference of mortgage rates, Hibor, or Hong Kong interbank offered rate, had its one-month rate hitting a 10-year high of 1.6 per cent in mid-June, while the three-month rate amounted to 2.01 per cent under a liquidity squeeze in the banking sector.
Hong Kong's benchmark Hang Seng Index, meanwhile, has extended losses since its record high in January and has shown no immediate sign of recovery. The same fate has fallen on the yuan, which has weakened since April.
Wong referred to the Rating and Valuation Department's index of the city's price of used homes, which has stretched a rally of 27 months.
"With [a] 14 per cent price gain this year so far, the [upwards] cycle looks set to reverse," she wrote.
Market observers have repeated that the current home price is supported by a strong end-user demand. But Wong said the current demand is only higher than supply by a "very small margin," when new supply only amounts to about 0.8 per cent of home stock per year.
"Affordability is highly stretched at the moment, evident from the fact buyers are increasingly turning to old public rental housing flats, where prices have gone up by 70 per cent to 90 per cent, reaching as much as HK$6 million apiece," wrote Wong. "Also, some of the demand has been supported by parents re-mortgaging to finance a down payment for children, and by mainland Chinese coming to work in Hong Kong."
Wong said these sources of demand only resulted from capital allocation that may change when the residential yield gap with three-month Hibor is at its narrowest since the global financial crisis.
"A big developer discounting, major banks raising the prime rate, or the government further restricting non-local buyers or increasing supply by shortening the lead time between land sale and presale are all possible last straws on the back of the camel," Wong wrote.
Peter Churchouse, chairman of Portwood Capital, which focuses on investing in real-estate stocks in Asia, echoed CLSA, saying property prices are closely correlated to the stock market.
"Stock markets in Hong Kong and in the mainland are entering a bear market. It is likely that we will have a negative property market. It is a historical record in the past 45 years," he said.
Churchouse is also a veteran property investor and the former head of property research and regional strategist at Morgan Stanley in Asia.
On top of a slowing economy, higher interest rates and increase in new supply will all combine to "give a negative scenario for asset prices."
Consultancy Savills also noted growing headwinds in the city's housing market, but said it is not clear that they will lead to a reversal soon in the housing market.
"Prices are at historical highs. The cycle is looking quite long in the tooth. However, it's difficult to predict how the US-China trade dispute may pan out. In the future, real interest rates remain in negative territory, and supply remains constrained in the market," said Simon Smith, head of research and consultancy at Savills. "So for all those reasons, it may be difficult to make a call at this stage."
Consultancy Cushman & Wakefield said the effects from the China-US trade war could weigh on the city's home prices.
"We lowered our home-price growth estimate in the rest of the year from a 5 to 10 per cent growth to about no change," said Tom Ko, executive director of capital markets at consultancy Cushman & Wakefield. "But the [trade] war's effects will probably only appear next year, with the extent of home price change depending on the war's depth and duration."
With additional reporting by Martin Choi
This article appeared in the South China Morning Post print edition as: HK market facing 'worst headwind in 15 years'