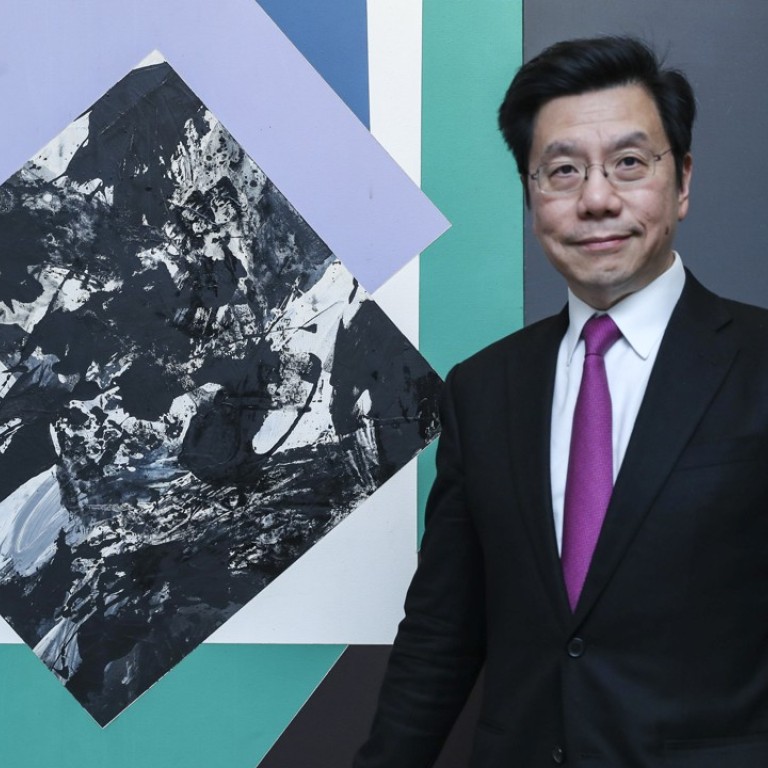 China and US set for arms race in AI that will lead to respective spheres of dominance, says expert
When it comes to implementation and monetising of technologies, China leads the global race in AI, said leading venture capitalist and author Lee Kai-fu
China and the United States are locked in a new arms race for dominance in artificial intelligence, a contest that may lead to geographical spheres of dominance, according to leading mainland venture capitalist Lee Kai-fu.
Underscoring the importance of the technology, President Xi Jinping in October said China must control the use of artificial intelligence and called on party members of the National Congress to apply the technology to propel the country's growth.
China has lagged behind the US in the invention of disruptive technologies, according to Lee, co-founder and chairman of Sinovation Ventures.
Meanwhile, the US still commands a lead in research, thanks to the success of its universities in attracting global scientific talent, a clear advantage which is disproportionate to its own population size, said Lee, who previously held the post of president at Google China.
"[However] when it comes to implementing already-known technologies, and monetising them, China would lead in the global race in AI, backed by its virtual cycle of having a large market, a large pool of data, which helps build better AI technology and fosters profitability for entrepreneurs as they in turn reinvest this money to build more products," said Lee.
Lee, the author of the 2018 book AI superpowers: China, Silicon Valley, and the new world order, said his vision is that these two winners in AI will eventually morph into the respective leaders in a parallel manner.
China will command a nexus that includes half of the world's population, comprising Southeast Asia, Africa, and potentially India and the Middle East.
This group of countries with growing populations will contrast the other US-led nexus comprising the developed world, including Canada, Australia, the euro zone and Japan.
"What is interesting is that China's expansion into the developing markets has nothing to do with the government, but more to do with a drive by entrepreneurs to make money out of these markets. This is not just limited to the expansion of online market share, but also offline, too," he said.
This is evident by leading Chinese tech companies, such as Ant Financial, the affiliate of Alibaba Group Holding, which is using its third-party online payment platform to expand globally. Others, such as news aggregators Jinri Toutiao and Newsdog are also expanding into countries such as India.
In that vein, these Chinese tech giants are already practising what Xi prioritised in his national blue print, as he called on the nation to leverage its massive data and huge market potential. China aims to be the world's leading power in AI by 2030, with annual industry earnings of more than 1 trillion yuan (US$143 billion).
The Washington Post reported in September a plan by the US Defence Department's research arm to invest up to US$2 billion over the和next five years towards programmes that will advance AI.
Under Lee's stewardship, Sinovation Ventures, which manages six US dollar and renminbi funds, has invested in over 300 companies both in China and the US. These include investments in one of its portfolio companies in autonomous driving technology, WeRide.ai. Renault-Nissan-Mitsubishi, which backs the innovation fund, in October made separate investment as a lead investor in the start-up's A-round funding.
WeRide.ai's AI technology is already deployed in autonomous taxi fleets in the city's selective areas.
The role of venture capitalists in enhancing China's AI ambition will become increasingly important. Sinovation Ventures has been supporting the China expansion of various Silicon Valley start-ups, such as WeRide.ai, by helping them recruit China-based technology workers who are trained at its AI Institute.
The Beijing-based institute aims to be a leading lab for AI scientific research and technology applications, such as in the field of machine learning, and computer vision applied in consumer behaviour recognition.
Alibaba is the owner of the South China Morning Post.