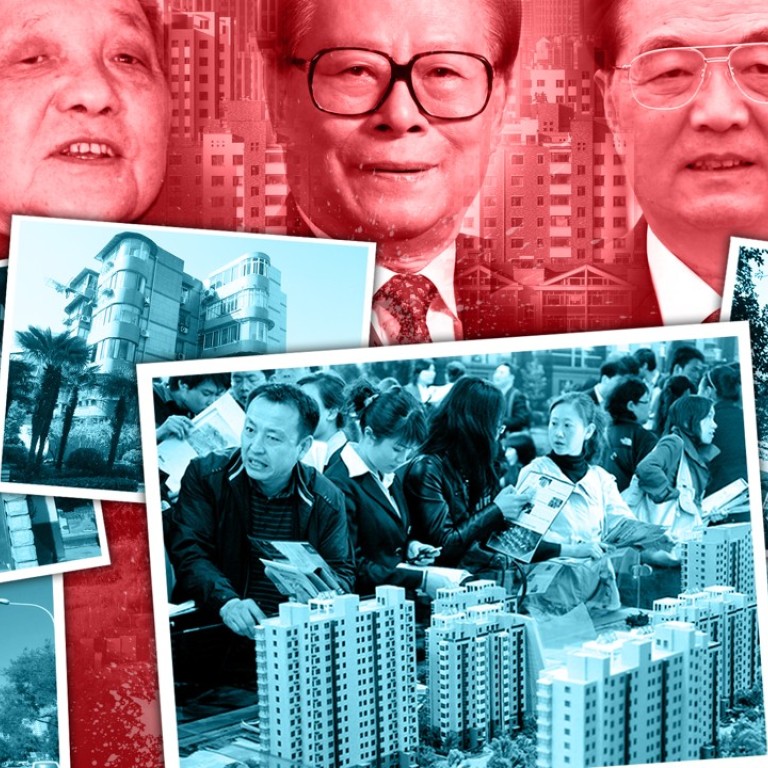 Exclusive

|
China property: how the world's biggest housing market emerged
Home ownership is China's ultimate symbol of success, the mark of adulthood, readiness for a family, and ownership of one's financial destiny
Chinese citizens devote as much as 74 per cent of their savings toward housing, compared with 35 per cent in the US, according to research
Two decades ago, a scholar returned to China with a gift from his studies in America – the dream that an ordinary Chinese family can own a home.
It was the quintessential American dream. But, in the hands of Meng Xiaosu, who would go on to be known as China's "Godfather of Real Estate," it would quickly become the quintessential Chinese dream.
"A friend of mine in the United States told me about their dream – one home, one car," Meng recalled in an interview with the South China Morning Post. "I believed that owning a car was out of reach at the time in China. But China could have the same home ownership dream."
That was quite an aspiration for the time. The wounds of China's Cultural Revolution (1966-1976) were still raw, the communist nation's dalliance with capitalism since 1978 was still in its teens, and the very idea of property ownership was not even protected by law.
But Meng was no ordinary visiting scholar. He was already the president of China's first real estate firm – the China National Real Estate Development Group (CNRED). He also had been tapped by the Chinese government to map out a plan to develop property in the country.
Due in no small part to Meng and innovative thinkers like him, China is now the world's biggest housing market, with US$1.7 trillion of new home sales last year, seven times the total transactions in the US, according to Stansberry Churchouse Research.
Residential housing construction became one of the main pillars of China's extraordinary growth over the past four decades, helping to create a thriving middle class.
But as prices have soared and investors have hoarded flats, many Chinese – especially young adults – now find themselves worrying that owning just one home may forever be beyond their reach.
"That is the biggest potential risk as property is a major source of Chinese families' assets," said Gan Li, a professor at Southwestern University of Finance and Economics. "The poorer the family, the heavier their properties weigh in their wealth. If home prices collapse, the wealth of most Chinese will largely shrink and that will end up with a plunge in consumption."
Chinese citizens devote as much as 74 per cent of their savings toward housing, more than double the 35 per cent in the US, Gan said.
Home ownership is particularly acute in a country with limited investment options, becoming a Gordian Knot – an impossibly complex problem – that no leader is able to untangle, said Mizuho Securities' property analyst Alan Jin.
Chipping away at the 'iron rice bowl'
How China arrived at this moment of high drama began with the early spadework by the genius of economic experimentation – Deng Xiaoping – and the early bird private developer Fosun Group.
Deng – who became China's paramount leader from 1978 to 1989 – experimented with market reforms in select cities. One area he revisited was property ownership.
In 1984, Deng delivered a milestone speech that supported private housing ownership. That marked a turning point, setting off experiments in different cities to reorganise housing construction and sales of public-sector flats.
In 1987, Shenzhen's authorities sold the first land-use rights in China. Shenzhen Special Economic Zone & Properties, a company controlled by the local government, ultimately outbid 43 other contenders with a 5.25 million yuan (US$756,000) bid after 20 minutes.
A year after Shenzhen's pioneering move, a national law was enacted to officially define the concept of "economically affordable housing" and "commodity housing," or privately owned homes in today's parlance.
Shanghai – then, as now, China's most internationally flavoured city – jumped into the experiment as well. Two types of housing were available for sale. The city government offered to sell "economically affordable" housing to low-income workers – separating housing from employment – while fancier flats were made available to better-off non-mainland Chinese.
Guo Guangchang, then 25 years old and recently graduated from Shanghai's Fudan University, saw an opening with his city's property experiment.
He felt he could build quality flats affordable to Shanghai residents who were also experimenting- and becoming affluent- through owning businesses.
"I talked to the authorities and acted as an agent to sell 10,000 square metres (107,000 square feet) of housing," Guo said in an interview with the Post in Shanghai. "I upgraded them into a product targeting local Chinese who could afford better quality homes at a higher price. The sales response went tremendously well."
Fosun followed the next year by turning a nearby site into the company's first residential project, now known as Fosun Garden, Guo said.
Elsewhere, other developers were seizing similar opportunities. Country Garden, also founded in 1992, would go on to become China's largest property seller today. Evergrande, established in 1996, is the third-biggest Chinese developer today. Others such as China Vanke and Wanda were set up in the 1980s, taking advantage of Deng's economic reforms.
In 1998, China's government during the presidency of Jiang Zemin decided to nationalise the experiments with home ownership. The State Council – China's cabinet – announced that housing would no longer be linked to employment, putting a chip in the iron rice bowl.
Meng, back from his study of America, was essential in this national adoption of the earlier city-led experiments in private home ownership.
"I led a committee to do research on property reform, which was endorsed by the State Council," said Meng. The study helped introduce a housing market in which prices were controlled by the market, not the government.
The move toward private property achieved another goal, Meng said. Many of China's steel mills had excess capacity, so the subsequent building boom provided a new source of domestic demand.
A bubble is '100 per cent sure'
Along with the prosperity, home ownership also brought serious risks.
Housing was embraced by average investors as the quickest, safest way to get rich, a belief that was reinforced by the 2015 stock market meltdown that destroyed US$5 trillion in wealth.
People poured their life savings into housing. Today, 90 per cent of Chinese families own a home, while about one out of four Chinese households own multiple homes, according to research by China's Southwestern University.
Home prices have skyrocketed 325 per cent in the past two decades. OP Capital's chief executive Oscar Choi said he's "100 per cent sure" there's a bubble in the housing market.
Meanwhile, overbuilding has emerged as a concern.
Property is the biggest risk in China in the next 12 months, much greater than the US-China trade war, Macquarie's Greater China economics head Larry Hu said in August.
While he and other analysts expect Beijing will crank up its intervention in the property market to prevent any catastrophic slide in prices, there are no guarantees on results.
Looking ahead, big developers are shifting their business models to protect their empires. Evergrande, Wanda and Country Garden are now diversifying into health care, robotics and green energy.
A key moment arrived in 2016 in Wenzhou, a city in eastern China that's often dubbed the cradle of Chinese entrepreneurship. Some homeowners were facing the expiry of their 20-year leases. There were concerns and uncertainty over how – and, more importantly, whether – the government would renew their leases. In the end, the local authorities allowed owners to renew their leases without having to pay extra.
The Wenzhou solution underscores the high-stakes decisions ahead for policymakers and the courts to clarify Chinese-style home ownership.
Xi: 'Houses should be for living in, not for speculation'
The first small-scale burst of a housing bubble was seen in 1993-1998, ahead of the nationwide reform, according to the International Monetary Fund.
In 1994, the central government created the Housing Provident Fund to help families save for a down payment. That set off a buying stampede in cities, creating considerable chaos.
More overheating later led Beijing to issue policies in 2005-2006 on interest rates, lending standards, land supply and affordable housing.
The Global Financial Crisis prompted Beijing to launch a 4 trillion yuan stimulus programme to keep home prices from falling.
In 2013, Beijing increased the required minimum down payment ratio to reduce speculation and default risk.
When home prices rose more than 30 per cent in first-tier cities and 20 per cent in second-tier cities between 2014 and August 2016, Beijing imposed purchase restrictions in 16 cities. Since then, a raft of measures from higher mortgage down payments to increased interest rates and price intervention continue.
The average selling price for newly built non-governmental housing in 60 tier-three and tier-four cities tracked by Tospur Real Estate Consulting rose 28.1 per cent from January 2016 to May 2018.
"Prices won't fall because housing demand remains high, while supply does not exceed demand," said JPMorgan's China Property Research head Ryan Li.
While overbuilding is a danger, much demand is expected to upgrade housing, Li said.
"While we say home ownership is over 90 per cent for the total of 276 million urban households, half of them were built before the housing reform, and a big part of such houses needs to be redeveloped to increase the efficiency of land," Li said.
Multimedia Infographics: China's tiered cities explained
Zach Zhao, 28, who works in a state-owned bank in Tianjin, has seen his home ownership dream evaporate. He and his girlfriend talked of marriage and buying a home in 2015. But they broke up and prices have since soared by nearly 50 per cent.
"If the price continues to rise, I will never afford my own home," said Zhao. "The amount that my parents can chip in has not changed, and what I saved from my salary cannot catch up with the increase in home prices. It's difficult to find someone who would marry a guy living with his parents."
The low debt-to-equity ratios of Chinese homeowners – typically, 40 to 50 per cent is paid as a down payment by the owner – has a stabilising effect.
Global residential markets that have historically seen major price corrections saw a large proportion of owners holding significantly far higher debt-to-equity ratios than in China today, according to property consultant Cushman & Wakefield.
Though China's home prices are high by some standards, the mortgage debt fundamentals are very different, which reduces the overall risk to the economy, said Cushman's Greater China research director James Shepherd.
Chinese developers are experiencing challenges of late. Some have cut prices or launched homes at below costs to clear their pipeline. State-owned Jinmao Holdings is one that has been selling homes in Xiamen at below costs, according to media reports.
David Ji, director and head of research and consultancy at Knight Frank, predicts Xi will control home prices without letting the bubble burst.
"Compared with previous policymakers, Xi's policies this time are more consistent," Ji said. "There is no sign that Chinese authorities will reverse these policies, as their wider aim is to promote better equality among the population."
Last year, Xi declared that "houses should be for living in, not for speculation." He has been encouraging cities to experiment with ways to increase affordable homes, keep home prices stable, and encourage renting.
Home ownership in China is no longer just a dream but also an identity. For Xi, the stakes in keeping both alive couldn't be higher.
Additional reporting by Sandy Li