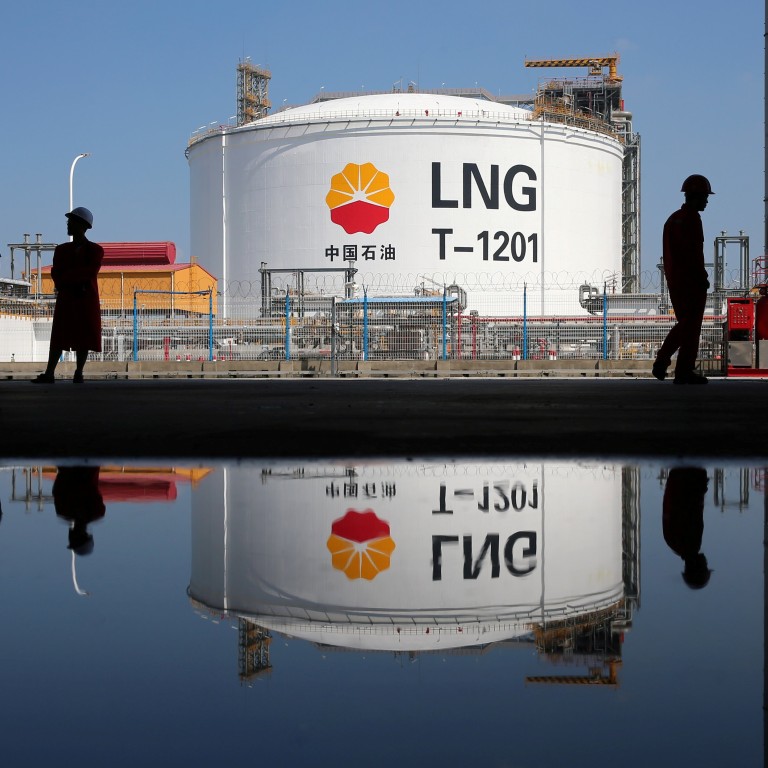 PetroChina to broaden LNG import sources amid US-China trade war, posts US$4 billion profit
Company posts 3.6 per cent year-on-year increase in net profit, in line with analysts' expectations
PetroChina is also aiming for more domestic output from unconventional sources, chairman says
China will continue to diversify where it imports natural gas from amid its protracted trade war with the United States, which will not affect the country's demand for cleaner burning fuel, PetroChina's president said on Thursday.
The state-backed company, China's largest gas importer as well as its largest oil and gas producer, is looking to invest in more gas projects in countries covered by Beijing's Belt and Road Initiative, Hou Qijun said.
"The US, as a major oil and gas producer, is highly complementary with China – a big energy consumer," he said on Thursday after PetroChina posted a 3.6 per cent year-on-year increase in net profit to 28.4 billion yuan (US$3.97 billion) for the year's first half, meeting analysts' expectations.
"Had the trade war not been there, the US would have been a very promising gas supply growth source for China," he said.
"China will pursue even greater diversification of its gas import sources. As some 40 nations are expected to have the capacity to export liquefied natural gas in the future, barriers to US LNG export to China will not affect our diversification strategy, nor China's gas demand."
PetroChina sources gas from Australia, Qatar, Canada, as well as the US. But with the escalation in the trade war, Beijing imposed a 10 per cent tariff on US LNG last September, and raised it to 25 per cent in June this year.
Hou would not say whether the hike had killed off trade, but said PetroChina was keen to maintain a trading relationship with US gas producers.
With overseas projects accounting for 15 per cent of its oil and gas output, Hou said the company would seek to raise investment in Central Asia, Russia and the Middle East, especially in gas projects.
PetroChina will also continue to step up domestic exploration and production investment to slow down China's rising reliance on foreign gas, which made up just over 45 per cent of consumption.
Hou said the company was aiming for output from unconventional sources of natural gas, including that trapped in shale rocks, coal seams and tight underground structures, to grow 14 per cent next year to 46.8 billion cubic metres, making up 37 per cent of total gas output.
His comments came after energy and commodities consultancy Wood Mackenzie said on Wednesday it had slashed its forecast for China's long-term gas output in 2040 by 10.7 per cent to 352 billion cubic metres, citing dimmer growth prospects for shale and coal bed gas due to geological challenges and inadequate infrastructure.
While China is poised to become the world's third-largest gas producer by 2027, thanks to output growth in conventional and tight gas, it needs to find more import sources to meet long-term needs, Wood Mackenzie consultant Wang Xueke said.
Wood Mackenzie cut its forecast for China's shale gas output in 2040 by a third to 88 billion cubic metres compared with a projection made in last year's second half.
Although China was estimated to have the world's largest "unproved technically recoverable" shale gas resources of 31.6 billion cubic metres – 80 per cent more than that of the US – its annual output of 10 billion cubic metres last year was only a fraction that of the US's 526 billion cubic metres in 2017.
China had set in 2014 a shale gas output target of 30 billion cubic metres for next year, revised down from a goal of 60-80 billion cubic metres envisioned in 2012, when Beijing recognised the challenges faced by producers.
PetroChina declared an interim dividend of 7 fen per share and a special interim dividend of 0.77 fen, making a total of 7.77 fen, down from 8.88 fen last year.