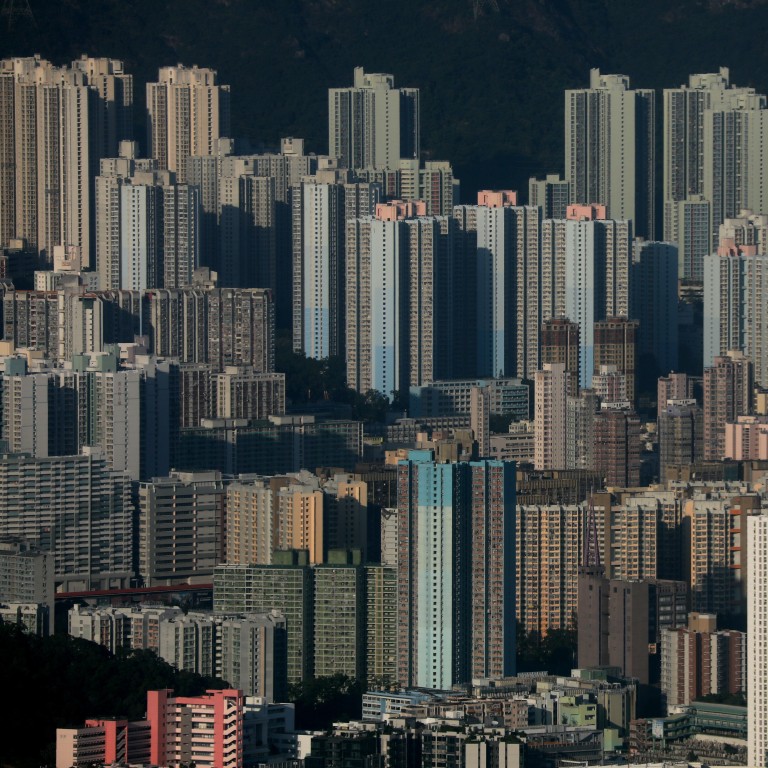 Hong Kong property prices are likely to fall across the board in 2020, industry insiders say
Luxury homes and high-street shops are to bear the brunt, according to poll conducted by South China Morning Post
Prices of luxury homes to fall by 20 per cent, while rents for high-street shops to fall by 10 per cent to 30 per cent
Prices of Hong Kong properties – residential, retail and office – are expected to fall in 2020, according to a majority of 15 industry players and analysts polled by the
South China Morning Post
, with
the city's ongoing anti-government protests
, the US-China trade war and
an economy in technical recession
weighing on the sector. Luxury homes and high-street shops are to bear the brunt.
The respondents included property consultants JLL, Knight Frank, Colliers International, CBRE and Cushman and Wakefield, property agents Centaline Property Agency, Midland Realty and Ricacorp Properties, property developers such as Sun Hung Kai Properties (SHKP), Sino Land, Henderson Land Development, Lai Sun Development, as well as financial services firm CGS-CIMB Securities and Maggie Hu, an assistant professor of real estate and finance at Chinese University.
JLL, Knight Frank, Colliers, Cushman, Centaline, Lai Sun, Empire Group and CGS-CIMB said home prices will fall. Midland Realty and Ricacrop, meanwhile, said they will rise 5 per cent to 10 per cent. SHKP, Sino Land and Henderson Land said they would be stable, and Maggie Hu said home prices will stay flat.
Eight out of 14 respondents, or 57 per cent, said they expected the prices of general housing to fall 15 per cent, with one predicting luxury homes to drop by 20 per cent. US commercial real-estate services and investment firm CBRE does not cover the residential sector.
"The longest bull market in the Hong Kong property sector's history came to an end in the second half of 2019, because of the local social movement and economic uncertainties," said Joseph Tsang, chairman of US commercial real-estate services firm JLL in Hong Kong. The company, the most bearish of the respondents, expected luxury home prices, office rents and high-street shop rents to fall by up to 20 per cent, and by as much as 15 per cent for general home prices.
The value of Hong Kong homes has rocketed by 544 per cent from its lowest in July 2003, when the city was gripped by the Sars (severe acute respiratory syndrome) outbreak. Home prices then fell by as much as 17 per cent in the second half of 2008 because of the global financial crisis, but property values started rebounding at the beginning of 2009, rising 25.7 per cent that year. And this rising trend continued until June this year.
"We consider 2008 as only a breather for the market – not a correction," Tsang said, referring to the fact that Hong Kong home prices experienced a 15-year-long boom until 2019. He said unemployment could be the biggest threat to Hong Kong's economy, dampening home buying demand. "Given the strong relationship between unemployment and housing prices … rising unemployment will weigh on the housing market," he added.
"The luxury residential market was largely backed by mainland Chinese capital over the past five to 10 years. However, mainland buyers have become inactive this year because of tightened capital controls and the US-China trade war. The prices of luxury residences have dropped 4.7 per cent since July, reversing growth achieved in the first half of this year," Tsang said.
Alva To, vice-president of Greater China and head of consulting in Greater China at commercial real-estate services company Cushman and Wakefield, said the "phase one" trade deal reached between China and the US was positive news. "But if the uncertainties arising from the local political situation are to continue, and trade talk hurdles should flare up again, we expect the impact on Hong Kong's economy will become more acute by mid-2020. That will weigh on home sales volume and pricing. Home prices are under pressure to drop by 10 per cent in first half of 2020," he said.
This year has been a roller-coaster ride for the Hong Kong property market. In the first half, the prices of old homes started to fall after rising 9.9 per cent in the first five months and hitting a historical high in May, according to the Rating and Valuation Department. But overall old home prices dropped 5.2 per cent from May to October, as sentiment was battered by the protests and an escalation in the trade war.
Hong Kong home prices have, however, risen 3.4 per cent in 2019, according to the Centa-City Leading Index, which tracks home prices in 100 housing estates in Hong Kong.
And major property developers remain positive. These include SHKP, Hong Kong's largest developer by market value, as well as Henderson Land Development and Sino Land.
"Overall market sentiment has improved in light of the recent uptick in the stock market, and the breakthrough between US and China over trade," said Victor Lui, deputy managing director at SHKP said. "Hong Kong home prices will move within a narrow range, but the property market is used to powerful rebounds," he added.
Victor Tin, associate director of sales at Sino Land, said prices would remain stable. "The housing market will continue to benefit from low interest rates and the relaxation in mortgage rules for completed flats. It will encourage more home buying and help to boost sales," he said. Sino Land plans to release about 5,000 new flats for sale in 2020, the largest number of units to be put on the market by the firm in the past seven years.
Agency Ricacrop Properties even made a bullish prediction of a 10 per cent increase in home prices next year. It said home prices would pick up in 2020 because of shortages, as well as continuing low interest rates.
As far as the retail sector was concerned, nine out of the 10 respondents polled about the sector said rents for high-street shops would fall by 10 per cent to 30 per cent until the protests came to an end. Such rents have declined 18 per cent in 2019.
"Unlike during the Occupy Central movement in 2014, which took place in and impacted core districts such as Central and Mong Kok, this year's rent declines are across the board," said Tom Gaffney, regional managing director for the Greater Bay Area and Hong Kong at CBRE. "The sharp fall in visitor arrivals has been affecting core shopping districts the most, while citywide clashes have also affected retailers in other noncore shopping districts. Shopping centres in certain districts were also significantly affected," he said.
"Retailers' revenues continue to be affected and it's still early to see a meaningful rebound any time soon. Retail rents are forecast to fall by another 10 per cent to 15 per cent in 2020," Gaffney said.
The Hong Kong Retail Management Association said on December 7 that more than 7,000 retailers would close, with 5,600 staff laid off, as indicated by 97 per cent of respondents to a poll it conducted.
"[The areas] where the protests are the most frequent will be the worst [for retail]," said Raymond Cheng, head of Hong Kong and China research at CGS-CIMB Securities. "Causeway Bay might see a bigger impact, because there might be a rally or other things going on every week," he added. Cheng forecast that rent for high-street shops will tumble by up to 30 per cent if the protests continue.
Office owners face a difficult year ahead, said nine out of the 10 respondents polled about the sector. They said office rents and prices could fall by as much as 10 per cent. Henderson Land and Lai Sun Development, on the other hand, forecast the segment would either be stable or might adjust slightly in 2020. The overall grade A office rents will continue to fall after a 3.4 per cent decline in 2019.
"The Greater Central district will face the prospect of shrinking demand by multinational companies and mainland Chinese firms in the banking and finance sector, while Kowloon East will be affected by having the highest space availability rate," said John Siu, managing director of Cushman and Wakefield in Hong Kong. The company expects rents and prices to fall by up to 10 per cent next year.
Co-working and tiny flats will record a decline in investment. "Data centres and hotels turned into co-living spaces, or serviced flats, will be the new trend in 2020," said Rosanna Tang, head of research for Hong Kong and southern China at commercial real-estate services firm Colliers International.
This view was shared by David Ji, head of research at property consultancy Knight Frank. "Co-living companies will still be active in the coming year, as the affordable rents and multicultural communities that co-living spaces provide appeal to young professionals," he said.
With the vacancy tax imminent and occupancy at hotels hitting new lows, primary residential buildings and hotels in locations with convenient transport links are likely to be leased to co-living operators, Ji said.
With an increasing number of Hongkongers buying homes in the Greater Bay Area for their retirement and investment, Knight Frank said Zhongshan, Jiangmen, Zhuhai and Dongguan were the top destinations. "These cities will have the highest growth potential, attributable to infrastructure development coupled with currently lower housing prices," Ji said.