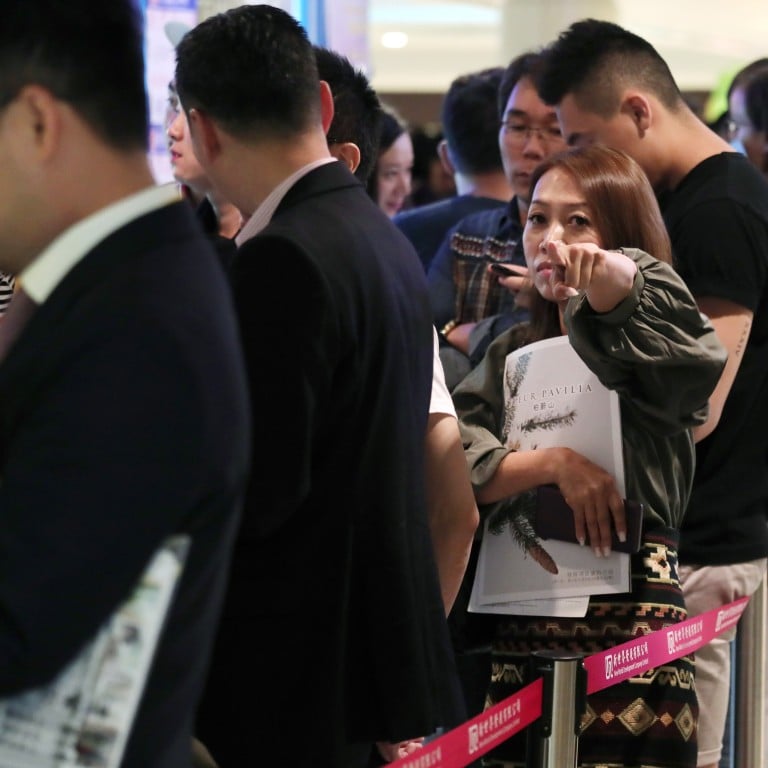 JPMorgan is bullish on some Hong Kong developers as HK$40 billion liquidity build-up seen shoring up housing market sentiment
US bank says HK$40 billion net liquidity build-up in past 12 months could shore up market sentiment after first quarter this year
JPMorgan sees a 10 per cent drop in home prices, though correction is likely to be temporary. Retail landlords, however, may have a harder time ahead
JPMorgan Chase is going bullish on some of Hong Kong's biggest developers because a correction in home prices is likely to be fleeting and a HK$40 billion (US$5.1 billion) build-up in liquidity over the past 12 months could help shore up market sentiment after the first quarter this year.
The US bank recommends an overweight on shares of CK Asset, Henderson Land and New World Development, while keeping a neutral stance on other property stocks on its coverage, analysts led by Cusson Leung said in a report dated January 8. JPMorgan is pessimistic on Hong Kong shopping centre owners, saying the downturn in the segment is more structural.
New home prices in the world's most expensive market slumped 25 per cent on average last year, the most in 13 years, as months of civil unrest battered market sentiment. Cracks have appeared as protests escalated in the latter half of 2019 and industry analysts have predicted more losses in 2020 as the economy shrinks amid the city's worst political crisis.
The government said street protests have chipped away key contributors to the economy, with big slumps recorded in tourism and retail industry. Police have arrested more than 7,000 mostly young people in the seven months of social unrest.
Financial Secretary Paul Chan Mo-po expects gross domestic product to contract by 1.3 per cent in 2019 and have rolled out several stimulus programmes to address a slowdown in key sectors of the economy.
"Hong Kong home prices are likely to be affected by negative sentiment from a potential rise in the unemployment rate," the JPMorgan analysts said in the report. "However, income growth and employment have not been key drivers for residential prices over the past 10 years. The key driver was liquidity, which has seen about a HK$40 billion net increase in the last 12 months."
An index tracking Hong Kong property stocks rose 8.2 per cent in 2019, while the Hang Seng Index advanced 9.1 per cent, according to Hong Kong exchange data. In 2018. they fell 7.4 per cent compared with a wider 13.6 per cent loss in the broader market.
The analysts believe a short-term correction of 10 per cent in home prices is likely, given concerns on the local economy. Even so, they expect sentiment to improve after the first quarter, with more substantial primary launches in the market.
Buyers had snapped up 20 of the 51 flats put that went on sale at Wheelock Properties' Grand Marini project on Wednesday evening as of 8:20pm, according to Sammy Po Siu-ming, chief executive of the residential division at Midland Realty.
The flats, located at Tseung Kwan O in east Kowloon, were priced between HK$13,800 and HK$19,200 per square foot and ranged from 373 sq ft to 785 sq ft in size.
Some potential buyers may have opted to "wait and see" because of worries over Hong Kong's slumping economy and the unresolved political crisis, Po said.
Sun Hung Kai Properties, the city's biggest developer by capitalisation, sold most of the 375 flats at its Wetland Seasons Park project on January 4, according to property agents, heralding a positive start to the new year.
Still, developers will need to offer their projects at competitive prices to attract a strong response this year, according to Alvin Cheung, associate director at Prudential Brokerage. This will reinvigorate market sentiment, though prices are unlikely to rise significantly or at all.
"The market is concerned about whether more lay-offs or business closures after the Lunar New Year," Cheung said. "It will definitely affect home buying interest once the economy deteriorated."
In the office market, JPMorgan said while rents will continue to fall by 5 to 15 per cent in 2020 depending on locations, investors should look at China's manufacturing data as a leading indicator. China's purchasing managers' index has started its rebound, which prompted the bank to upgrade Hong Kong Land and Swire Properties to overweight.
The bank prefers China to Hong Kong retail landlords, given the policy support for domestic consumption as a source of domestic growth. Hong Kong retailers, which have been relying heavily mainland tourist spending, are likely to face pressure on rental reversion even without any social unrest, JPMorgan said.
This article appeared in the South China Morning Post print edition as: Analysts bullish on developers amid liquidity build-up