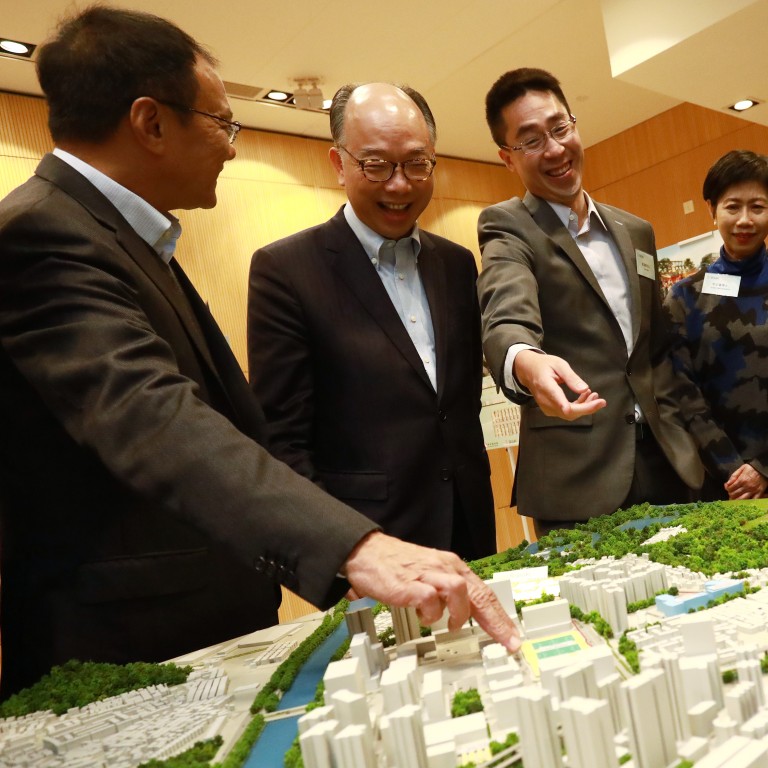 Sun Hung Kai Properties offers three parcels of land to help ease Hong Kong housing crisis amid social unrest
Three parcels of land in Yuen Long, Kam Tin and Kwu Tung cover a combined area of 400,000 square feet, sufficient for 2,000 homes
The three parcels will be leased for eight years, company says in a briefing
Sun Hung Kai Properties (SHKP), Hong Kong's biggest developer by market value, has offered some of its land bank for the construction of 2,000 homes to help ease a housing crisis in the city amid complaints from the government.
The developer has volunteered three parcels covering 400,000 square feet across the city, executive director Adam Kwok said at a media briefing on Friday. The biggest of the lots, a 300,000 sq ft parcel about 10 minutes' walk from the Yuen Long MTR station, will be handed over for HK$1 for eight years to an NGO, Hong Kong Sheng Kung Hui. The non-profit organisation will develop 1,600 transitional homes for occupancy in early 2022, Kwok said. The other two parcels are in Kam Tin and Kwu Tung and both will also be leased for eight years, Kwok added, though their development plans have not been determined at this stage.
The announcement comes after Beijing's new top envoy to Hong Kong, Luo Huining, called on the city's government to improve the economy and people's livelihoods. In a meeting with Chief Executive Carrie Lam Cheng Yuet-ngor on Thursday, he also urged the administration to strengthen its communications regarding its handling of the city's problems.
The government is mired in its worst political crisis, with anti-government protests about to enter their eighth month. Chinese state media have previously pointed to the city's housing crisis as a cause behind the deep-rooted social unrest.
Some of the city's biggest developers were lambasted during the height of anti-government protests by mainland news agencies for not doing enough to alleviate the city's housing crisis, a long-term source of fodder for government critics. A chronic lack of supply has helped drive residential prices to record levels over the past decade, making the city the most expensive worldwide to live in.
But Kwok denied this was the motivation behind his decision.
"It is not related to the social unrest, we have had the plan in mind since early last year," Kwok said at the briefing. "Hong Kong is facing a variety of issues, housing is one of them but that is not the only one."
As a private developer, the group is also doing its best to help the government's public housing supply, he added.
Last year, SHKP lent some village flats to an NGO in Tuen Mun, which then redeveloped them into Green Garden, a transitional social housing project.
Three industry peers – Wheelock Properties, Henderson Land and New World Development – have earlier contributed part of their land holdings as a shortage of affordable public homes.
Together, the four have added to a pool of land bank the government has identified for supplying 10,000 so-called "transition homes" for those who are waiting in line for public housing in the coming three years.
"After achieving the target of finding land resources for 10,000 transitional homes, we will focus on the plan, construction and operation of these homes," said Frank Chan, Secretary for Transport and Housing at the briefing on Friday.
He said there are still 119,000 families in Hong Hong living in "inadequate homes", so as long as there is land lying idle, the government will follow up.
On Friday, CK Asset Holdings, a unit controlled by Hong Kong's richest tycoon, Li Ka-shing, said it will also look into the possibility of using some of its farmland for housing development, though it cautioned that transforming such land for housing may take a "relatively long time" to benefit those in need.
The three parcels of land from SHKP can provide homes for 6,000 families, or about 20,000 people, Kwok said.
SHKP's biggest planned project, to be named United Court, in Tung Tau in Yuen Long, is currently an area overgrown with weeds and surrounded by village houses, about a 10-minute walk from Yuen Long MTR station, where the developer's Yoho Mall is located.
Sun Hung Kai Properties also said it is providing working opportunities, including 200 jobs in residential estates and shopping malls in Yuen Long, Tin Shui Wai and Tuen Mun. There will also be an estimated 400 vacancies in the coming three years.
"We now manage over 70 residential and shopping projects in Yuen Long, Tin Shui Wai and Tuen Mun. We are happy to consider giving priority to the [transitional home] residents to fill the job vacancies, if they are willing and the right fit can be found," said Kwok.
This article appeared in the South China Morning Post print edition as: Developer offers land for 2,000 transitional homes