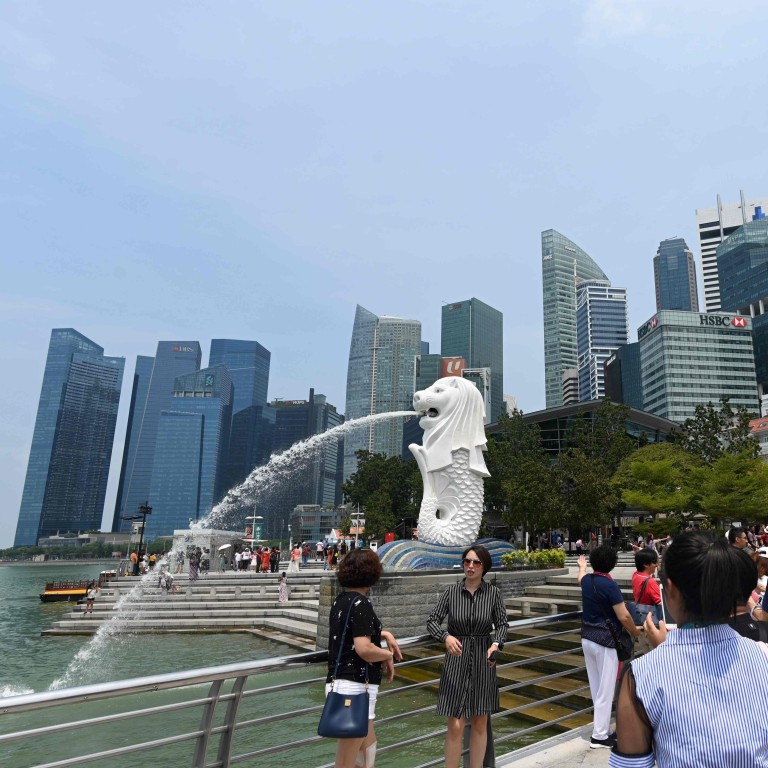 CapitaLand to create Asia-Pacific's third largest REIT with US$6.2 billion merger of Singapore office and shopping mall trusts
CapitaLand Mall Trust and CapitaLand Commercial Trust to merge their assets in cash and shares transaction worth S$8.3 billion
At least four other combinations have taken place in Singapore's REIT industry over the past 12 months
CapitaLand Mall Trust and CapitaLand Commercial Trust plan to merge their holdings in shopping malls and offices in Singapore and Germany to create the third largest real estate investment trust by market value in Asia-Pacific.
CapitaLand Mall Trust will buy all CapitaLand Commercial Trust units by stock, cash and fees worth S$8.3 billion (US$6.2 billion), according to a Singapore stock exchange filing on Wednesday.
The combination will put 15 shopping malls and 10 offices, mostly in the Southeast Asian city, under one roof with a combined asset value of S$22.9 billion and average occupancy rate of 99 per cent, the filing shows. Both trusts are controlled by Singapore's biggest landlord CapitaLand Limited, a unit of state investment company Temasek Holdings.
The combined unit had a market value of S$16.8 billion based on their stock prices on January 21. This ranks the merger behind Hong Kong-listed Link Reit and Australian group Scentre Group, with S$30.2 billion and S$19.1 billion in market value, respectively, according to the filing.
The combination is at least the fifth tie-up among Singapore-listed REITs over the past 12 months and ranks as one of the top 10 mergers and acquisitions of all time in the city state. Benefits include the ability to consolidate management expertise and build a bigger war chest for acquisitions.
Combined, the entity is expected to be the largest REIT in Singapore by market value and total portfolio property value, according to Wednesday's statement. It will have the ability to undertake up to S$4.6 billion of overseas acquisitions in developed countries, while remaining predominantly Singapore focused.
"It's a trend where we see REITs pushing for bigger size and diversification, both in terms of geography and asset type," said Joel Ng, an analyst at KGI Securities (Singapore). "Given the limited opportunities in Singapore for retail and office acquisitions, the combined entity will allow for more such integrated developments as it expands overseas."
The enlarged scale of the combined portfolio should allow the new group to compete better in Singapore and overseas in the retail and office sectors. Higher trading liquidity and a potential for positive re-rating could also bring a more competitive cost of capital.
In other industry consolidations, CapitaLand Limited struck a S$6 billion deal with Temasek to combine Ascendas Pte and Singbridge Pte in January last year.
OUE Commercial REIT agreed to buy OUE Hospitality Trust in April, while Ascott Residence Trust and Ascendas Hospitality Trust in July agreed to create the largest hospitality trust in the Asia-Pacific region, with S$7.6 billion of assets comprising serviced residences and hotels. Last month, Frasers Logistics & Industrial Trust agreed to buy Frasers Commercial Trust in a S$1.5 billion deal.
The total cost of the CapitaLand merger will also include an acquisition fee of S$55.6 million, and professional and other fees and expenses of S$22 million. It expects to finance the cash portion of S$999.1 million with existing debt facilities.
The trusts expect the merger to be effective in June, with the planned delisting of CapitaLand Commercial Trust.
-- With reporting by Bloomberg