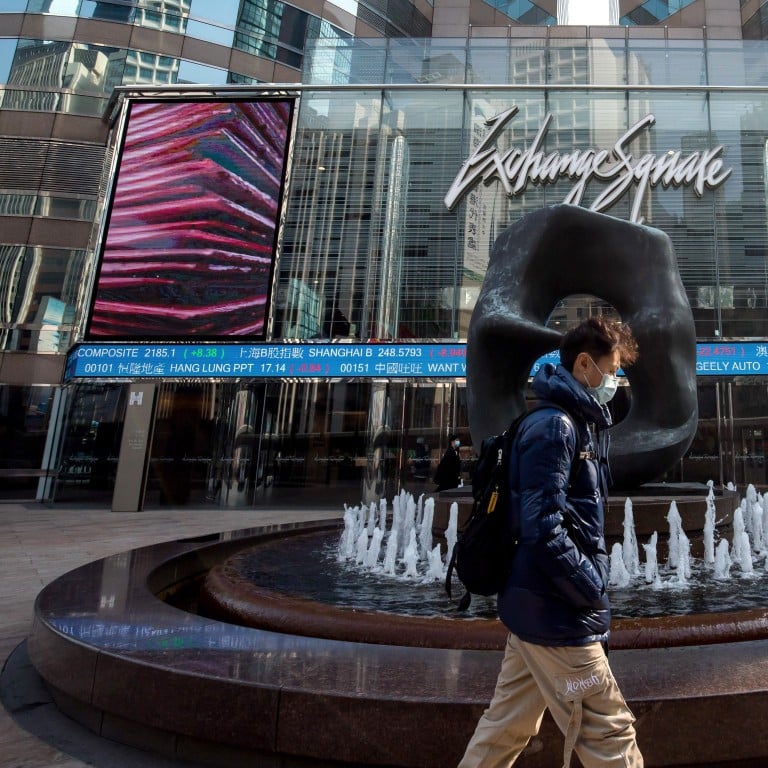 Hong Kong exchange, accountants mull extending reporting deadline, unaudited earnings amid coronavirus-led China travel curbs
Hong Kong exchange and accounting body discuss reporting deadline amid travel curbs related to Wuhan coronavirus outbreak
About half of Hong Kong-listed companies are based in mainland China
Hong Kong Exchanges and Clearing and the accounting profession have discussed several options to overcome potential delays in earnings reports by listed companies by March 31, as auditors face travel restrictions in mainland China following the outbreak of the Wuhan coronavirus.
They considered an extension to the reporting deadline for companies affected by the outbreak, or allowing them to publish unaudited earnings, according to Johnson Kong Chi-how, president of the Hong Kong Institute of Certified Public Accountants. No decision has been taken pending further talks, he added.
Both parties held an urgent meeting on Thursday morning amid concerns half of the listed firms in Hong Kong might miss the deadline as authorities have halted domestic transport networks and locked down 10 cities, including Wuhan, the epicentre of the disease, in central Hubei province to contain the viral outbreak.
"We will need to have a quick decision for the exchange to issue a guideline on how to handle the situation," Kong said by phone after the meeting with HKEX executives. "It is highly likely the auditing work will be seriously delayed, as many accounting firms have asked their staff to work from home. They also cannot travel northward due to mainland traffic bans."
More meetings with the HKEX and other regulators such as the Securities and Futures Commission and the Financial Reporting Council will be held soon, Kong said.
There were 1,241 mainland Chinese companies listed in Hong Kong at the end of 2019, making up half of the 2,449 members of the bourse, according to exchange data. They accounted for 73 per cent of the exchange's market capitalisation and 83 per cent of the average daily turnover, reflecting their dominance and importance over the years to Asia's third-largest capital market.
"We are closely monitoring developments, and are working with our regulator and other stakeholders to consider the circumstances of the issuers in fulfilling their obligations to publish financial results under the listing rules," a HKEX spokeswoman said in an email.
Many mainland companies listed in Hong Kong, alongside their peers listed on the Shanghai and Shenzhen bourses, have December 31 as their financial year-end. In Hong Kong, they are required to publish their annual results by March 31, according to listing rules, with accountants typically doing their on-site audits in January and February.
"This is fast developing into a big issue for all stakeholders relating to financial reporting," said Clement Chan Kam-wing, managing director of accounting firm BDO. "A large number of companies in China will be badly affected by the travelling restrictions and their ability to close their books in time."
The coronavirus has now claimed 170 lives and infected more than 7,800 people, mostly in China, in what is developing into the biggest health scare since the Sars (severe acute respiratory syndrome) outbreak in 2003.
Among others, Shanghai has imposed transport curbs, Hong Kong has closed its border for certain travellers and airlines have also pulled some flights to affected cities, while restaurant operators from Starbucks to the Haidilao hotpot chain have announced measures to temporarily close their outlets.
Gordon Tsui, chairman of the Hong Kong Securities Association, which represents many of the city's 600 stock brokerages, said the outbreak is posing immense challenges to industry players.
"It is utmost important for the listed companies to report on time, so as for the investors to make investment decisions," he said. "If possible, we would like to see the auditors get their job done before the March deadline."
The pressure of the deadline has been compounded by the Lunar New Year holiday, which started on January 25. That festive break has since been extended to February 2 from January 31, as ordered by China's State Council to help contain the viral outbreak.
"Many mainland provinces have extended their Lunar New Year holiday until next week and many companies' executives have not yet returned to work and have not yet finalised their financial statements for audits to begin," the Hong Kong Institute of Certified Public Accountants's Kong said.
Some of the listed companies might not be able to deliver their annual results by the end of March, if the outbreak lasts for a long time and their auditors cannot visit their factories and offices, according to Tsui of the Hong Kong Securities Association. "We can only hope that the outbreak will come under control sooner [rather than later]."
This article appeared in the South China Morning Post print edition as: HKEX and accounting groups discuss late reporting options