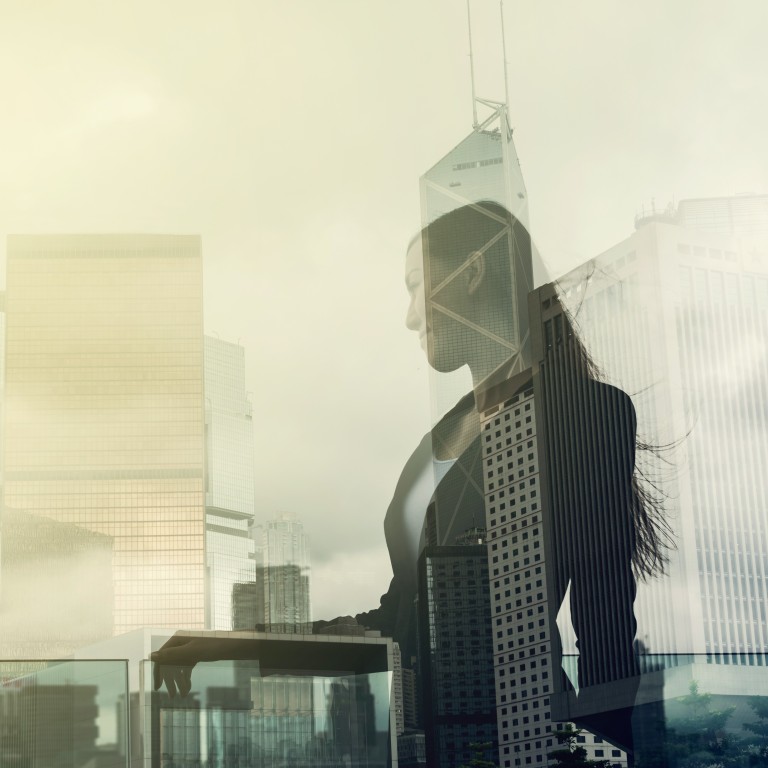 Asia leads world in women breaking into the Old Boys' Club of portfolio management – but progress is stubbornly slow
About one-quarter of portfolio managers are women in mainland China, Hong Kong and Singapore – versus just one in 10 in the US.
Change requires encouraging girls to go into finance, creating family-friendly workplaces and appreciating value of diversity, experts say
The Old Boys' Club of portfolio managers has become a bit more coed – especially in Asia. But the glass ceiling remains hard to break, even in a Me Too era that has cast a broad spotlight on women in the work world.
As International Women's Day is celebrated today, women in mainland China, Hong Kong, Singapore and Taiwan have made more progress in being elevated into powerful roles in the financial world than in other parts of the world, as shown in a Morningstar report.
About one in four portfolio managers – who build assets of private and institutional clients – are women in these places, versus only one in 10 in the US.
Yet, underscoring how hard it is to change this male-dominated role, the numbers have barely budged in the past decade, other than in Hong Kong.
The global average of 14 per cent of portfolio managers being women in 2009 and 2019 stayed the same. It remained essentially the same in the UK (12.7 per cent versus 13 per cent over the past decade) and the US (10.9 per cent versus 11 per cent).
Singapore has seen a tiny bit of improvement (from 25.4 per cent to 29 per cent ). Only Hong Kong has seen significant movement, with women in portfolio management rising from 16.7 per cent to 28 per cent in the time period, Morningstar reports. (No comparison data is available for Taiwan and mainland China, but the 2019 figures stood at 28 per cent.)
But women in the field say they are hopeful that more progress is coming, though changes in workplace policies, encouragement of girls to go into finance and networking will be needed.
Women in Asia have a head start because they are more likely to have attained the Chartered Financial Analyst (CFA) qualification, according to Germaine Share, associate director for manager research at Morningstar Investment Management Asia.
In addition, some reports show diversity can lead to better fund performance, and that can be expected to affect decisions about hiring and promotions, women in the field say.
One report by Credit Suisse, for example, found that companies with women in at least 20 per cent of their executive management positions outperformed those without by 3.6 per cent in the annual growth rate of share prices since 2010. So, the fact that Asia has more women with the background to be portfolio managers translates into a bigger opportunity to capitalise on such findings.
"Women bring balance to decision making – a different point of view. That alone is a huge plus," said Jayne Bok, head of investments Asia, for brokerage and advisory firm Willis Towers Watson (WTW). "Women also have a tendency to think of wider stakeholders when they make decisions."
Meanwhile, in the case of women with children, the availability of affordable domestic help in Asia makes it easier for women to put in the gruelling hours such high-pressured jobs can require.
"From a demographic perspective, China has a relatively high labour force participation rate for women, and majority of students in higher education institutions are female," said Rachel Wang, Morningstar's director of manager research, China. "Against this backdrop, we would naturally expect more women working in the fund industry, which has a relatively high education entry requirement."
Different views bring "innovation, creativity and quality" said Elaine Wu, head of J.P. Morgan's Asia ex-Japan power utilities and environmental research. "By its very nature, a diversity of views will result in debate, and at times disagreement, but that's what makes the end result a more robust one."
Amy Cho, Hong Kong and head of intermediary, Asia Pacific, at London-listed, global asset management firm Schroders, sees positive changes.
"From my observation, the asset management industry in Asia seems to be more diverse than the West's," she said.
She said around 40 per cent of Schroders' senior leaders in the region are female, while the Hong Kong office has strong female representation in senior roles across different sectors.
But much more needs to be done, women in the field said.
Women need to be encouraged to enter and stay in the investment world, particularly those needing flexibility around families, said Deborah Bannon, head of institutional distribution, APAC ex-Japan, and consultant relations, APAC, for global investments company BNY Mellon Investment Management.
"There are very few firms, even in Asia, that have very clear policies around flexible working arrangements," she said. "It goes back to that issue around as a female if you are trying to build your career around financial services, do you really want to be perceived as the one asking for flexibility? Or are you going to assume that in order to succeed you need to be chained to your desk 24/7? It's a bit of a trade-off."
A culture change is needed in workplaces, said Kimberley Stafford, managing director and head of global investment management firm PIMCO, Asia Pacific.
"For the industry to be more successful in promoting gender diversity, it will require a strong and long-term commitment of senior managers to lead change and create a culture of diversity, inclusion and support," she said.
PIMCO has formed a partnership with the Bloomberg Women Buy-side Network, which this week launched in Hong Kong, following Singapore and India. The first-of-its-kind programme in Hong Kong aims to bring together a community of senior and middle level buy-side professionals, to discuss investment trends, promote inclusion in the industry and educate the younger generation.
Similarly, six women who met during a mentoring programme run by Hong Kong non-profit organisation The Women's Foundation set up a non-profit group called Girls Just Want To Have Fund$ in 2018.
Through events like panel discussions and lunches, as well as a WhatsApp group that already has 140 members, it aims to build a community of women of all ages to share information and experiences about investing.
These kinds of support networks are essential to help educate the younger generation of women to work in the industry and change the status quo, said Deborah Bannon, head of institutional distribution, APAC ex-Japan, and consultant relations, APAC, for global investments company BNY Mellon.
What is needed is, "educating young, intelligent females at school age and above that this industry is not a dinosaur industry that is a boys' club, but actually there are a wealth of opportunities that you can get into," she said. "There are a few groups that have been doing that, but I think that needs a lot of government support behind it."
This article appeared in the South China Morning Post print edition as: Asian women make mark in world of portfolio managers