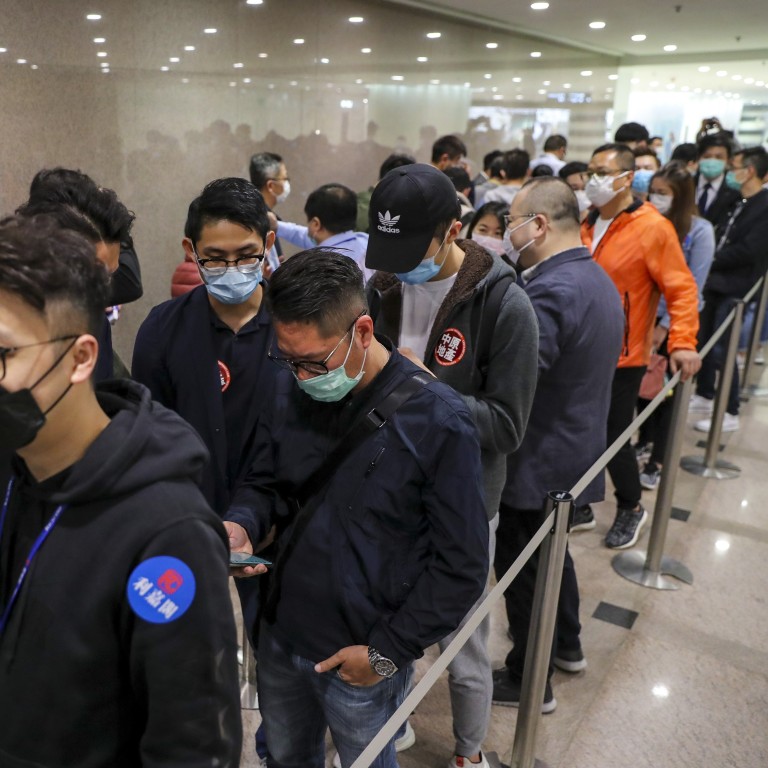 Hong Kong homebuyers snap up first new property project in two months, lured by discounts and falling interest rates
Wheelock sold 187 of 208 flats on offer at the Ocean Marini project in Tseung Kwan O, agents said
There were more than 3,800 registered buyers, or 18 potential customers for every available unit, agents said
Hong Kong's homebuyers snapped up the city's first fresh property launch in two months, attracted by discounts and expectations of lower interest rates, even as the ongoing coronavirus outbreak continued to weigh on business and retail sentiments.
Wheelock Properties said it sold 187 of the 208 flats, or 90 per cent of the units on offer at the Ocean Marini project in Tseung Kwan O as of 9pm on Saturday, for a sales haul of HK$1.59 billion (US$204 million).
The flats were mostly two and three-bedroom units ranging from 459 square feet to 1,062 sq ft (98 square metres), priced between HK$6.6 million (US$848,727) and HK$17.7 million. On average, the flats were sold at HK$15,698 per sq ft after discount, 1 per cent cheaper than Wheelock's
project in the same neighbourhood launched last August
. The developer separately sold 11 apartments at the Marini project and 13 units at the Grand Marini.
Customers were mostly buying the flats for their own use, as opposed to buying them as investments, and many of them were attracted by the trend of falling interest rates, which they expect to translate into lower mortgage payments, agents said.
"Most clients are buying the flats for themselves to live in, because it's better to pay the mortgage of your own flat than the rent during a low-interest rate environment," said Louis Chan, vice-chairman for Asia-Pacific and chief executive of residential division at Centaline Property Agency.
The brisk sale by Wheelock, one of Hong Kong's largest developers, is a much-needed shot in the arm for a city deep in its first technical recession in more than a decade. Retail sales, and overall consumption are in the doldrums as job prospects appear dismal in an economy squeezed by more than a year of the
US-China trade war
, many months of
anti-government protests
and now, the
coronavirus pandemic
. Four people have died from Covid-19, with about 140 people catching the virus as of Saturday evening.
"Given the heated response to Ocean Marini, the company is considering putting more apartments onto the market soon," Wheelock said in a statement.
Hong Kong's de facto central bank cut its base lending rate by half a percentage point on March 4, following an emergency cut by the US Federal Reserve to ward off the economic impact from the coronavirus outbreak. The US Fed is widely expected to cut its key rate by at least another 50 basis points on March 18, which would compel the Hong Kong Monetary Authority (HKMA) to follow in lockstep.
Midland Realty, one of the largest property agencies in Hong Kong, partnered with mReferral Mortgage Brokerage Services to provide mortgage packages that cover up to 80 per cent of the overall payment for houses that are worth HK$8.3 million or less.
Before Ocean Marini, the last new project put on the market was apartments at The Richmond in the Mid-Levels on Hong Kong Island. The project was launched by Henderson Land Development on January 21.
Buyers snapped up all of the 45 flats on offer in two sale sessions, showing a strong demand for smaller new project in the swanky neighbourhood. The flats ranged from 206 to 300 sq ft and were priced between HK$6.3 million and HK$9.7 million.
This article appeared in the South China Morning Post print edition as: Buyers snap up 90pc of flats at first new project launch in two months