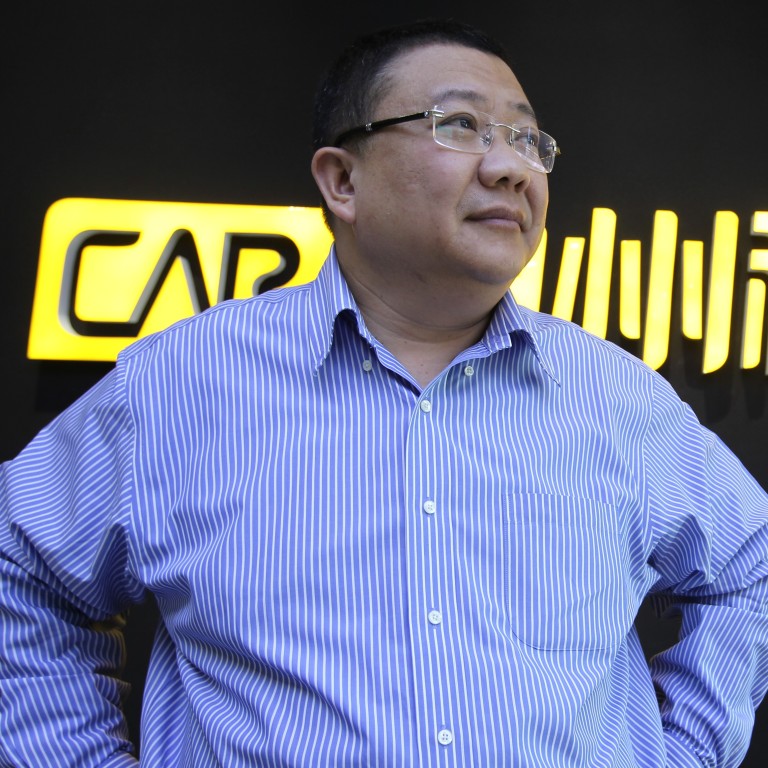 China's largest car rental agent halts trading in Hong Kong, as shares plunge amid scandal at chairman's associate company
Car Inc's shares drop 54.4 per cent to HK$1.96 before trading is suspended
Disgraced Luckin executive worked at rental company and related firm for a decade before joining in 2018
Shares of Car Inc, China's largest car rental company, plunged by as much as 68.4 per cent in Hong Kong on Friday before trading was suspended at 10.14am, on suspicions it was linked with Luckin Coffee, which announced on Thursday that Liu Jian, its chief operating officer, and several employees had fabricated transactions worth 2.2 billion yuan (US$310.4 million) last year.
Liu worked at Car and UCar Inc, a ride-hailing service provider that holds a substantial stake in the rental company, between 2008 and 2018, before he joined Luckin in May, 2018. Car denied any links and said it was completely independent of the coffee unicorn. Its shares were down 54.4 per cent at HK$1.96 before trading was halted.
"Luckin Coffee and Car are completely independent of each other. They do not have any equity or business relationship," Song Yifan, Car's chief executive, told investors on Friday. "In terms of corporate governance, management, organisation system and internal control, we are not related to Luckin Coffee."
Charles Zhengyao Lu, the Beijing-based car rental company's founder, however, is a chairman and angel investor in Luckin. He also founded and is chairman of UCar.
Shares of Xiamen-based Luckin, touted as a rival to Starbucks, sank 75.6 per cent Thursday overnight on the Nasdaq following the announcement about Liu.
"Since he left, our business development has undergone many new changes, our employee team and operations are very different from years ago, " Song said. Liu changed after he left Car, she said.
Car's priority for 2020 was to maintain a healthy cash flow and improving profitability, Tony Cao, the company's chief financial officer, told the investors. He added that expansion of scale would come later.
The company had 2.7 to 2.8 billion yuan in cash as of the first quarter, after the prolonged coronavirus pandemic cut its revenue by 20 per cent to 30 per cent, Cao said. Car secured 500 million yuan in new funding from a bank last week, he said, adding that the company enjoyed close relationships with banks.
Car also sold about 4,000 used vehicles in the first quarter at about 60,000 to 70,000 yuan each, more than expected, he said, as it was trying to sell some of its assets to boost liquidity.
Last month, S&P Global Ratings revised its outlook for Car to negative from stable, on the basis of expectations that the Covid-19 pandemic would exacerbate its falling profitability. The ratings agency said it expected Car to experience a drop of 10 per cent to 15 per cent in car rental revenue this year.
"The fall is due to weakened demand for leisure and business travel resulting from the prolonged fallout of the Covid-19 outbreak. A smaller revenue scale will also lead to lower margins resulting from reduced operating leverage," it said.
Credit Suisse too cut its target price for Car to HK$5.5 from HK$7 last month, but maintained a outperform rating. "We cut our earnings estimate by 21 per cent to 23 per cent, mainly to reflect the results [for 2019] and virus impact," Credit Suisse analysts said.
Sign up now and get a 10% discount (original price US$400) off the China AI Report 2020 by SCMP Research. Learn about the AI ambitions of Alibaba, Baidu & JD.com through our in-depth case studies, and explore new applications of AI across industries. The report also includes exclusive access to webinars to interact with C-level executives from leading China AI companies (via live Q&A sessions). Offer valid until 31 May 2020.
This article appeared in the South China Morning Post print edition as: Car Inc tumbles on Luckin link concerns