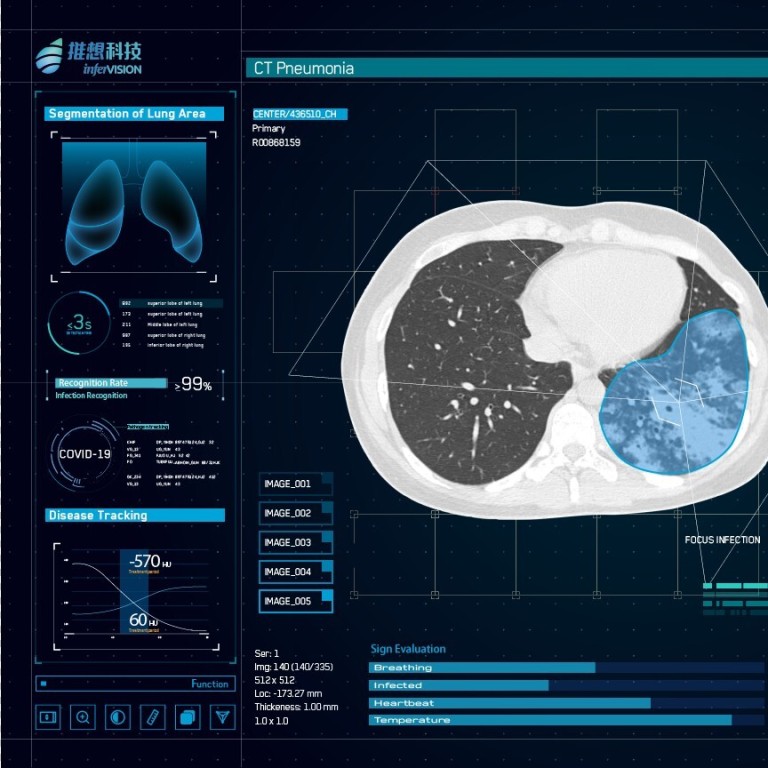 Chinese medical imaging start-up faces twin hurdles in US market for coronavirus screening amid political row
Infervision has repurposed its analytical software for lung cancer analysis since February to help fight the Covid-19 pandemic
Beijing-based start-up, backed by private equity funds, is hoping to crack the US market as infection and death toll increase
Infervision, a Chinese medical imaging artificial-intelligence system developer, is facing a different kind of battle in its bid to help doctors in the US fight the
coronavirus
pandemic: a lack of trust on top of regulatory barriers.
Having deployed its system in 10 overseas markets, the Beijing-based company has yet to crack the US market, restrained by regulatory barriers and a war of words between officials about the source of the worst pandemic in a generation.
"It is understandable that countries have different thinking on what is the best clinical pathway to fight the disease, but I do think a lack of trust and the very complicated relationship has played a role," said Chen Kuan, founder and CEO of the five-year-old start-up, a University of Chicago graduate.
The company epitomises the hurdle for Chinese entrepreneurs in the US as relations between the two economic powerhouses have deteriorated over the past two years, disrupting global trade and raising suspicion at both ends. The cost to US-China trade could be US$600 billion by 2021, according to a Bloomberg estimate.
President Donald Trump had until recently referred to the coronavirus as the "Chinese virus", after China's foreign ministry accused the US army of bringing it to Wuhan, without providing any evidence. Infervision is keen to contribute its services as the US becomes the focus of the pandemic with more than 430,000 cases and at least 14,700 deaths.
"We have had some discussions with officials including the US Food and Drug Administration, but they have not led us to anywhere yet," said Chen, whose company is backed by investors including Qiming Venture Capital and Sequoia Capital. "I hope our system could be of use, especially in New York.''
Having put all of its close to 200 research and development specialists to work just before the Lunar New Year, Infervision has repurposed its analytical software for lung cancer diagnosis to help doctors screening patients with suspected Covid-19 disease.
To date, it has supplied digital imaging software for respiratory and bone disease diagnosis to 350 hospitals in 10 countries.
"Our AI system helps hospitals identify suspected cases quickly so that quarantine measures can be started, instead of waiting for the RT-PCR test results, which could take days," said Chen. "Once confirmed, our system can also accurately measure progression of the infection."
The RT-PCR, a lab technique known as reverse transcription polymerase chain reaction, can detect genetic materials of the virus in nasal swab samples.
Many "false negative" results have been reported, though. Only around 73 per cent of nasal swabs collected within 14 days of illness onset returned positive results in confirmed patients, according to a study of 213 patients at a Shenzhen hospital. CT scans, or computerised tomography, could serve as "an important make-up" of Covid-19 diagnosis, it said.
"In a lung CT scan, if the area where hazy opacity is spotted is small, it is considered a sign of potential early lung cancer," Chen said. "If the area is relatively big, it is a sign of viral pneumonia, and if it is spotted in the outer rim area, it could be a suspected Covid-19 case."
Infervision began its Covid-19 AI system deployment in Tongji and Zhongnan hospitals in Wuhan, the original epicentre of the pandemic. The system has been used in 52 Chinese hospitals on time-based subscription fees. The company has now also collected over 190,000 lung CT scans for analysis, including from patients with cancer and other suspected respiratory diseases.
AI systems could take over a large portion of doctors' medical imaging reading work in five to 10 years, due to rising health care demand and the opportunity to reduce human errors, according to David Siu Chung-wah, a cardiology specialist and professor at the University of Hong Kong.
Infervision is not alone. More than 120 start-ups globally have developed AI solutions for medical imaging, of which 75 have commercialised their systems since 2015, according to Signify Research, a UK-based health-tech market intelligence company.
The sector attracted US$580 million of venture capital in 2018, according to Signify. Five of the 10 most-funded companies worldwide are from the US, one is from Europe and four from Asia.
They include Infervision, Beijing-based Deepwise, Chinese-funded 12 Sigma Technologies and VoxelCloud – a lung cancer, retina and heart disease screening systems developer backed by Tencent and Sequoia.
Sign up now and get a 10% discount (original price US$400) off the China AI Report 2020 by SCMP Research. Learn about the AI ambitions of Alibaba, Baidu & JD.com through our in-depth case studies, and explore new applications of AI across industries. The report also includes exclusive access to webinars to interact with C-level executives from leading China AI companies (via live Q&A sessions). Offer valid until 31 May 2020.