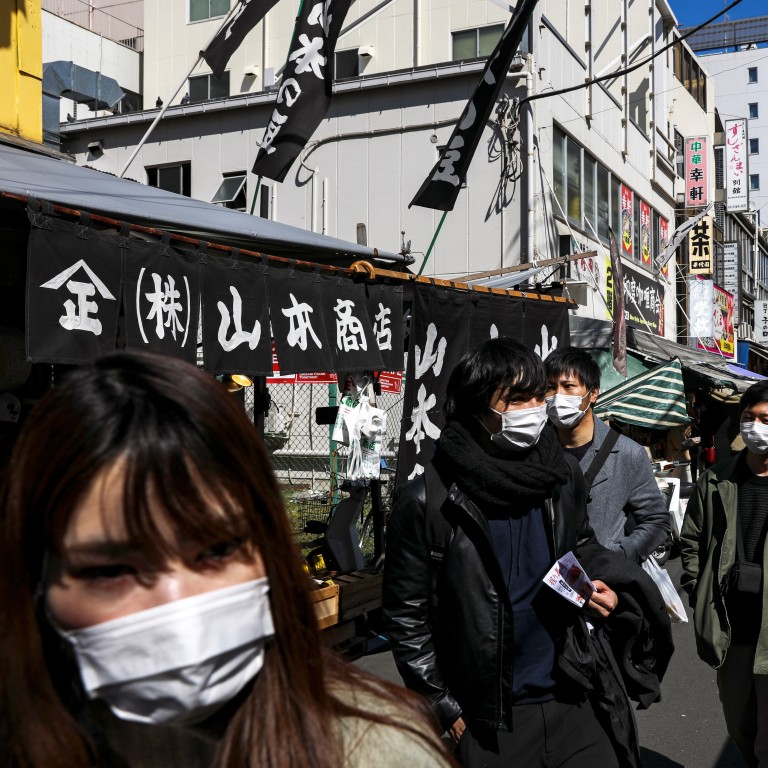 Hong Kong investors drawn to Japanese property as shops in prime areas sell for discounts of up to 30 per cent
Shop owners in prime locations in Tokyo and Osaka are now selling because of the deteriorating economic outlook
Investors also find that the level of investment is much lower compared to Hong Kong
Hong Kong investors are willing to take a risk on Japanese property even as the Covid-19 outbreak and postponement of the Tokyo Olympics dampens economic sentiment in the world's third largest economy.
Shop prices in prime locations in Tokyo and Osaka that had held firm for more than a decade, have fallen by nearly 30 per cent, drawing the attention of investors like Polly Lo.
"I just started investing in Japan about two years ago," said Lo, who owns a portfolio of shops, hotel rooms and flats in Japan, Thailand, Dubai, Malaysia, Australia and the UK. "Now, I'm looking for bargains in Osaka or Tokyo as buyers like me buyers can have bigger bargaining power and more choices in the market."
She added the entry barrier for investments in retail units in areas with relatively high footfall was around HK$1 million (US$129,000) to HK$2 million compared to nearly HK$10 million in Hong Kong. "Besides, the investment yield on shops is high and the management fee is much more affordable compared to the UK or Australia."
On Tuesday, Japanese Prime Minister Shinzo Abe announced a month-long state of emergency to contain the spread of Covid-19. He also unveiled a
stimulus package
worth nearly US$1 trillion – about 20 per cent of the country's economic output – to cushion the impact of the epidemic. The country had nearly 4,500 coronavirus cases and a death toll close to 100 as of Thursday.
"Most shop owners in Japan were reluctant to offer discounts before the Covid-19 outbreak, but now they are preferring to cash out in the face of growing market uncertainties," said Anvy Cheung, chief executive of Sakura Global, which specialises in Japanese property. Sakura is an associate firm of Hong Kong listed eprint Group.
Last week, a 760 sq ft shop in Osaka, Japan's second biggest city, was put on the market for 7 million yen (US$64,000), about 30 per cent below recent transaction prices.
"It immediately attracted more than 20 potential buyers from Hong Kong, and locals in Japan submitted their expression of interest (EOI) to the owners," said Cheung. The 58-year-old shop, about a 10-minute walk to the nearest subway station, was eventually sold to a Japanese investor.
Another 490 sq ft shop, near the now-closed world famous Tsukiji fish market in Tokyo, is available for 6.48 million yen, about 28 per cent below market price. The shop, built in 1980 and close to a subway station, is currently leased to restaurant for 331,500 yen a month and generates a yield of 5.28 per cent a year after expenses, according to Sakura.
But not everyone is rushing to invest. Doris Wan, a banker, decided to defer buying a shop worth 8 million yen after the Japanese government imposed the state of emergency which will last until May 6.
"It [coronavirus outbreak] may further affect consumption, which will affect the leasing market," said Wan, who recently bought a 300 sq ft unit in Osaka for HK$600,000 after only taking a virtual reality tour.
Tourist arrivals in Japan, the 11th most visited country in the world in 2019, slumped 58.3 per cent to 1.09 million in February compared to a year ago, Japan National Tourism Organisation data showed, as the coronavirus pandemic deterred many visitors.
Mayumi Lambon-Hiratuska, head of Japanese desk at List Sotheby's Realty, said she was noticing larger discounts on distressed assets in small to mid-sized hotels and ryokans – traditional Japanese inns – around Osaka, Kyoto, Fukuoka and Sapporo.
"These hotels are struggling after the global travel ban, as they are highly dependent on inbound travellers and run by operators with limited distribution channels," she said.
Sign up now and get a 10% discount (original price US$400) off the China AI Report 2020 by SCMP Research. Learn about the AI ambitions of Alibaba, Baidu & JD.com through our in-depth case studies, and explore new applications of AI across industries. The report also includes exclusive access to webinars to interact with C-level executives from leading China AI companies (via live Q&A sessions). Offer valid until 31 May 2020.
This article appeared in the South China Morning Post print edition as: Falling prices for Japanese property drawing Hong Kong investors