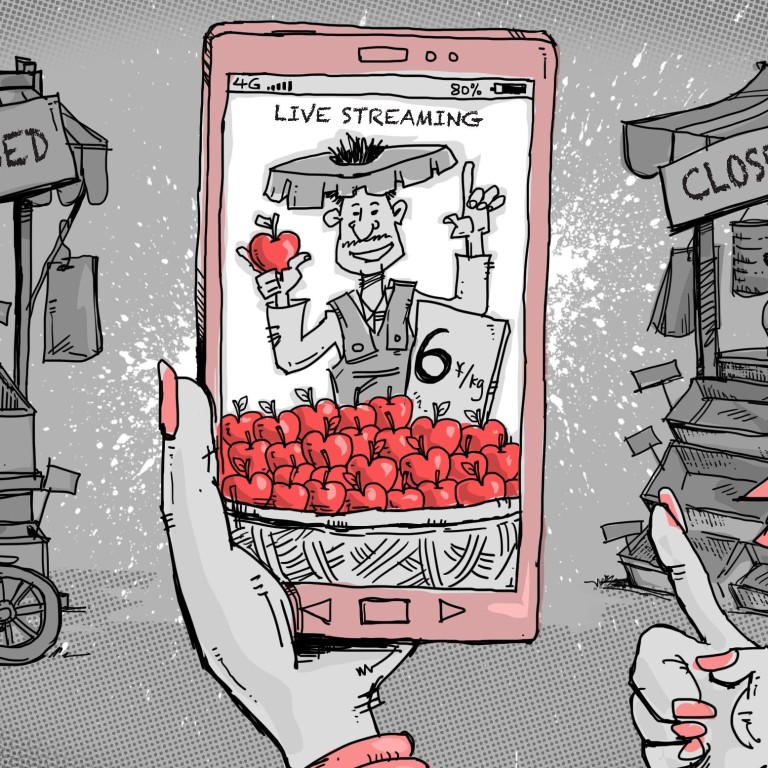 Coronavirus: Live-streaming sales prove a lifeline for China's small retailers as pandemic disrupts business models and consumer behaviour
From houses, cars and clothes to food and film tickets, Chinese consumers are suddenly buying vast quantities of goods via live-streaming platforms
After most of China went into lockdown, many small retailers turned to live-streaming in a desperate bid to stay afloat
Zhang Jiacheng, a farmer in one of China's poorest counties, is wandering around his orchard on a desolate mountainside cutting flowers from the apple trees.
As he wields his secateurs he looks towards a tripod-mounted camera trained on what he's doing as he explains to a live online audience what makes his apples so tasty.
"You can get to know the growing process of our apple trees here. They taste so good because the height of our orchard is more than 1,000 metres [0.6 miles]," says the 59-year-old during one of his regular broadcasts on Taobao Live.
Addressing an audience that fluctuates between dozens and a few thousand, he is trying to sell his farm produce, which includes apples, potatoes and black fungus. Any of his viewers wishing to make a purchase just have to click an icon on screen to bring up a list of products.
Zhang is part of a growing army of small Chinese retailers who have recently turned to live-streaming to boost sales at a time consumer habits are changing faster than ever.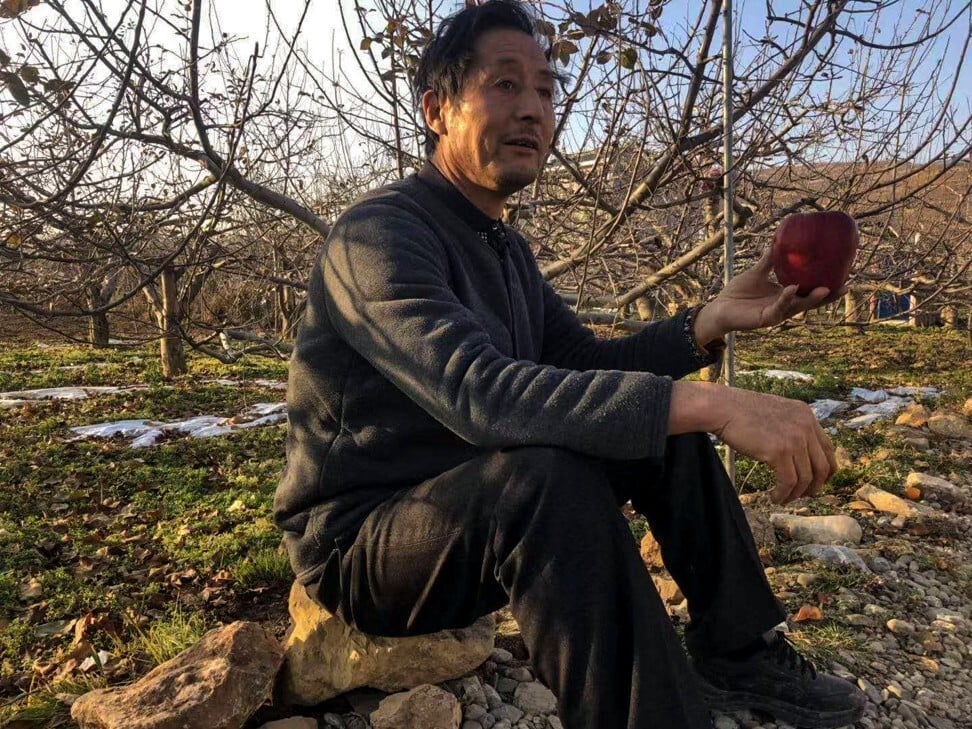 He learned his new skills last summer from a tech team at Taobao Live as part of a campaign by Alibaba Group to help relieve poverty in the countryside by boosting live-streaming sales (Alibaba owns the South China Morning Post).
The timing couldn't have been more prescient.
When most of China went into lockdown this year as the coronavirus emerged, small retailers quickly found themselves struggling for survival. Forced shop closures, restrictions on movement and delays in shipments had a devastating effect on sales.
Thanks to his live-streaming slots, which he receives free of charge through the scheme, Zhang has managed to maintain sales of around 100 to 150 kilograms (220 to 330lbs) of apples per day from his remote orchard in Li County, Gansu province.
Before he reached his new online customers, he would typically have to dump around a 10th to a fifth of his apples.
"Without live-streaming, I would have sold less goods during the pandemic," he said in a phone interview. "Customers trust me as they see where the products are from in my live-streaming. Otherwise, the impact of the epidemic would be huge."
China's economy shrank 6.8 per cent in the first three months of the year, the first quarterly contraction since the data was first recorded in 1992. Consumption was one of the sectors hit hardest, with retail sales plunging by 15.8 per cent year over year in March.
With the International Monetary Fund predicting the global economy will contract by 3 per cent in 2020, the Chinese government has vowed to revive economic growth by investing in infrastructure and boosting consumption.
Small merchants – including many with little or no previous online presence – have flocked to live-streaming as a last resort to stay afloat amid the Covid-19 pandemic. It has the advantage of enabling live interaction – consumers can send questions and comments that appear on the screen in real time, and sellers can explain and showcase their products in a uniquely personal way.
The fees a vendor must pay the platform are relatively small too, which translates to lower profit margins, meaning buyers can often pick up a bargain.
A shoe factory in Jiangsu recently used three live-streaming sessions on short-video sharing platform Kuaishou to sell 2 million yuan of surplus footwear that had built up amid the coronavirus lockdown.
In March, transactions facilitated by Taobao Live surged over 160 per cent year on year, data provided by Alibaba Group shows. The number of new merchants joining the platform increased by almost 300 per cent from a year ago, after a monthly surge of 719 per cent in February.
Alibaba plans to bring 1,000 new brands onto its e-commerce platforms in the next 12 months, allowing foreign brands to sell their products via live-streaming.
As it grows in popularity, live-streaming is helping to drive Chinese consumption, which contributed 58 per cent of gross domestic product growth last year.
Retail sales via China's live streaming platforms will reach about 916 billion yuan (US$130 billion) this year, accounting for 8.7 per cent of online retail sales, according to iiMedia Research. Users of live streaming would reach 526 million, it said.
The market received a big boost on Monday when Chinese President Xi Jinping visited the Taobao Live studio in Zhashui County in Shaanxi Province, which was set up to sell black fungus, a local speciality. Xi praised the delicacy and said: "E-commerce is very important in promoting sales of agricultural products."
The next day 20 million buyers flocked to Taobao, snapping up 24 tonnes of black fungus worth 3 million yuan and clearing out all local stock, according to Alibaba Group. The single-day sales were equivalent to the county's total online sales for four months.
Total sales of agricultural products on Taobao surged 50 per cent on the same day, with sales of Zhashui black fungus increasing tenfold.
An increasing range of goods is being sold via live-streaming, from houses, cars and cosmetics to electronic devices, pets, construction services and events. Clothes, daily necessities, food and cosmetics are the most popular, accounting for about 64 per cent of goods purchased, according to the China Consumers Association, based on its survey of 5,333 consumers between January and March.
"The coronavirus has given a digital transformation lesson to almost every industry," said Fu Yifu, a senior researcher at the Suning Institute of Finance. "Shopping via live-streaming is expected to continue to become part of daily life."
That digital transformation is expected to change consumer habits and demand, a process being accelerated by the pandemic, experts have said. But it also requires retailing and supply chains to adapt faster, they warn.
"The epidemic has accelerated live-streaming towards maturity," said an anonymous merchant from northern Heilongjiang province, who recently started selling her products – fashion accessories like earrings and necklaces – on Kuaishou.
"Facing rent that's still high and unprecedented pressure, many retailers are choosing to sell on live-streaming," she wrote on the platform. "We may have had some concerns before, but now everybody is desperate to rush ahead [to sell via live streaming]."
But while the online shopping boom in recent years has altered the landscape and posed a real threat to traditional bricks-and-mortar retailers, the onset of live-streaming sales is unlikely to have a similar impact, according to Liu Yushu, a deputy director at Chongyang Institute for Financial Studies at Renmin University of China.
"Live streaming is not causing shocks to retailers, but releases more potential consumption demand, and forms more diverse methods of retailing," said Liu.
Indeed, large traditional retailers are starting to get on board, taking the opportunity to broaden sales channels. For example, Intime Department Store and New World Department Store, which have outlets across China, recently turned to live-streaming to sell products.
Even local governments are getting in on the act.
A number of cities and provinces have started live-streaming campaigns aimed at boosting local economies. Sichuan initiated the first provincial-level initiative, with a goal of increasing sales via live-streaming to 10 billion yuan by the end of 2022.
Guangzhou has pushed through a plan to develop live streaming e-commerce by nurturing 1,000 popular internet brands and 10,000 online celebrity sales from 2020-2022.
The integration of live streaming and commerce may decline to some extent after Covid-19 as it is a phenomenon brought on largely by the pandemic, according to Huang Rihan, executive president of Beijing-based Digital Economy Think Tank and researcher at the Centre for China and Globalisation.
"But if support and subsidies from these live streaming players are abundant, it will continue to grow fast. Once people's habits form it's very hard to change."
For Zhang in Li County, the question of whether to carry on is a no-brainer. He plans to continue his daily live-streaming, and has set himself the target of selling 50,000 kilograms [110,000lbs] of apples this year, up from 30,000 kilograms [66,000lbs] last year.