WeWork
Get more with myNEWS
A personalised news feed of stories that matter to you
Learn more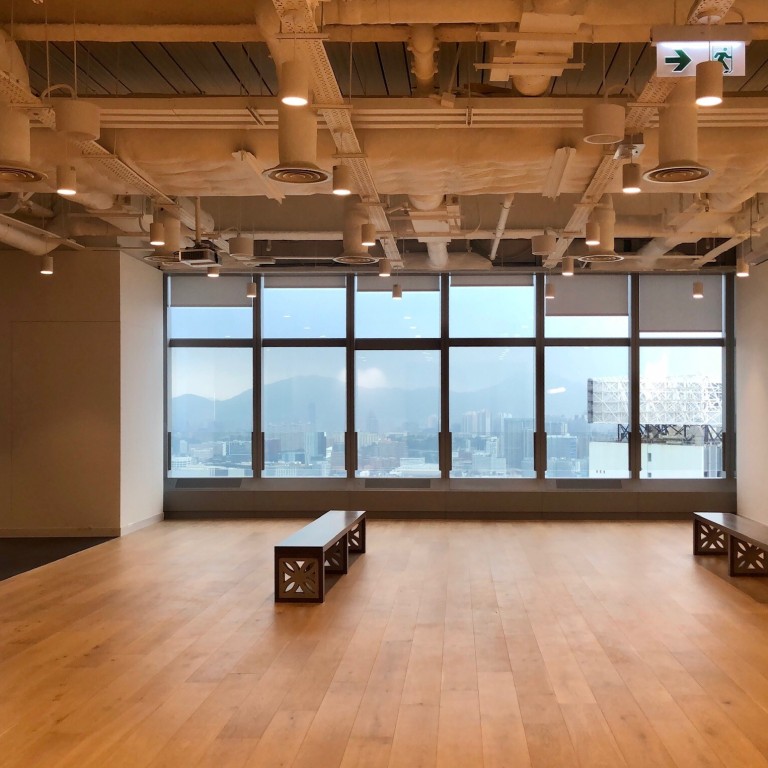 Exclusive
WeWork dumps about fifth of coworking space, in breach of leases signed with major Hong Kong landlords
New York-based company has given up two floors in Hysan Place in Causeway bay and six floors in Sun Life Tower in Harbour City in Tsim Sha Tsui
Analysts say landlords Hysan Development and Wharf have burned their fingers, can't chase WeWork for compensation
WeWork, the US real estate firm, is returning about 20 per cent of its Hong Kong premises to their owners, as start-ups, small enterprises and other short-term tenants failed to take up its offering of shared working space in the city.
It has given up 182,000 sq ft in Causeway Bay and Tsim Sha Tsui, two of Hong Kong's prime office districts, according to agents familiar with the matter.
Two floors in Hysan Place in Causeway bay and six floors in Sun Life Tower in Harbour City in Tsim Sha Tsui have been put on the market for new tenants. According to Land Registry records, WeWork signed a 10-year lease for the Hysan Place floors in November 2018, with the contract starting in November 2019. The 10-year lease for the Sun Life Tower floors was signed in July 2019 and started in December 2019.
Hysan Development and Wharf Reic, two of Hong Kong's major retail property operators and WeWork's landlords at Hysan Place and Harbour City, respectively, declined to comment on the early surrender and on whether they expected any compensation for breach of lease.
The withdrawal is its first in the four years since it entered the Hong Kong market. WeWork continues to operate a coworking space covering four floors in Hysan Development's Lee Garden One development in Causeway Bay. It acquired 1 million sq ft of office space, or 1 per cent of the world's most expensive property market, during a stunning acquisition spree. The coworking industry as a whole accounts for 3 per cent of office space in Hong Kong.
The South China Morning Post was able to access the WeWork space in Hysan Place and found that decoration work had been completed. The resting area as well as the smaller rooms had been readied in the format seen at other WeWork spaces. Long tables had been set up by a window overseeing Victoria Harbour, and a pantry had already been equipped with a microwave, a water dispenser and a refrigerator. The building security said the floors were currently unoccupied and that WeWork had never moved in.
WeWork did not respond to requests for comment.
Market observers said Hysan Development and Wharf had burned their fingers, as WeWork had signed the leases through special purpose vehicles, or subsidiaries with low registered capital created for the precise purpose of signing individual tenancy contracts.
"Hi-tech or new-economy companies sometimes adopt such structures during their expansion to separate the main entity's cash lifeline and assets from other units," said Kenneth Yeo, director and head of specialist advisory at accountancy firm BDO.
He said that if these specially formed units ceased operations when things got bad, creditors had no means of chasing the main entity. "As long as the main entities or directors do not play the role of guarantor, they are also off the hook," Yeo said.
There is not much the landlords can do, other than collect the furniture and equipment left behind, said Vincent Cheung, managing director of Vincorn Consulting and Appraisal. "But that would be just a drop in the ocean," he said.
Hong Kong's once-robust office leasing market has taken a beating amid an economic decline that set in soon after the city's anti-government protests kicked off in June last year. The situation has worsened since the coronavirus outbreak earlier this year, and the city's economy has contracted for two consecutive quarters now. As a result, no offers have been received for both the locations, said the agents familiar with the matter.
They said WeWork paid HK$70 (US$9) per square foot a month for the floors at Hysan Place, and HK$63 per square foot a month for the Sun Life Tower floors.
"It's impossible to get those rents now. What landlords with large vacant spaces should be worried about is finding a new taker," Cheung said. Vacancy rates across Hong Kong have reached 7.3 per cent on average, a 10-year high, according to commercial property agency Colliers International.
Hong Kong's economy shrank 8.9 per cent year on year in the first quarter of this year, its worst performance on record, the government said last week. Unemployment rose to 4.2 per cent in March, nearing a 10-year high, as companies either asked staff to take unpaid leave or laid them off to cut costs.
In this environment, WeWork is likely to cut more space in the coming months, with the pandemic and resulting social distancing measures proving to be a last straw for the company's ambitions in Hong Kong, analysts said. It currently runs 12 coworking spaces in the city. Its spaces in Swire Properties' Generali Tower in Wan Chai, in Henderson Land's H Code office tower, as well as in Hopewell Centre are among those believed to be struggling to stay afloat.