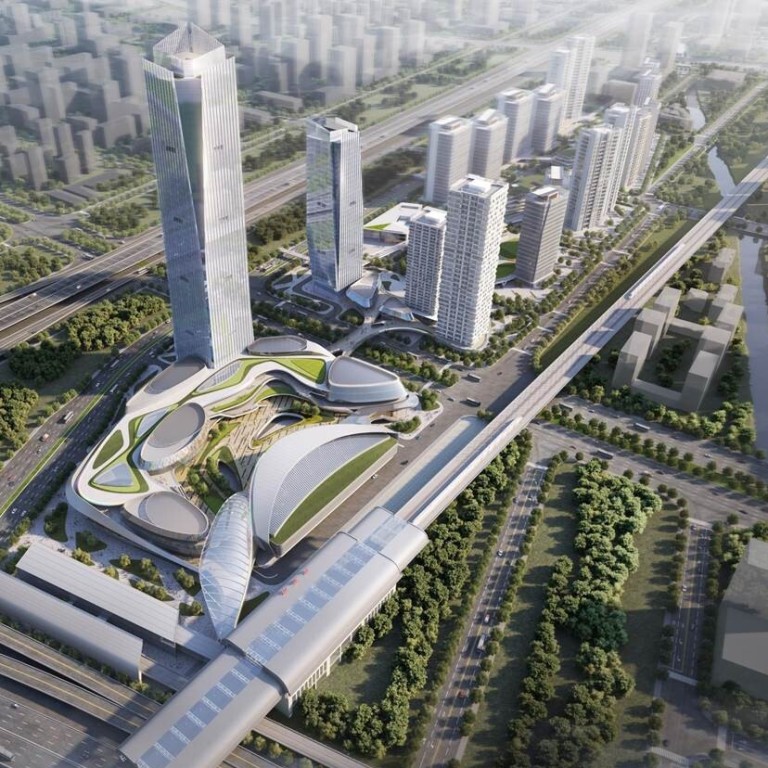 Competition heats up as Hong Kong developers take on mainland Chinese rivals to buy land next to bay area's high-speed railway stations
In the next three to five years, 18 stations will be offered for tender, with potential to be developed under the so-called transport-oriented-development (TOD) model
Competition is becoming fierce as Hong Kong property giants join their mainland Chinese rivals in bidding for projects with TOD concepts in the bay area
Land adjacent to railway stations in the
Greater Bay Area
may become a battlefield for Hong Kong developers as rental income and capital appreciation from properties close to transport links are likely to generate big returns, according to property executives and agents.
In the next three to five years, 18 stations – some under construction, some already operating – will be offered for tender, with high potential to be developed under the so-called transport-oriented-development (TOD) model. This model, likely to be promoted by local governments in the bay area as the preferred basis of development, places an emphasis on making maximum use of mass transport facilities.
"We are certainly interested in participating in these projects along railway networks as people love to live, work and play in convenient areas. The rapid development of
railway lines in GBA
will provide ample opportunities for us," said Donald Choi, chief executive officer of Chinachem, a Hong Kong-based property developer.
China's high-speed rail network will nearly double in length to 700,000km by 2035, according to a new blueprint published on Thursday by the China Railway Group, the state-owned railway builder.
He said competition was becoming fierce as local property giants joined their mainland Chinese rivals in bidding for projects with TOD concepts in the bay area, Beijing's ambitious plan to integrate Hong Kong, Macau and nine cities in Guangdong province to create a huge business and innovation hub.
The 18 stations with TOD potential, according to JLL, include Guangzhou North, Shenzhen North, Foshan West, and Huizhou South.
"These developments tend to outperform in terms of land-value premium, rental rates and capital value appreciation," according to a report by JLL, entitled Greater Bay Area: the path ahead.
A case in point is Agile Group' Agile Coastal Pearl, in Cuiheng New Area in Zhongshan.
Home prices there doubled to 17,579 yuan (US$2,529) per square metre between 2016 and 2018 when the Hong Kong -Zhuhai -Macau bridge opened, according to Cushman & Wakefield.
Sun Hung Kai Properties (SHKP) said in a written reply to the South China Morning Post that "it will continue to look for other prime sites in GBA for quality TOD projects in the future."
The group said it is already working on two new TODs in the bay area, having acquired the sites recently.
One is at Qingsheng station, in Guangzhou's Nansha district, and will be developed into an office and retail project with more than 3.5 million square feet of gross floor area. The site is adjacent to two existing railway lines including the Guangzhou-Shenzhen-Hong Kong Express Rail Link.
SHKP's other plot is a 3 million sq ft office and retail project atop the southern terminus of the Express Rail Link in West Kowloon. It won the largest commercial land plot for a record HK$42.23 billion US$5.45 billion) in November, 2019.
In April, SHKP and its controlling shareholder, the Kwok family, sold 30 per cent of the office portion of the project to Ping An Insurance for HK$11.27 billion.
New World Development said it has four TOD integrated property developments at public transport interchange hubs, two within Guangzhou, and another two in Ningbo and Hangzhou.
Silvia Zeng, head of research for South China at JLL said almost all cities in the bay area are actively promoting the TOD construction model, as the economic boost provided by high-speed rail is an important part of development.
"The way that these areas are planned and built will have implications for the future of each one's urban development in terms of talent, enterprises and industries,"she said.
Alva To, vice-president and head of consulting in Greater China at Cushman & Wakefield, said competition would definitely heat up as project tenders attract more Hong Kong developers.
"There are 500 to 600 railway stations in China but only about 20 of them are worth consideration," he said. "Investors prefer stations that serve as public transport interchange stations like Hong Kong's Admiralty."
This article appeared in the South China Morning Post print edition as: Developers seen vying for bay area railway land