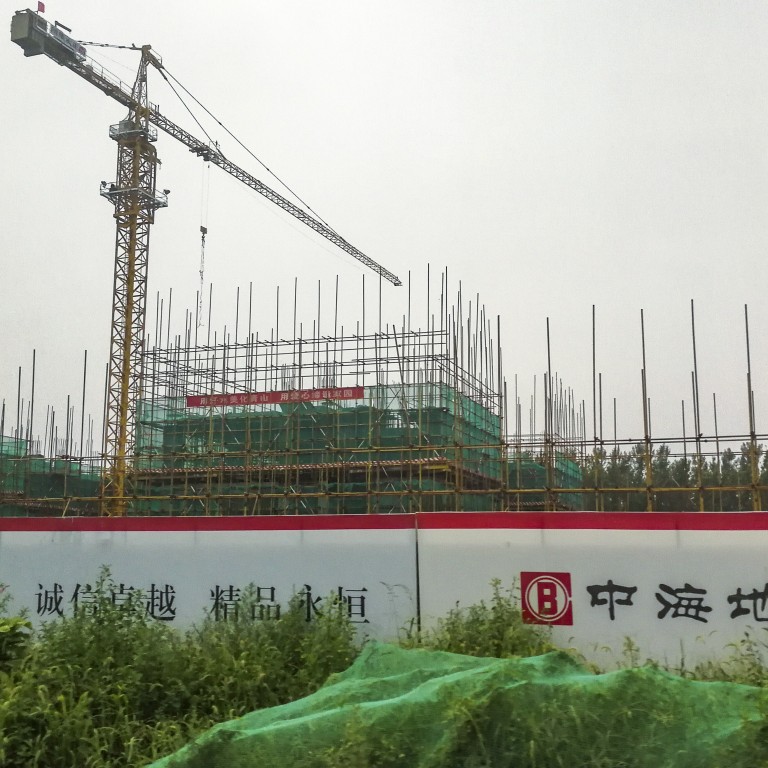 China Overseas Land & Investment develops technology ecosystem to create new income source, as first-half revenues beat expectations
The developer reported that its basic earnings per share slipped 3.7 per cent to HK$1.87, beating analysts' estimates
Contracted property sales grew 4.2 per cent to in first half to 172 billion yuan despite no sales for almost two months
China Overseas Land & Investment (COLI) is moving to develop a technology ecosystem to create new sources of income amid a slowing property market, as the developer's first-half revenues beat expectations.
The company's strategy is to allocate 2 per cent of its resources to fund new businesses such as elderly living, education, logistics and supply chain management to "foster new sources of profits", chairman Yan Jianguo said in an earnings teleconference on Monday afternoon. Residential and commercial developments take up the bulk of them.
The state-owned developer hopes to "establish a technology ecosystem" by setting up a new supply chain management company for the construction materials sector and a technology company to digitally manage residential development and business operations, it said in an earnings filing.
"COLI's prudent expansion strategy could help defend against the softening economic outlook amid Covid-19," said Patrick Wong, senior research analyst of Asia Real Estate at Bloomberg Intelligence in a note.
The company reported net profits down 3.7 per cent to 20.5 billion yuan (US$2.97 billion) in the six months to June 30, compared to 21.3 billion yuan in the same period of 2019.
Revenues increased 11 per cent in the first half to 88.6 billion yuan, beating consensus estimates of 81.6 billion yuan according to analysts polled by Bloomberg.
Basic earnings per share slipped 3.7 per cent to 1.87 yuan, beating analysts' forecasts of 1.40 yuan.
"The pandemic has had a big impact on us. We had no property sales for one and a half months," said chief executive Zhang Zhichao, speaking on the teleconference.
However, the group was able to achieve contracted property sales of 172 billion yuan in the first half, a year-on-year increase of 4.2 per cent. This was helped by sales in June which amounted to 57.6 billion yuan, a 32.3 per cent increase from a year ago and setting a new monthly record for the group.
"Without a severe rebound in coronavirus cases and deterioration in the economic situation, we are still relatively confident that we can reach our HK$400 billion sales target for the full year," said Zhang.
China's new property sales slipped 5.4 per cent in the first half to 6.69 trillion yuan compared to the same period last year, according to data from the National Bureau of Statistics.
"The mainland real estate market has fragmented and begun to compete based on inventory, which presents structural opportunities. The buying power is returning to the higher-value first- and second-tier cities and core urban agglomerations," said vice-president Guo Guanghui speaking on the teleconference.
Sales in Beijing, Shanghai, Chengdu and Guangzhou each exceeded 10 billion yuan in the first half, the company said in the filing.
The group acquired 21 land parcels in 13 cities in mainland China, adding a total gross floor area of 5.82 million square metres to its land reserves.
The company proposed an interim dividend of 45 HK cents per share.
COLI's shares rose 0.9 per cent to HK$23.45 after the announcement on Monday.
This article appeared in the South China Morning Post print edition as: China Overseas Land pins hopes on 'tech ecosystem'