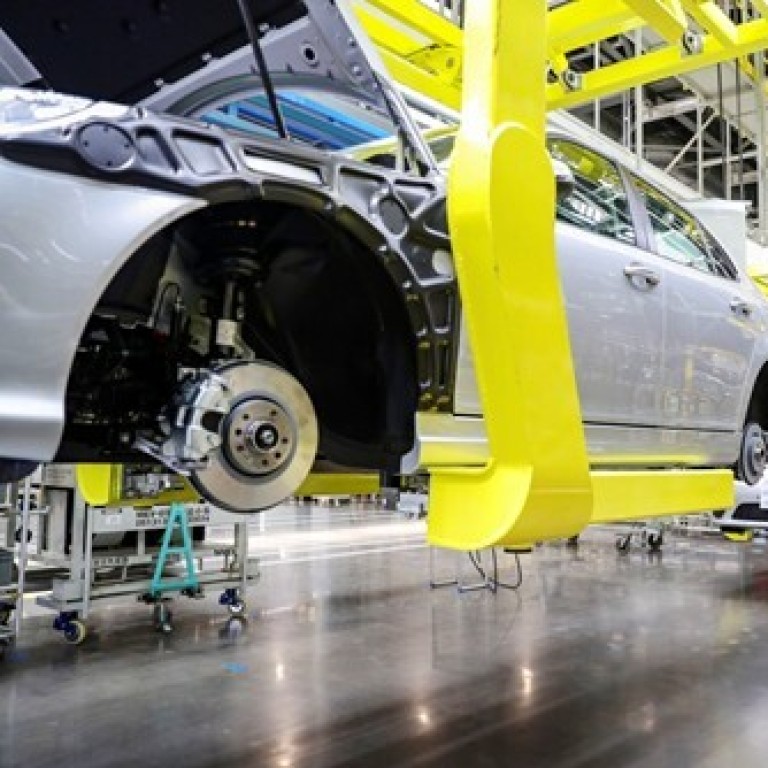 China EV war: Evergrande raises US$3.35 billion in plan to dominate Tesla, NIO and other home rivals
Company to sell 952.4 million new shares to six Hong Kong and mainland tycoons at a 9 per cent discount to Friday's closing price
Stock has risen 307 per cent over the past 12 months despite huge losses in recent years
China Evergrande is taking a step further in its ambitious plan to conquer the global electric vehicle (EV) market by making one of its biggest fundraisings yet from six private investors since switching its focus from the health care business in 2018.
China Evergrande New Energy Vehicle Group, the developer's Hong Kong-listed unit, is raising HK$26 billion (US$3.35 billion) selling 952.4 million new shares at HK$27.30 each, according to a Hong Kong stock exchange filing on Sunday. The price represents a 9 per cent discount to the last traded level on Friday, and the stake amounts to about 9.75 per cent of its enlarged capital.
Some of the richest
Hong Kong and mainland tycoons
have agreed to subscribe for the shares, the company said. They include Chan Hoi-wan of developer Chinese Estate Holdings and spouse of Joseph Lau Luen-hung, as well as Liu Ming-hui, the founder of China Gas Holdings. Each will buy HK$3 billion of stake. The buyers have agreed to a 12-month lock-up on their shares.
The stock placement shows the investors' confidence in the business prospects and can also strengthen its capital base, according to the company's filing. It will help the Group's strategic goal of becoming
"the world's largest and most powerful
new energy vehicle group," it added.
Chinese EV makers like NIO, Xpeng, and Li Auto are rushing to catch an expected upswing in demand as China's economic rebound gains traction after
growth quickened to a pre-pandemic pace
of more than 6 per cent last quarter. China is also set to become the world's biggest market for EV when 4 million cars, or one in every five vehicles, will be powered by electricity by 2025.

China Evergrande NEV is controlled by the country's third richest tycoon Hui Ka-yan. His plan is to raise its car production capacity to
500,000 to 1 million vehicles within three to five years
, the company said on its website. Its plants in Shanghai and Guangzhou will be capable of rolling out 200,000 units a year each at the beginning, before reaching 1 million by the fifth year, it added.
The company's shares have risen 307 per cent over the past 12 months, giving it a market value of about US$34 billion despite incurring huge losses over the past two years. The other four investors who have agreed to take up HK$5 billion each in the stock placement include businessmen from its home base Shenzhen.
China Evergrande NEV intends to spend the money on technology research and development, production of new energy vehicle business and repay older debt, it said in the filing.