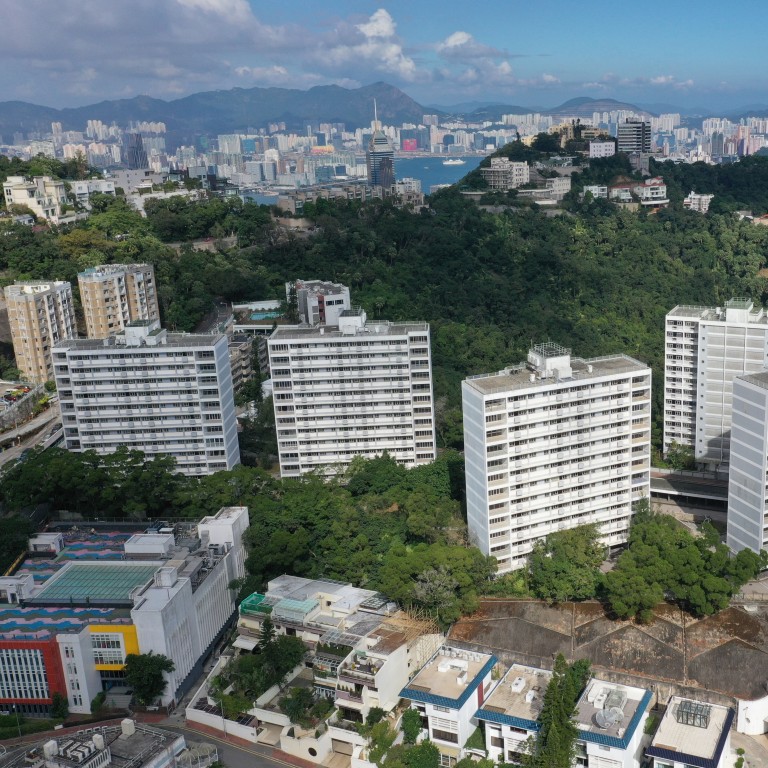 Wharf (Holdings) breaks own record set less than two months ago for residential plot on The Peak
A consortium led by a subsidiary of The Wharf (Holdings) outbid four rivals to win a second parcel on The Peak for US$935.2 million
At HK$50,010 per square foot, it is 8 per cent higher than the HK$46,272 per sq ft Wharf Development paid for the adjacent site on The Peak
A consortium led by a subsidiary of
The Wharf (Holdings)
outbid four rivals to win a second parcel on The Peak for HK$7.25 billion (US$935.2 million), smashing a record it set less than two months ago and enlarging its land holdings in Hong Kong's most exclusive housing enclave
.
The Lands Department on Tuesday awarded the site on 9 and 11 Mansfield Road, which could yield a total gross floor area of 144,970 sq ft, to Active Pursuit comprising some of the city's richest real estate tycoons.
The consortium includes Wharf Development, a wholly-owned subsidiary of The Wharf (Holdings) controlled by the family of Hong Kong billionaire Peter Woo Kwong-ching; Boswell Holdings, controlled by Sino Land chairman Robert Ng Chee Siong; Cheung Chung-kiu, owner of the historic Ho Tung Gardens on The Peak; Chan Hoi Wan, wife of property tycoon Joseph Lau Luen-hung and his brother Thomas Lau.
At HK$50,010 per square foot, it was 8 per cent higher than the HK$46,272 per sq ft Wharf Development
paid for the adjacent
site at the 2, 4, 6 and 8 Mansfield site on December 23, a record for a Hong Kong residential site sold by government tender in terms of square footage.
Last September, the government announced it would divide the site at 2, 4, 6, 8, 9 and 11 Mansfield into two plots after it failed to sell it by tender in 2018.
Wharf defeated some of Hong Kong biggest developers including CK Asset Holdings, Sun Hung Kai Properties, Henderson Land Development and K Wah International Holdings to win the site, which hosted the former Quarters Premises, where some of Hong Kong's civil servants were housed.
"The group is pleased to have successfully acquired the second Mansfield Road site, this time through a joint bid, subsequent to the No. 2-8 Mansfield Road site acquired" at the end of last year, said Stephen Ng, chairman and managing director of The Wharf (Holdings). "We anticipate synergy as these sites are developed."
Wharf said that it owns an attributable land bank on The Peak of more than 570,000 square feet, including the newly acquired site.
Dorothy Chow, senior director of valuation at JLL in Hong Kong, said the record price shows that developers expect the Covid-19 situation to stabilise soon and do not see any negative impact on the property market going forward.
Including land cost, the outlay for the luxury residential site at 9 and 11 Mansfield could reach up to HK$10 billion, taking the overall investment for the two plots to around HK$26 billion, said Thomas Lam, executive director and head of valuation and advisory at property consultancy Knight Frank.
Market observers estimate that the two sites could accommodate up to 65 three-storey houses measuring around 5,000 sq ft each and a couple of 12-storey residential towers with flats ranging between 2,000 sq ft and 3,000 sq ft.
Lam said the ultra-luxury homes could sell for more than HK$170 million each.
"I won't be surprised if the consortium's partners, who are among some of Hong Kong's wealthiest individuals, reserve one each for themselves," he said.