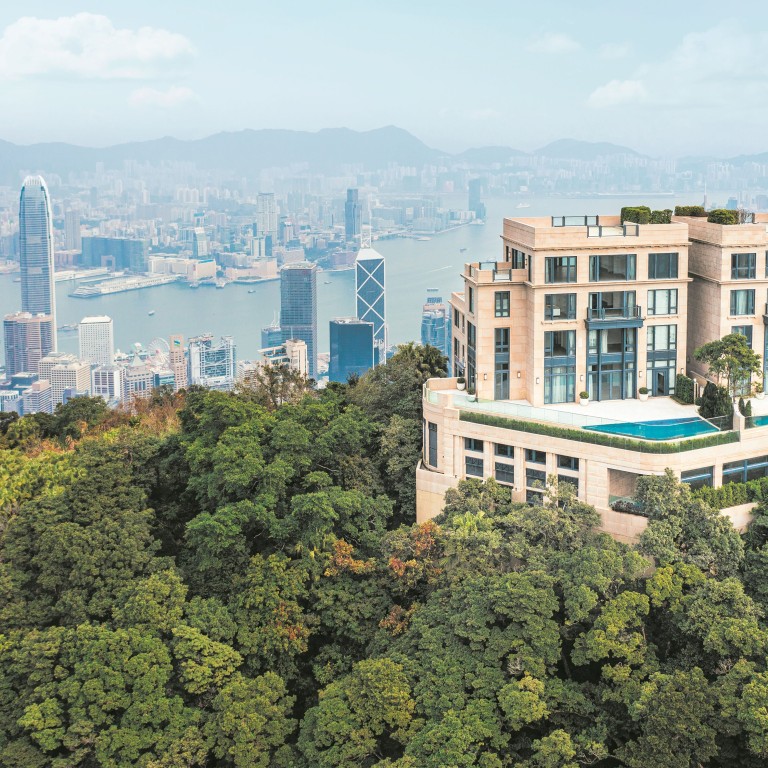 Luxury flat in Hong Kong's exclusive The Peak district is leased for US$2 million a year
The rent for House No 1 at 11 Plantation Road is between 20 and 26 per cent more than some other houses on the same road
Activity in Hong Kong's luxury residential market has picked up of late
A 10,804 sq ft flat in Hong Kong's exclusive The Peak neighbourhood has been leased for HK$1.35 million (US$174,036) a month, Wharf (Holdings), the landlord, said on Tuesday.
The rent for
House No 1 at 11 Plantation Road
translates to HK$125 per square foot, which makes it the most expensive in per square foot terms so far this year, agents said. It was between 20 and 26 per cent more than some other houses on the same road. The rent for a 4,029 sq ft home at 46 Plantation Road was listed on spacious.HK for HK$400,000, or HK$99 per square foot, a month. Another home listed with property agent Executive Homes was going for HK$420,000, or HK$104 per square foot, a month.
In July last year, an 11,002 sq ft house at Mount Kellett Road on The Peak was rented out for HK$1.4 million, or HK$127 per square foot.
"This should be the most expensive monthly rent for a house in Hong Kong in 2021. Buoyed by the brisk equity market, ultra luxury housing in the city will see big gains this year," said Thomas Lam, executive director at international property consultancy Knight Frank. "The senior executives of listed companies, particularly those from mainland China, have raked in millions of dollars from trading stocks. In the long run, these rare houses with prestigious addresses are still favoured by these executives," he added.
Activity in Hong Kong's luxury residential market has picked up of late, particularly sales. More than 10 residential transactions worth more than HK$100 million each have been seen recently, according to Centaline Property Agency, which said investors that had reaped huge gains from the stock market were diversifying into luxury property.
There are seven homes at 11 Plantation Road, each measuring 6,000 to 10,000 sq ft, with commanding views of the mountains and Victoria Harbour. House No 1 is four storeys tall and comes with a 2,333 sq ft backyard and a 2,700 sq ft basement. It has security features such as glass breakage infrared sensors. Each house has a private lift and the top floor can be used as a banquet hall.
Wharf said it will release House No 2 and 3, which range in size from 10,344 sq ft to 7,704 sq ft, for tender on March 9 and 22, respectively.
The developer, which is controlled by the family of billionaire Peter Woo Kwong-ching, has been increasing its land bank on The Peak. Last month, it formed a consortium to secure a plot at 9 & 11 Mansfield Road for HK$50,010 per square foot,
a record for a Hong Kong residential site sold by government tender in terms of square footage
. The consortium won the parcel for HK$7.25 billion. Wharf spent HK$12 billion for another plot at 2,4,6 and 8 Mansfield Road in December.
On Tuesday, it also said it had sold a 6,061 sq ft house at 77-79 Peak Road for HK$558 million, or HK$92,088 per square foot, the highest price in the development. It said it had made HK$1.7 billion from the sale of three houses at the development in two weeks.