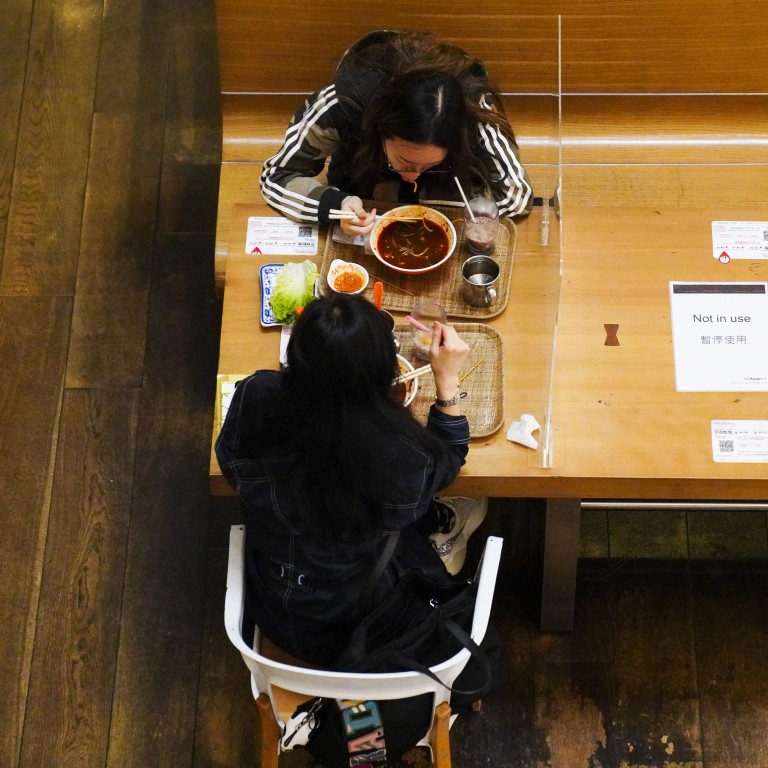 Vacancy rates of Hong Kong street shops stabilise as eateries bet on spending bounce, cheaper rents to move into trendy districts
Vacancy rates of shops in core areas are likely to continue to stabilise in the short term, says Centaline Commercial executive
Plunge in visitor arrivals has hit luxury and cosmetics shops, but it has led to a widening in the variety of shops in the city's major shopping districts
Hong Kong's embattled street shop market is showing signs of stabilising, with mass market restaurants taking advantage of lower rents to replace luxury and cosmetics businesses in the city's main shopping districts.
Vacancy rates in major districts have stabilised as more businesses, particularly restaurants, are betting on a bounce in spending power, said Raiky Wong, director of retail department at agency Centaline Commercial. The launch of Covid-19 vaccines would help to bring the
pandemic under control
, and will slowly lead to a recovery in economic activity, he added.
"The market generally believes that the shop sector is not far from the bottom. More businesses are likely to take advantage of this period of time, when there is still room for negotiating rents, and speed up their deals," Wong said. "Recently, a lot of large shops have been rented in urban areas, which reflects a rebound in tenants' confidence. The vacancy rates of shops in core areas are likely to continue to stabilise in the short term."
The
signs of improvement
come after a massive decline in tourist arrivals, which plunged 94 per cent to 3.57 million in 2020. Hong Kong has restricted entry by overseas visitors and had stringent quarantine measures in place since mid-March last year.
And while this plunge in visitor arrivals has hit the businesses of luxury and cosmetics shops, which were primarily geared to this customer base, it has led to a widening in the variety of shops in the city's major shopping districts.
For instance, a restaurant famous for its snake soup reopened last month in Wan Chai and is now paying HK$120,000 (US$15,454.15) a month, according to Centaline. When it closed in April last year, it was paying HK$300,000 a month for a shop in Causeway Bay's Percival Street.
A Taiwanese sponge cake shop has also opened in Causeway Bay at much lower rent than before, according to Midland IC&I. The vacancy rate in the premium shopping district improved for a fourth straight month in February, dipping 0.4 percentage points month on month to 10.9 per cent last month, according to Centaline. Last year in June, it rose 0.3 percentage points to 11.4 per cent.
The vacancy rate in Mong Kok, another shopping district, improved for three months in a row, slipping 0.2 percentage points to 11.9 per cent in February, according to Centaline.
The number of shop leases in the January to February period rose 1.8 times year on year from 266 to 754 this year, according to Centaline data. The rental market has recently been stimulated by a correction in rents so transaction volumes are likely to rise, said Teddy Wong, senior district sales director at Centaline.
High-street shop rents declined 37 per cent overall last year. And DBS Bank (Hong Kong) said it did not expect them to rise this year.
Restaurants in general have also benefited from well-equipped eateries being put up for distress sales and a number of experienced workers looking for work after being retrenched. This has led to plentiful new mass-market restaurants, said Ray Yung, district sales director at Midland, who was optimistic about the market's outlook.
Commercial property has, in general, also benefited from the removal of the double stamp duty, with more business activity over the Lunar New Year period, which is traditionally off-season, said Daniel Wong, Midland IC&I's chief executive. He said he expected the sector to do well.