Tourism
Get more with myNEWS
A personalised news feed of stories that matter to you
Learn more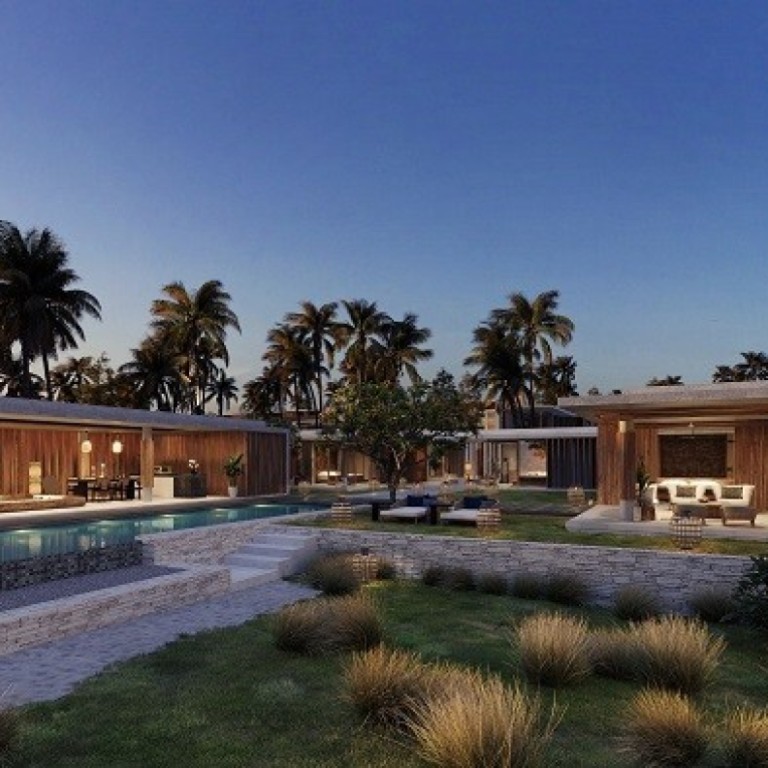 A quiet piece of heaven opens up with Cap Karoso's 2022 launch on Indonesia's Sumba island
Spanning over 11,000 square kilometres, Sumba is home to stretches of stunning white-sand beaches and tribal villages
Once completed, the resort will comprise a 47-room hotel and 20 villas
To acquire a 9-hectare plot of land on Indonesia's south-western island of Sumba, a getaway some 50 minutes by plane from Bali, French entrepreneurs Fabrice and Evguenia Ivara first had to request for ancestral approval.
This unusual requirement led them to host a traditional ceremony together with village heads for 600 locals, dressed in traditional garb. Their efforts have paid off, as Cap Karoso, a resort built on the bought land, is set to open next year. Once completed, the resort will comprise a 47-room hotel and 20 villas.
Without direct flights to the island, Sumba has remained largely unknown to tourists, and has been spared the usual buzz its more famous neighbours, Bali and Lombok, typically drew before Covid-19 hit. Spanning over 11,000 square kilometres, Sumba is home to stretches of stunning white-sand beaches and tribal villages.
Although Wi-Fi is available on the island, the way of life for locals has largely been shielded from globalisation – megalithic tombs are still built to bury the dead, said Eve, short for Evguenia.
"The tribes there live in traditional houses – huts with roofs of 25 metres tall – with animals roaming free on the road. When you drive, oftentimes you have to stop because, for example, the dogs lay on the road and they don't move as they don't yet understand that cars are a danger. It is really as if you are travelling in a country 1,000 years back in time," said Eve. People sport traditional wear, with men donning a machete at their waist, and women in their sarong.
The couple first took a holiday in Sumba in 2017, and were awed by the natural surroundings and its unique Marapu culture, derived from an ancestral belief widely adopted by the Sumbanese. The natives comply with rituals and ceremonies, believing that the spirits of their ancestors will watch over them. The importance of ceremonies is one reason the locals are born into debt as they pour their money into such events and into building impressive tombstones.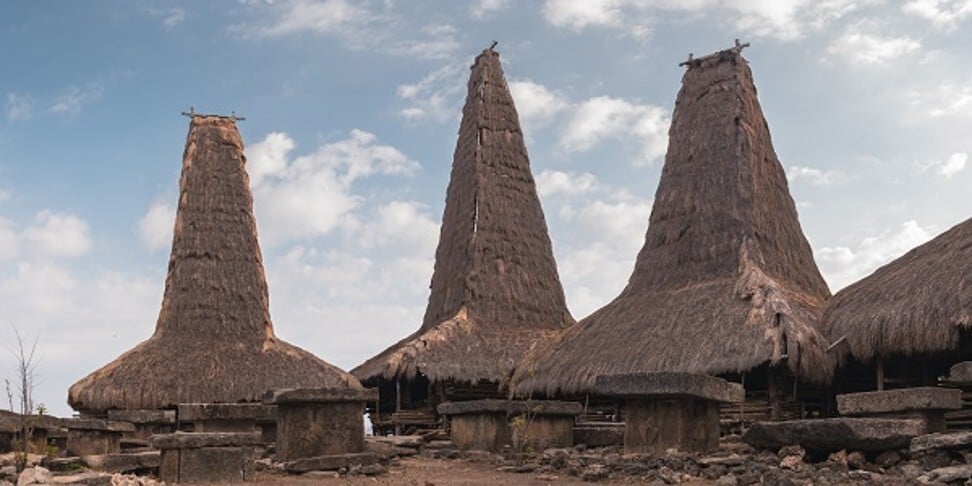 "It's a completely different way of living. And I think this is what really struck us and we told ourselves: 'If we do a project, it must be here'," said Eve.
The Ivaras engaged award-winning architect Gary Fell from Bali-based GFAB Architects to turn their vision to reality. Fell's approach for the project is to blend the buildings with the surrounding nature, accentuating the Sumbanese landscape with the geometric lines of the villas and hotel.
Fell first travelled to Bali in 1996 to work on the Four Seasons Bali at Sayan, and eventually set up his practice in 1999. The firm's past clients included a range of resorts, hotels and private residences, predominantly in Indonesia, Thailand and Vietnam.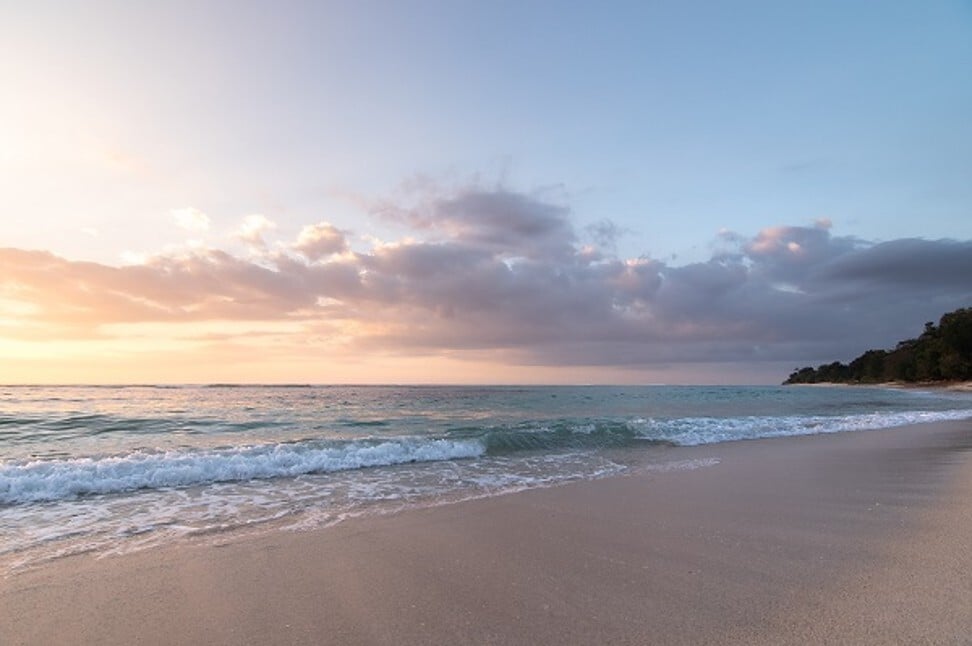 The villas at Cap Karoso encompass four two-bedroom duplex units, six two-bedroom villas, and 10 three-bedroom villas, built from 5 to 14 metres above sea level. Each villa enjoys a spacious terrace with a lounge area, open-air kitchen, and barbecue deck, where guests can soak in views of the sunset and enjoy the sea breeze.
Eve, who comes from a background in product design for luxury group LVMH, is particular about aesthetic details. This is evident at Cap Karoso, where each bedroom showcases a Sumbanese ikat, a hand-woven textile widely seen in traditional ceremonies held on the island. Other decor include Indonesian marquetry, artisanal ceramics, and vintage statues sourced from Sumba and Timor, Indonesia. Teak wood and stone from Sumba are also used in the bathware, which is designed to look minimalist and sleek.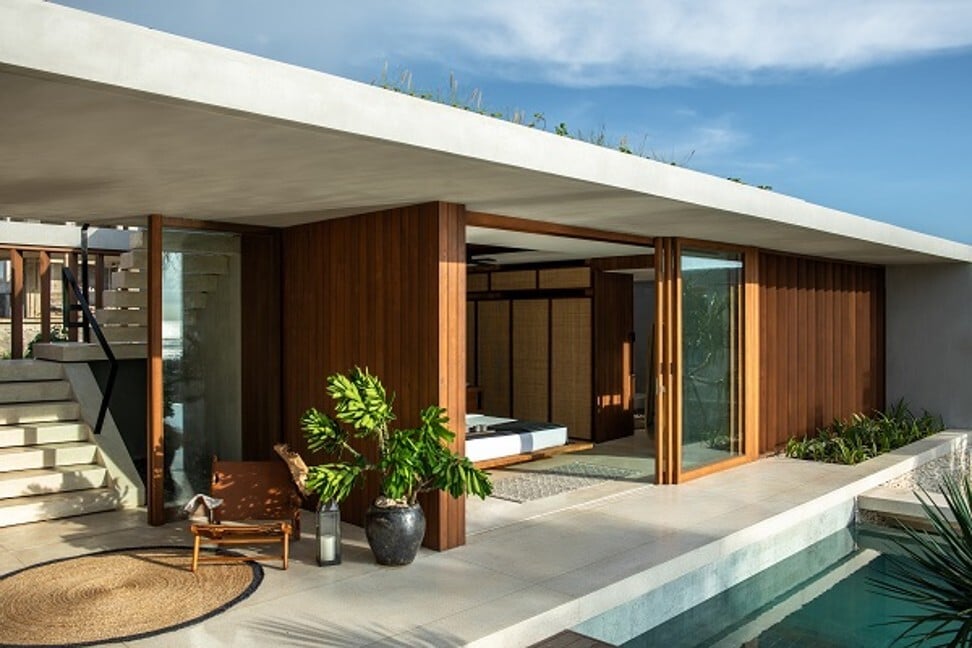 Eve had in mind to bring something that is "local, regional, sustainable and authentic" to Cap Karoso. "When you see artisanal objects in shops and malls, you are so completely distanced and isolated from the real processes and acts that produced them. And I wanted in our project to combine all these elements, and bring things to the roots," she said. "I believe that in Asia, especially in Indonesia, there is amazing craftsmanship, and an amazing know how for lots of different things, like carving, ceramics and weaving."
"It's amazing to actually go and source those things and find people who do them the best, and bring the objects into the hotel where our guests will be able to, not just enjoy … but also know why it is done like this, why this shape, why this colour, and how it is connected to Sumba," she said.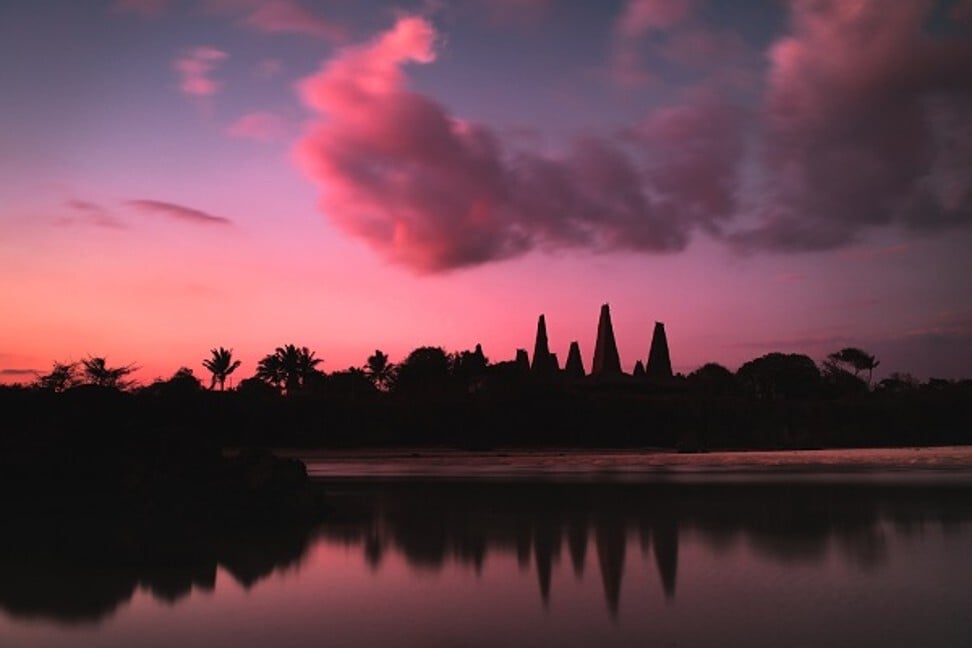 Built with sustainability in mind, Cap Karoso will source most of its fresh produce for its restaurants from its own organic farm, which is a few kilometres away from the main guest residence. The farm was set up by French organic agriculturalist, Philippe Guigliond, and is now run by a team of 15 local farmers.
Occupying 3 hectares of land, the farm will play a big role in reducing waste. "In Sumba, there are a lot of things that you cannot buy, like salad and big tomatoes. So imagine if your salad flies every day from Bali by plane, because it is the only way – by ship, it will be too late. Imagine how much energy and plastic would be wasted, and carbon footprint generated," Eve said.
Pigs and buffaloes, reared to supply fertilisers to the farm, will be, in turn, fed waste from Cap Karoso's restaurants.
Beyond just supplying produce and cutting carbon footprint, Cap Karoso's farm will also be educational and experiential for tourists. Tours can be conducted to educate them on permaculture, a system for growing plants and crops in a self-sustainable way.
Investing in sustainability has added to about 50 per cent of development costs, Eve estimated. Such efforts in Cap Karoso include a blanket ban on plastic packaging, a water treatment plant to purify waste water for gardening purposes, and a solar panel park, which aims to supply 85 per cent of energy at the resort.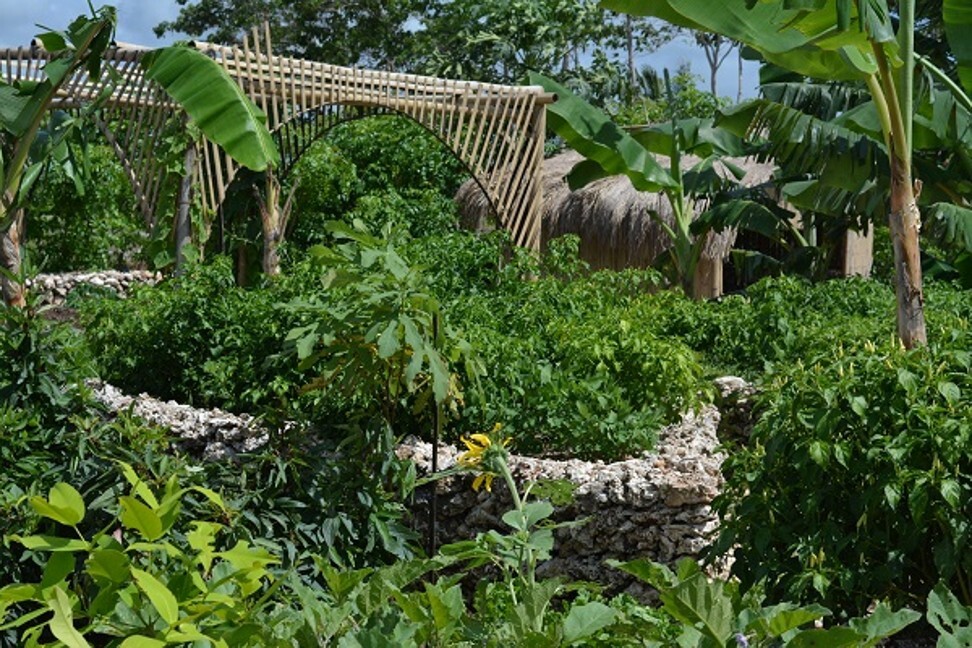 Cap Karoso also plans to hire 80% of personnel from Sumba itself, training and equipping them with new skills – which was a "key point for us", said Fabrice.
"You create opportunities for these people who really work very hard to gain skills, but want to keep those skills in Sumba and live close to their families and have this balance between having a better life and still being attached to the ancestral culture," said Eve, who has learned that the young generation on the island wish to continue working and living in Sumba, and not move to larger cities.
Cap Karoso's main restaurant, called Julang, will welcome guest chefs from France and beyond for short residencies, and task them with interpreting Sumbanese dishes. The concept is a mix between fine dining and a community table, and will be open to a maximum of 28 guests per dinner to ensure an intimate experience.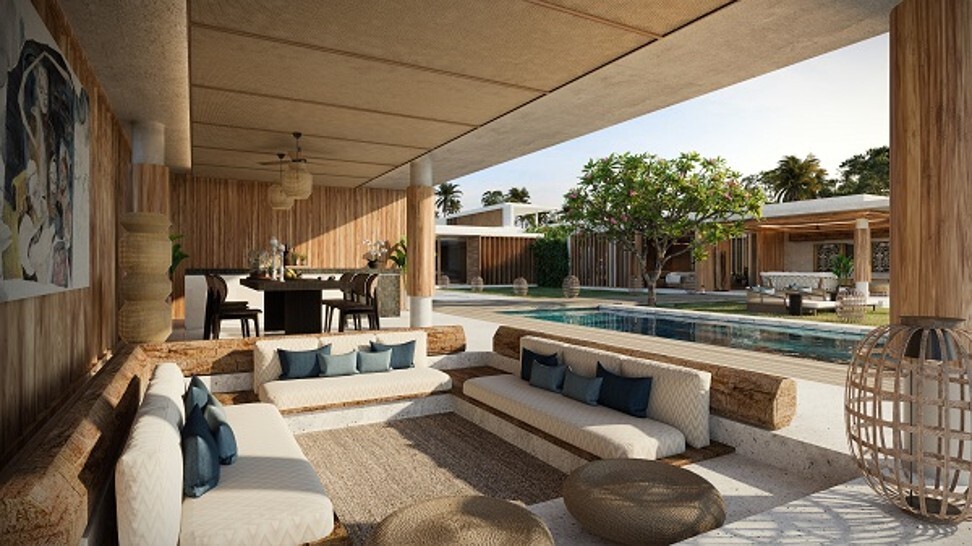 With the pandemic casting uncertainty on tourism, Cap Karoso's opening has been delayed from November this year. The couple now aims to open the project in February or March next year, hopeful that mass vaccination drives will allow travel to resume.
"Today, countries like Italy or Greece have started to open to vaccinated travellers from the US in particular. We believe that this trend will continue in Southeast Asia, where countries such as Indonesia will be willing to open their frontiers to the vaccinated travellers, bringing back business and jobs to the local population," said Eve.
"Our priority is to open Cap Karoso after Indonesia opens to tourists, and when high-end international travel starts to get back on track," she said. "We believe that the entry-level tourist market will be deeply impacted by the pandemic, but luxury travel will be the first to get back to life."
At starting prices of US$398,000 , owners of the villas get to stay in the property for either 14 or 30 days per year, and receive a share of 40 per cent and 33 per cent respectively, of the rents from the rental pool turnover. Already, 10 out of 20 of the villas at Cap Karoso that are up for sale have been sold to expatriates in Singapore.
The development of Cap Karoso is led by The Frenchman, a Singapore-based company of which both Fabrice and Eve are co-founders.