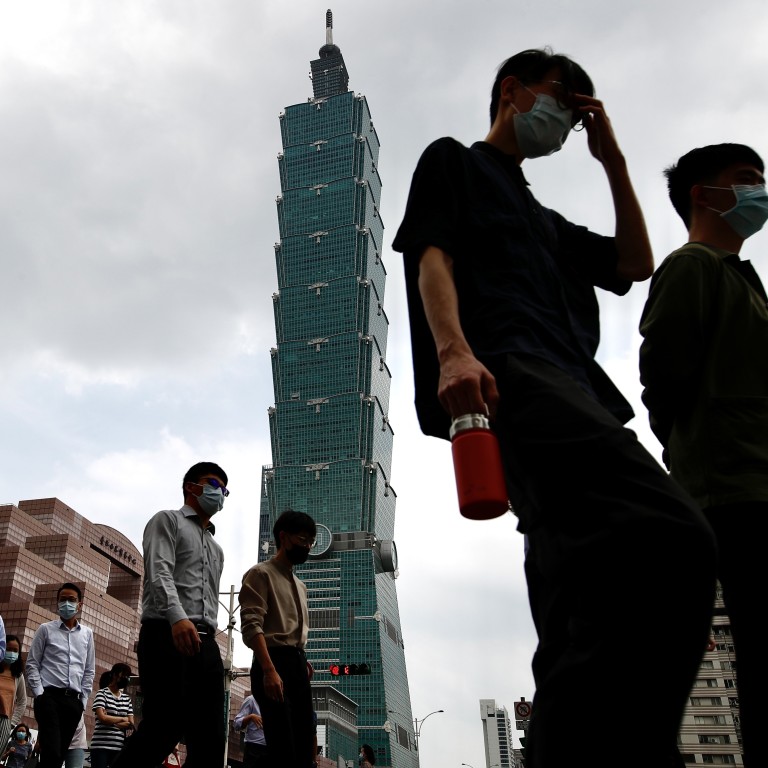 Taiwan's luxury homes may see demand increase as wealthy Taiwanese return home amid rift with Hong Kong
Hong Kong has suspended operations of its trade and cultural office in Taiwan, a decision sources say was made by the Constitutional and Mainland Affairs Bureau
The move reflects a souring of relations and may prompt some wealthy Taiwanese to leave Hong Kong and head home
Taiwan
's luxury property market is likely to see a mini-boom as wealthy Taiwanese living in Hong Kong head home
amid a rift
between the special administrative region and the self-ruled island, according to analysts.
Hong Kong has suspended the operations
of the Hong Kong Economic, Trade and Cultural Office (HKETCO) in Taiwan, a decision that was, according to sources, made by the Constitutional and Mainland Affairs Bureau, which is in charge of the relationship.
"The closure of Hong Kong's trade and cultural office in Taiwan is an indication of the rising tension and deteriorating relationship between Hong Kong and Taiwan," said Maggie Hu, an associate professor of real estate and finance at the Chinese University of Hong Kong.
"It may temporarily lead to the relocation of some wealthy Taiwanese from Hong Kong back to Taiwan. And these relocations will probably cause greater housing demand, increase money flows into Taiwan and boost overall investor sentiment in the
Taiwan real estate market
."
Additionally, eight workers at Taipei's Economic and Cultural Office in Hong Kong have yet to get their visas renewed, meaning they may have to leave the city by the end of the year.
Taipei has been rolling out initiatives to attract Taiwanese manufacturers and bring them back home. In 2019, it launched a three-year programme that provides loans and fast-track business registration processes.
It has so far generated US$42 billion in investment from 783 companies, according to data compiled by the Ministry of Economic Affairs. More than two thirds of them are Taiwanese firms returning from China.
Taiwan was the 12th biggest source of investment in Hong Kong, contributing HK$12.2 billion (US$1.6 billion) in 2019, according to information published by HKETCO.
As of June last year, 28 regional headquarters, 103 regional offices and 226 local offices had been set up by Taiwanese companies in Hong Kong.
These political developments, along with the Covid-19 pandemic that has largely spared Taiwan, are likely to provide a tailwind to the property market.
"Villa listings are in hot demand now as the local wealthy families are looking for remote home offices with more space for families, and private settings," said Michael Liu, owner of property agency Jubon, an affiliate of Christie's International Real Estate. "[Returning] Taiwanese owners and executive-level professionals tend to search for apartment listings."
The number of luxury homes, or those valued above NT$200 million (US$7.2 million), changing hands has climbed from 52 deals in 2017 to 98 in 2019, and slipping back slightly to 85 last year, according to property consultancy Savills. Average prices of luxury units in Taipei crept up 1 per cent from NT$51,700 per square foot in 2019 to NT$52,300 per square foot last year.
The market has even caught the attention of an American communications and basketball tycoon. The owner of the Memphis Grizzlies team, Robert Jacob Pera, recently bought a US$20.4 million luxury apartment on the 25th floor of 55 Timeless Tower in Xinyi, one of Taipei's ritziest districts.
Pera, ranked the 100th-richest person in the world by Forbes, is the founder of Ubiquiti Networks, a global communications technology company that has a research and development centre in Taiwan.
The number of golden card holders – a special visa programme for high-level foreign professionals – in Taiwan as of 2020 had more than tripled to 1,945 from 546 in 2019.
"This also reflects the fact that foreign talent is looking for a safer place to live," said Erin Ting, director at Savills Taipei.
The likely exodus from Hong Kong does not necessarily mean that Taiwanese leaving the city are all going back to Taiwan.
"The closure of Hong Kong's office may send a signal that will have an impact on the future flows of Taiwanese investment out of the housing market in Hong Kong and into other countries like Singapore," said Sing Tien Foo, director of the Institute of Real Estate and Urban Studies at the National University of Singapore.
This article appeared in the South China Morning Post print edition as: Luxury sector likely to see rise in demand as wealthy Taiwanese quit Hong Kong