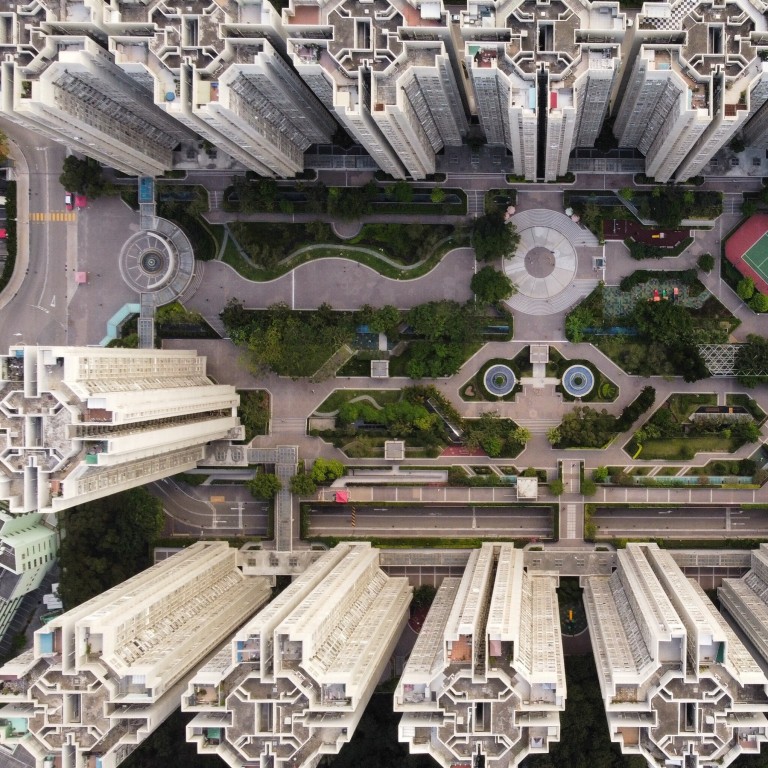 Exodus of Hongkongers triggered by national security law unlikely to dent city's home prices, say analysts
The city's famously lofty home prices, which were subdued by the pandemic, are once again on the rise and approaching previous highs
They are unlikely to be tamed by a wave of people leaving in the wake of the controversial security law seen as limiting their freedoms
A wave of people leaving Hong Kong in the wake of 2019's social unrest and the later introduction of a controversial
national security law
has proved insufficient to dampen the city's famously lofty property market.
Home prices
, which took a small hit from the coronavirus pandemic, are
once again on the rise
and approaching previous record highs. The reasons are numerous, and include a lack of supply and the fact not everyone leaving chooses to sell up, according to analysts.
"While a higher level of migration may be unfavourable to residential prices, the negative effect is likely to be minimal as it is insufficient to turn around the severe supply-demand imbalance," said Nelson Wong, head of research at JLL in Greater China. "In fact, on the contrary, this current wave of migration may have the net effect of triggering a higher transaction volume, supporting mass residential prices."
The number of applications for certificates required for visas, and withdrawals of Mandatory Provident Fund (MPF) savings on the grounds of permanent departure from Hong Kong has risen in recent months. Many Hongkongers are looking to move overseas to escape what they perceive to be the
erosion of certain freedoms
by an increasingly bold Beijing.
For instance, in the third quarter of 2020, withdrawals from the city's retirement savings scheme reached 8,100 cases, compared to a quarterly average of 7,600 cases in 2019, according to data from Mandatory Provident Fund Schemes Authority.
But the exodus will probably not translate to a slowdown in
the housing market
, say analysts.
"Historical precedence shows that a higher level of migration out of Hong Kong, with the assumption that many of them sell their properties, was not necessarily going to drive prices down," Wong said.
Between 1985 and 1997, about 576,000 residents emigrated from Hong Kong, according to BBC Chinese citing Security Bureau data.
During that period, mass residential prices climbed by more than 7.5 times, at an average of 19.6 per cent per year, according to the government's Rating and Valuation Department, while the economy enjoyed average annual nominal growth of 14.2 per cent. Residential prices appeared to be little affected by the wave of migration, according to JLL.
"Not everyone who leaves has a property," said Kevin Tsui, associate professor at Clemson University in South Carolina, a Hongkonger who often comments on the city's affairs. "For those leaving Hong Kong, not everyone sells their homes. Many of them heard about [people] leaving around 1997 selling their properties and not being able to afford one again after that."
Tsui said some of those emigrating because of Hong Kong's political situation are likely to wait and see what happens, and may decide to come back one day.
There are also a lot of "new Hongkongers" – mainland Chinese who have recently acquired permanent residency in the city – ready to snap up homes vacated by emigrants. "This leads to a minimal change in overall demand," Tsui said.
The Chinese or Hong Kong governments may try to offset any possible changes in home prices caused by emigration, with measures such as relaxing the restrictions on home purchases by mainlanders, Tsui added.
Hong Kong's secondary home prices could rise by 5 to 10 per cent in 2021, driven by the highest loan-to-value ratios in a decade and ample liquidity, said Patrick Wong, senior industry analyst at Bloomberg Intelligence.
"Average home prices rose 4.7 per cent year-to-date according to Centaline data, suggesting that we have many more buyers to bid up the prices despite the increase [in the] number of sellers due to the wave of emigration," Wong said.
The recent spike of households planning to leave Hong Kong could boost the value of annual secondary home sales to the highest level since 1997, Wong said. The number of such transactions could increase 35 to 45 per cent year-over-year to somewhere between 56,000 to 60,000 units this year.
This article appeared in the South China Morning Post print edition as: Exodus 'unlikely to dampen flat prices'