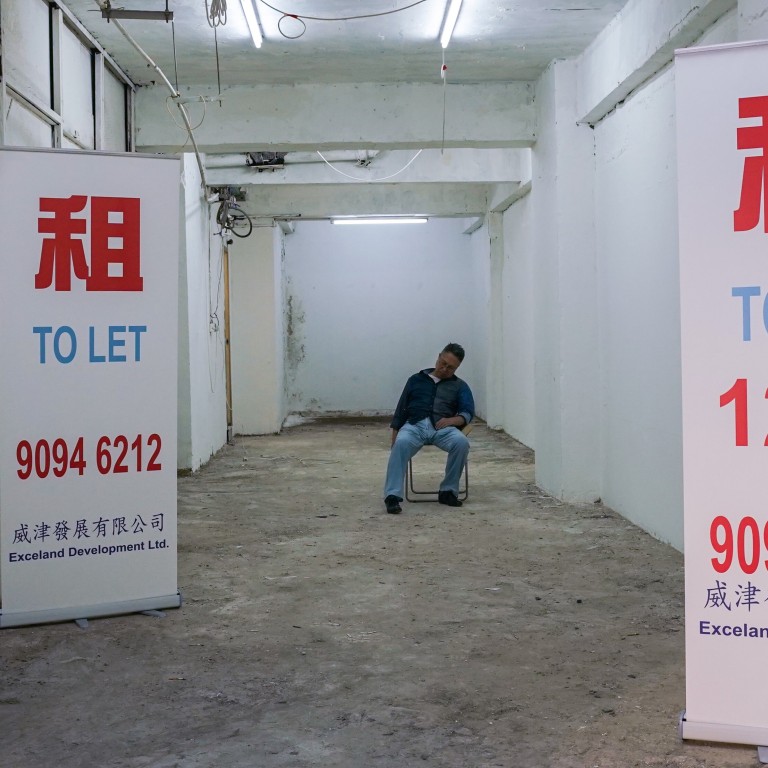 As rents decline to 2003 levels in major Hong Kong shopping districts, retailers lock in long-term leases at cheaper rents
Rents in Central, Causeway Bay, Tsim Sha Tsui and Mong Kok have returned to 2003 levels
Some retailers even expect to make a profit in the next three to four years, once the border with China reopens, CBRE executive says
Retail rents in some of Hong Kong's main shopping districts have fallen to levels last seen in 2003 – and this has prompted some to lock in long-term leases for street shops.
Rents in Central, Causeway Bay, Tsim Sha Tsui and Mong Kok, four of Hong Kong's major shopping areas, have returned to 2003 levels, when the city's retail sector largely relied on local spending.
"Retailers think they can survive at current rent levels," said Lawrence Wan, senior director of advisory and transaction services for retail at CBRE. Some even think they could make a profit in the next three to four years, once the border with mainland China reopens, he added.
Over the past 18 months, the sector has recorded its worst downturn on record. And as the likes of Topshop, Gap and JCrew have either exited or scaled down operations in Hong Kong amid political unrest and the Covid-19 pandemic, others are taking advantage of lower rents to expand or even move into better locations.
These retailers were also optimistic about a potential rise in consumption, Wan said. They were betting on spending sentiment being boosted by the rewards worth more than HK$80 million (US$10.3 million) being offered by the city's business community to drum up interest in vaccinations, as well as the government's electronic consumption voucher scheme being rolled out as early as August.
Retailers dealing in daily necessities and lifestyle products were committing to street shops because rents were so low, said Martin Wong, director and head of research for Greater China at Knight Frank. "They are expected to have a better sales performance than the luxury sector, whose sales rely highly on tourists," he said.
Elsewhere, US fashion brand Brandy Melville was taking over a shop vacated by luxury watchmaker Rolex on Russell Street in Causeway Bay. The brand operates a store in IFC Mall in Central, but this will be its first street shop in Hong Kong. It is paying HK$600,000 (US$77,335) a month for the space, 70 per cent less than the HK$2 million that Rolex paid, according to industry experts.
Last month, luxury goods retailer Dickson Concepts (International), which operates the Harvey Nichols department store in Hong Kong, agreed to pay HK$205.3 million for a two-storey shop in Bank Centre Mall, next to Mong Kok MTR Station, for a period of six years, according to its filing with the Hong Kong stock exchange. The lease, which starts from August this year, translates to about HK$3 million per month.
"[The Dickson Concepts deal] is the largest retail leasing transaction so far this year, in our records, in terms of monthly rent," said Knight Frank's Wong. "Retail rents will be bottoming out in the second half of this year, with drops in rents narrowing," he added.
Earlier, Aeon Stores (Hong Kong), which operates retail chains under the Aeon brand, including Aeon Supermarket, committed to taking up 25,000 sq ft on the ground and first floors of Gala Place in Mong Kok. The lease, for six years, cost it HK$85.5 million, according to the company's filing with the Hong Kong exchange.
Both Dickson Concepts and Aeon Stores declined to disclose further details about their deals.
The volume of leasing transactions will increase, but rents are still going to decline, when compared with last year, JLL said. "I believe we will see more transactions in the near term, driven mainly by food and beverage operators, edutainment as well as retailtainment, which is something less common in the past," said Oliver Tong, head of retail at JLL in Hong Kong.
This article appeared in the South China Morning Post print edition as: With rents at 2003 levels, retailers lock in cheaper leases