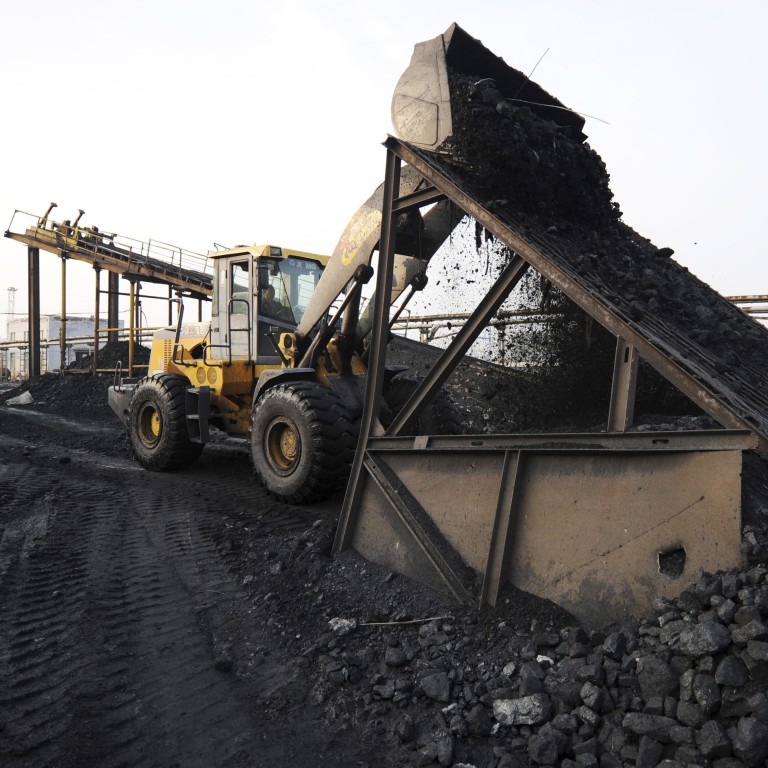 China's rebounding coal price set to fall after Communist Party centenary celebration, says top economic planner
Coal output is expected to recover as idle capacity is resumed, while current orders suggest imports will peak in July and August
The National Development and Reform Commission (NDRC) said a 'relatively large' drop in China's coal prices may follow in July
Rising hydro and solar power output, together with higher coal production and imports, are expected to result in a "relatively large" decline in
China's coal prices
next month, according to the nation's top economic planner.
"We believe coal demand and supply are largely in balance, and the market fundamentals do not support
any major price hikes
," Xinhua quoted an unnamed spokesperson for the National Development and Reform Commission (NDRC) as saying on Saturday.
"As summary hydro, solar power output grows, and coal output and import increases, the shortage will be relieved, and the coal price is expected to see a relatively large decline in July."
Coal output is expected to recover by early July to levels seen in the first half of June as idle capacity is resumed, while current orders suggest that imports will see a peak in July and August, the spokesperson said. Increased hydro and solar power production will also help
reduce demand on coal-fired plants
.
The NDRC's comment came after coal prices rebounded days ahead of the Communist Party's 100-year anniversary celebration on July 1, for which social and economic stability is paramount. Factory-gate price inflation in China hit a 13-year high in May on the back of surging global commodity prices.
Coal prices have risen by about half since March because of strong demand and supply-side limitations. This prompted the NDRC and other authorities to order major coal enterprises to boost output and release state coal reserves into the market in May, which has resulted in a 10 per rise in daily average supply and a moderate price correction, the spokesperson said. Even so, the measures have only provided a temporary relief and prices remain elevated.
"Current coal inventory at power stations is two million tonnes higher than in late May, and power station coal futures have fallen more than 100 yuan a tonne from the previous peak," the spokesperson said. "However, prices have rebounded in recent days, especially for mid to long term contracts."
The average spot market price of coal with a 5,500 kilo-calorific value (heating value) at Qinhuangdao, China's largest coal port, rose 2.4 per cent to 900 yuan a tonne on Friday from a week earlier, while inventory dropped by 0.53 million tonnes to 4.53 million tonnes, according to a TF Securities report.
Some analysts said coal prices will remain high for a while yet.
"On the supply side, as mine work safety has been prioritised ahead of the July 1 Communist Party centenary celebration and in light of various recent accidents, which saw operations in some mines suspended ... thermal coal prices are expected to remain elevated in the short term," said TF's analyst Peng Xin in a note on Sunday.
The price of coal imported from Australia and Indonesia has also risen by 5.5 per cent to 1,045 yuan a tonne in the same period, he added.
"Price declines – helped by higher supply after the centenary celebration – are expected to be limited over the next month given peak summer demand, especially if there is another heat wave," said Dongguan Securities analyst Li Longhai in a note on Friday.
The NDRC's Department of Price Supervision recently said officials have visited various coal hubs to probe coal trading activities and crack down on illegal hoarding and speculation.
The authorities have achieved early results in their efforts to restore market order after the prices of some commodities surged well above levels that would be considered reasonable given the market fundamentals, the NDRC's spokesman Meng Wei said.
Prices of steel and its raw materials including iron ore and coke have risen sharply this year due to strong construction demand, and a supply crunch amid environmental and safety production inspections.