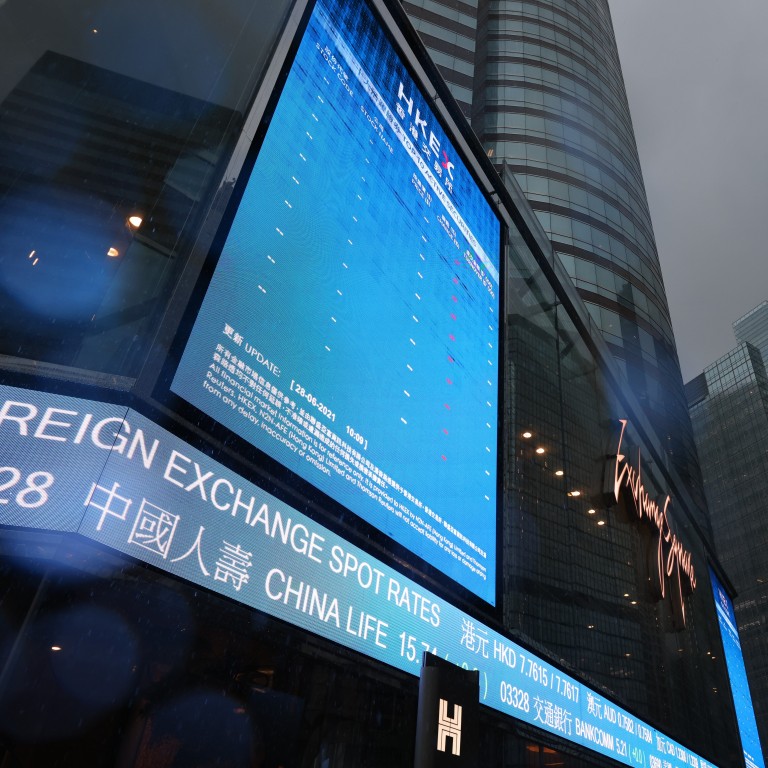 Hong Kong's financial markets, bank branches reopen for business after 'black rainstorm' weather downgrade
Trading in stock and futures markets resumed at 1.30pm local time after 'black rainstorm' warning was downgraded at 11.05am
Local bank branches reopened in the afternoon, while gold and silver trading restarted from 2pm
Hong Kong's
financial markets
reopened for trading in the afternoon following an improvement in local weather conditions.
Stocks and futures resumed trading at 1.30pm local time, according to Hong Kong Exchanges and Clearing, the local bourse operator, after the Hong Kong Observatory downgraded its
"black rainstorm"
signal to red at 11.05am.
Local banks also began serving customers in branches two hours after the downgrade, according to the Hong Kong Association of Banks. Gold and silver exchanges reopened at their usual afternoon sessions from 2pm.
Markets were earlier shut for morning trading after the "black rainstorm" signal was hoisted at 8.20am, following a thunderstorm warning and intense gusts of 70km/h or stronger. It was the first time poor weather conditions has interrupted trading this year.
The local markets will top trading when typhoon signal No 8 or black rainstorm is hoisted by the weathermen. The most-recent warning of No 8 came on October 13 last year when
typhoon Nangka approached
the city and closed markets for the whole day.
Typhoon Higos
halted markets in the first half of trading on August 19.
The Hong Kong Retirement Schemes Association cancelled a media conference scheduled in the morning, among some affected events. It will be postponed to a later date.
China Internet Investment Finance Holdings, a Hong Kong-listed investment company, postponed its annual general meeting from Monday to Wednesday afternoon, it said in a filing.
Fulum Group Holdings, a listed Chinese restaurant operator hiring over 4,000 people, said the storm warning prompted the board to delay its meeting to Tuesday to review and approve its annual result to the end of March 31.