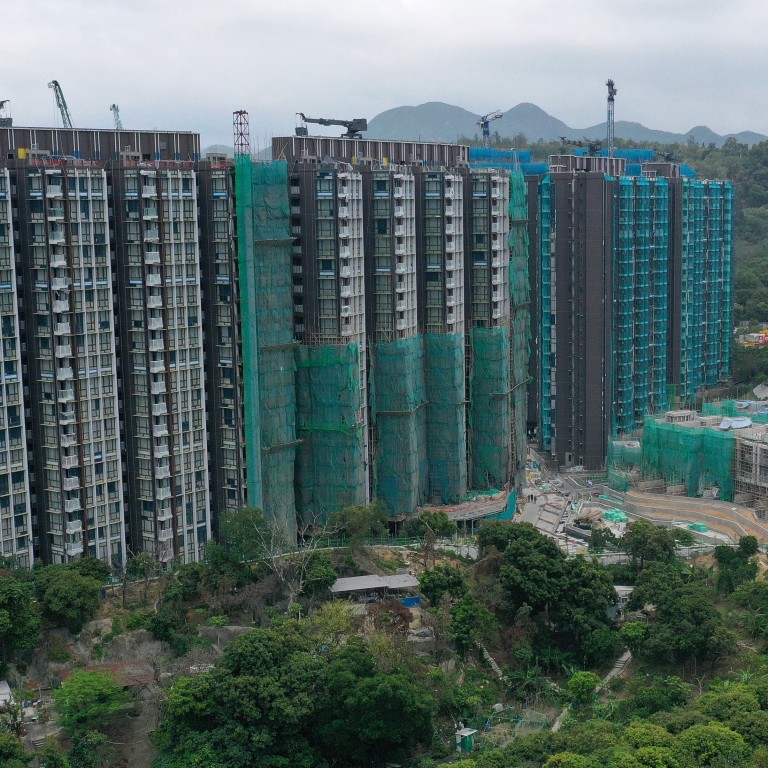 HSBC, ICBC (Asia) and other Hong Kong banks stop mortgage loans for Evergrande's unfinished flats over developer's debt woes
The banks are continuing to offer loans for finished flats, but restricting lending on unfinished properties, according to people familiar with the matter
Evergrande currently has two residential projects under construction in Hong Kong: Emerald Bay Phase Two in Tuen Mun and The Vertex in Cheung Sha Wan
The U-turn on mortgage lending by several banks came after a creditor in eastern China won a court order this month to freeze 132 million yuan (US$20 million) in assets held by the Shenzhen-based developer, raising additional concerns about its financial health.
Evergrande, the world's most indebted developer, said on Monday that it was considering
"legal proceedings"
over the freezing order.
The banks, which also include the Bank of East Asia, are continuing to offer loans for finished flats, but restricting lending on unfinished properties, according to the people, who were not authorised to discuss the matter publicly.
"Such a move is very rare. It is probably banks' concern that
the developer's cash flow problem
will increase lending risk," said Raymond Chong, founder and chief executive at Starprop Agency.
In Hong Kong, Evergrande currently has two residential projects under construction: Emerald Bay Phase Two development in Tuen Mun and The Vertex in Cheung Sha Wan.
"Evergrande is moving forward with the projects on schedule and we will not comment on one or some particular banks' act," a spokeswoman said. "Some banks are still positive on accepting mortgages for presale homes and we believe the impact [on
Evergrande's projects
] is minor.
If any of our buyers come across banks that decline their mortgage application, we suggest buyers find other financial institutions."
The developer would review affected buyers on a case-by-case basis and extend the transaction period for up to 60 days, she said.
HSBC and ICBC (Asia) declined to comment.
Bank of East Asia said approved applications for mortgages at Emerald Bay and the Vertex will not be affected. "BEA continues to accept applications for these projects on a first legal charge basis," the bank said in a statement.
However, Evergrande has stopped its own financial plan that offers new buyers up to 90 per cent of the purchase price through outside financial institutions in the Emerald Bay and Vertex projects within the past three weeks, according to Eric Tso, chief vice-president at mReferral Mortgage Brokerage Services.
"Without the developer's financial aid, they have to seek home loans from banks," he said, adding that those who had already submitted their mortgage applications would be processed.
It is too early to say how many buyers will be affected by the banks' decision to lend more cautiously, Tso said.
Buyers may be able to go back to their lenders and receive a mortgage after the flats are completed, he said.
Tso suggested buyers who have not applied for a mortgage loan should choose "stage payment plans", which require only a 10 per cent down payment, with the remaining 90 per cent being paid via bank loans when the flats are due to be delivered.
Phase one of Evergrande's Emerald Bay development should not be affected by the tightened lending policy because it has been completed.
The 1,228-unit Emerald Bay phase two project is due to be completed in the third quarter of 2021, while the 414-unit The Vertex will be completed in the fourth quarter.
So far, 229 units at The Vertex and 1,196 at Emerald Bay had been sold, said mReferral.
The mortgage broker estimated that 58 buyers – two at Vertex and 56 at Emerald Bay Phase Two – are likely to be affected by the move.
"These buyers who bought flats in May and selected cash payment should apply for mortgages now," said Tso.
Evergrande's bonds are suffering steep haircuts in a key onshore funding market, showing just how risky the bonds are perceived to be by mainland dealers.
Holders of Evergrande's 2023 yuan bond are being forced to accept a 53 per cent discount to pledge the note as collateral in the repo market, according to China Securities Depository and Clearing Corp data, versus 28 per cent in April. A markdown of around 57 per cent of the bond's face value was seen in the wake of the developer's previous liquidity crisis in October, the data showed.
The larger haircuts come as the property giant struggles to convince investors it can generate enough cash to pay down debt. While Evergrande is rated the equivalent of investment-grade by China's largest credit risk assessor, several of its onshore notes have slumped to record lows this week as concern over its financial health worsened.
Additional reporting by Pearl Liu