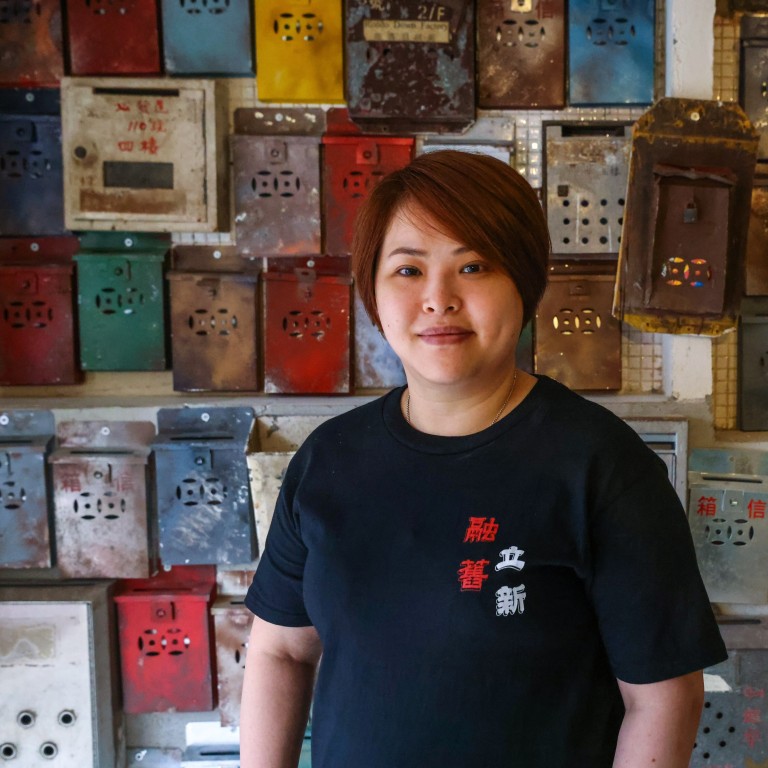 How this Hong Kong developer is blending old and new to produce modern buildings
At the studio, you can buy old chairs, sign boards, sewing machines, typewriters, old mobile phones and even a genuine Cantonese-style veranda for charity
Lofter founder says her investors are very concerned about projects that prioritise ESG
Lofter Group, a professional building services operator, has collected about 100 classic items left behind by the owners of 26 ageing buildings it has redeveloped and refurbished over the past nine years.
Carol Chow, who founded Lofter in 2012, decided to turn two ground-level shops at its recently acquired HK$600 million (US$77 million), 50-year-old tong lau (tenement building) in Prince Edward into a 4,000 square feet Concept Studio to showcase the collection until August 27.
At the studio, you can buy antique items such as old chairs, sign boards, sewing machines, typewriters, old mobile phones and even a genuine Cantonese-style veranda that was removed from one of the old buildings. Proceeds from the sale will go to charity.
"Every street and district has its own history and story. We would like to convey a message that redevelopment and conservation can coexist. Some young people told us it is the first time they have see a Nokia mobile phone and a typewriter after visiting the Concept Studio," she said.
After starting with two people, Lofter has now grown into a company of 40 people with an average age of 34.
Lofter's investors include overseas entities, local private-equity funds, family offices and high-net-worth investors, said Chow, who refused to comment further.
"We have in-house surveyors, architects and building service engineers that provide one-stop services such as identifying redevelopment potential, building design and marketing to investors, even though they are unfamiliar with the Hong Kong property development industry," she said.
"Our daily work is a bit like a developer but with a different model," she said. She added that "overseas funds are very concerned with protecting the environment, promoting good social values and adhering to good corporate governance, ESG and sustainability."
Chow, who studied civil engineering at the University of Hong Kong and holds an MSc in finance and management from Loughborough University in the UK, said their redevelopment projects aimed to blend the past, present and future in terms of design.
Giving the example of a project in Prince Edward, she said the firm would integrate the calligraphy of old signs in this building's interior design with a smart home concept.
It has five urban redevelopment projects under construction and has converted 20 industrial projects into office spaces since 2012. The redevelopment project at 1-7 Ki Lung Street, Prince Edward is Lofter's sixth major urban redevelopment project.
Chow said the proposed redevelopment, within walking distance of the Prince Edward MTR station, will demolish the four blocks of four to six-storey old buildings and redevelop them into a 22-storey residential tower at a total investment cost of HK$1.1 billion, inclusive of the acquisition cost. The proposed tower comprises 150 units that range in size from 250 to 550 sq ft, she said.
Lofter paid an average of HK$15,500 per square feet to acquire all properties from 57 stakeholders, some of whom owned more than one unit, she said.
This article appeared in the South China Morning Post print edition as: Developer Lofter blends the best of old and new