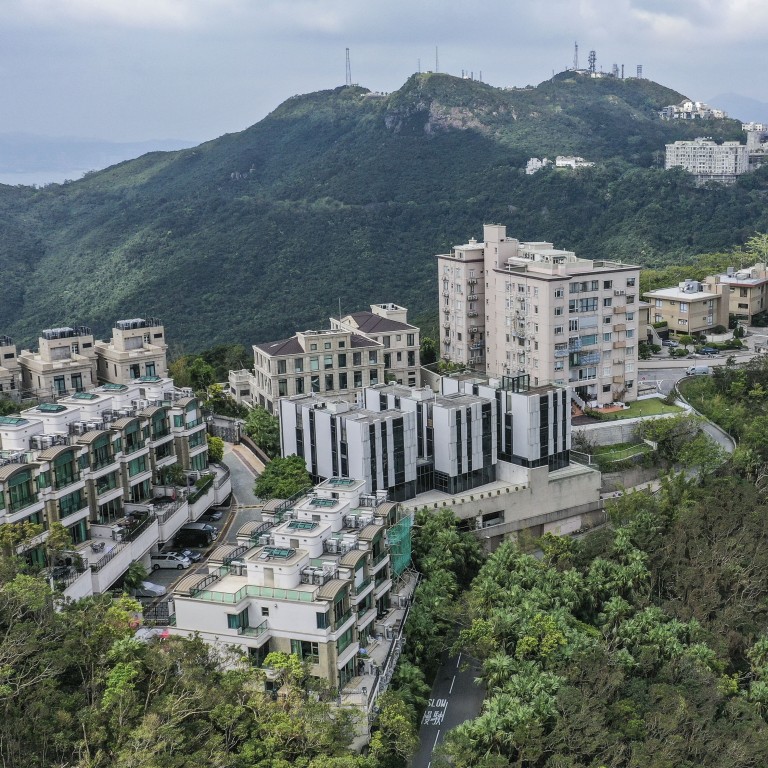 Hong Kong's supply of luxury homes to hit new high after demand from wealthy buyers more than doubles amid Covid-19
We have seen more transactions in second half of 2020 to first half of this year despite the coronavirus pandemic, Colliers executive says
Haven't seen this much confidence in the market in a long time, if ever: Habitat Property founder
The supply for luxury homes in Hong Kong's
ultra-exclusive neighbourhood of The Peak
is likely to hit 404,000 sq ft in 2024, the highest level since 2016, after demand boosted sales of mansions and high-end flats in the district by more than double to HK$12.8 billion (US$1.6 billion) in the 12-month period ending in June, according to Colliers.
"We have seen more transactions in the second half of 2020 to the first half of 2021 despite the [coronavirus] pandemic, as prices have become more attractive," said Hannah Jeong, head of valuation and advisory services in Hong Kong
at the property consultancy
. The prices of luxury residential properties are currently in the HK$80,000 to HK$100,000 per square foot range, she added.
"We forecast a gradual price growth of 3 per cent for the second half of 2021," Jeong said.
The recent flurry of initial public offerings (IPOs) on the Hong Kong and Shenzhen stock exchanges is boosting property sales in the city, as top executives of mainland Chinese companies look for properties to invest in. From last year to the first half of this year, there were 180 IPOs in Hong Kong, raising more than HK$600 billion in fresh capital and bringing a new wave of high net worth individuals into the Hong Kong market, who are likely to buy luxury residential properties.
Luxury homes
are residential properties that cost more than HK$100 million, or more than HK$100,000 a month in rent. Average luxury homes were priced ranged between HK$80,000 and HK$150,000 per square foot previously. For instance, in 2016, a 9,212 sq ft property at 15 Gough Hill Road on The Peak sold for HK$182,370 per square foot, making it the most expensive home in Asia.
Including the Southern district, which covers neighbourhoods such as Deep Water Bay, Shouson Peak, Tai Tam Road and Repulse Bay, the supply of luxury homes is likely to amount to 482,291 sq ft by 2024, also the highest since 2016, Colliers said.
There were 50 transactions of luxury homes between the second half of 2020 and the first half of this year, nearly tripling over the previous year, while the value of sales increased 115 per cent to HK$12.8 billion.
"Among the listings since 2020, 25.6 per cent were from companies based in Guangdong province. Because of the proximity to Hong Kong, the [top executives] of these listed companies were likely to look for property investment opportunities in Hong Kong," said Rachel Chin, associate director of valuation and advisory services in Hong Kong at Colliers.
The demand for luxury homes was split equally between mainland Chinese buyers and wealthy Hongkongers. For example, Wharf Holdings, one of the city's largest builders of luxury homes and shopping centres, sold houses at 77/79 Peak Road, with two being bought by mainland buyers and the rest by locals. From 2016 to the first half of 2021, 10 of the 17 houses sold at Mount Nicholson were snapped up by mainlanders, according to Colliers.
Of the luxury homes sold, more buyers chose the Southern district – 30 – than the 20 who chose The Peak.
"The Southern district, where the Repulse Bay or Stanley areas are, provide a beachfront lifestyle, great sea views, privacy and a mix of modern flat complexes and detached and semi-detached houses, which are ideal for large families," said Jason Fung, director, valuation and advisory services, Hong Kong, at Colliers.
Habitat Property, which specialises in luxury properties and expat relocations in Hong Kong, said the volume and value of sales had both risen 20 per cent in this year's first half from a year ago.
"I haven't seen this much confidence in the market in a long time, if ever," said Victoria Allan, managing director and founder of the property agency.
In April, Habitat brokered the sale of a property in Pine Lodge in Shouson Hill for HK$101 million, a 10 per cent premium. Robust demand has prompted the agency to open a second branch in Stanley.
Although the more infectious Delta variant of Covid-19 was threatening market confidence and economic recovery in Hong Kong, Allan said investors were likely to view the city's property market as a positive investment opportunity.
"I think buyers and investors continue to see positivity in the long-run, with low interest rates, high liquidity and low debt in the market. A lot of the wealthy local Hong Kong Chinese buyers and investors would still look at luxury properties as a key asset class in the long-term, as they have businesses in Hong Kong and they are making money here, so they are more confident in the market," she said.
This article appeared in the South China Morning Post print edition as: rising demand drives supply of luxury homes