China should stop building more coal power plants soon, climate change think tank says ahead of Glasgow summit
China commissioned 76 per cent of new capacity globally last year, up from 64 per cent in 2019, E3G says
Beijing has yet to translate into detailed policies a commitment by Xi to 'strictly control' coal consumption between 2021-25 and phase it down in the following five years
China has shrunk its coal power projects pipeline by 74 per cent since committing to the Paris Agreement on
climate change
, but it should do more to curb new construction, according to a think tank that has called for a total ban on new projects.
As new projects slowed to a trickle everywhere, China – home to more than half of the world's operating coal power generating capacity – commissioned 76 per cent of new capacity globally last year, up from 64 per cent in 2019, E3G said in report on Tuesday.
"[Last year] saw China's position as the world's major coal pursuing nation become further entrenched, as the scale of new plants entering operations offset a retreat from coal across the rest of the globe," said the Europe-based climate risk, finance and energy policy advocacy.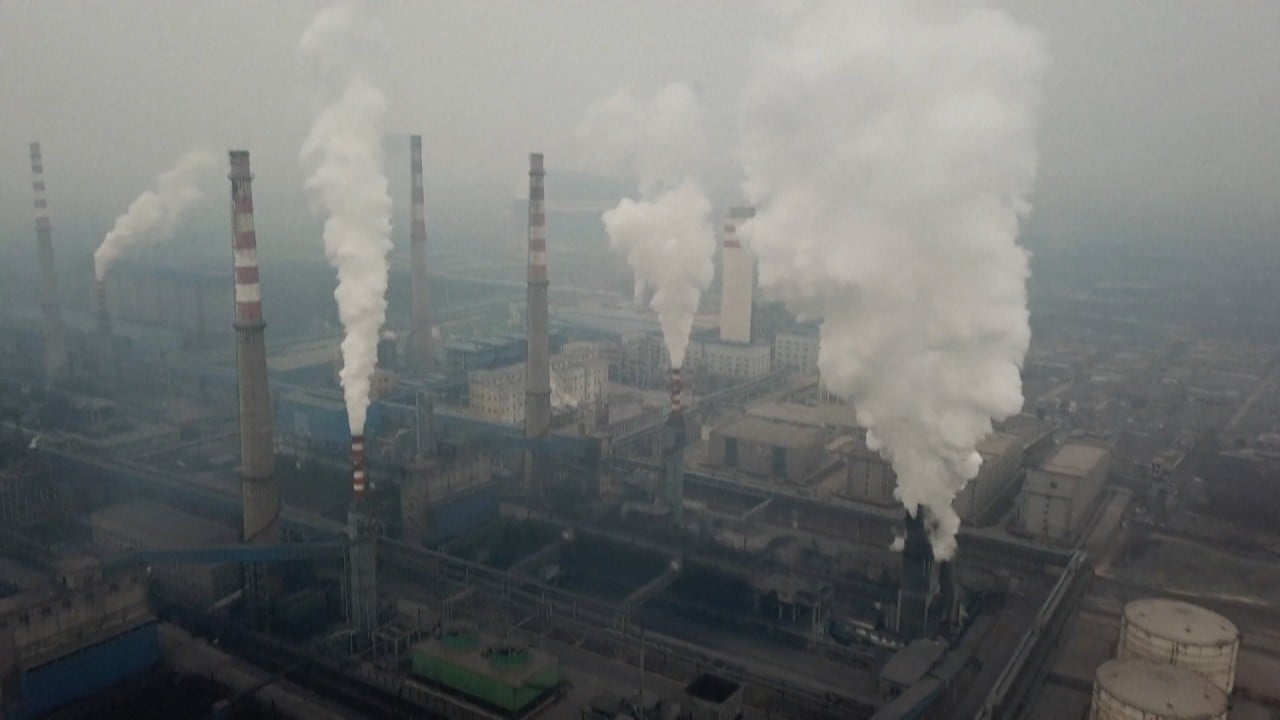 02:38
China launches world's largest carbon-trading scheme as part of 2060 carbon neutrality goal
China launches world's largest carbon-trading scheme as part of 2060 carbon neutrality goal
It called on global governments, including China's, to collectively respond to UN Secretary General Antonio Guterres' appeal in August to stop building new coal capacity from next year, ahead of the upcoming United Nations
climate change
conference in Glasgow in November.
To make good on the global commitment made in Paris – keeping
global warming
at 1.5 degrees by 2100 from the second half of the 19th century to avoid disastrous
climate change
impact – he said the developed world must also phase out existing coal capacity by 2030, followed by all other nations by 2040. Other fossil fuel use also needs to be phased out, while renewable energy investment be raised manyfold.
"As the clock ticks down to COP26 [in Glasgow], the spotlight is shining on the remaining 37 countries that currently still have a pre-construction pipeline of coal power plants," E3G said. "China … India, Vietnam, Indonesia, Turkey and Bangladesh account for over four-fifths of the world's remaining pipeline."
So far this year, China has added about 29.8 gigawatts (GW) of capacity. Elsewhere, the shutdowns of old coal power stations was offset to a greater extent, so that a net increase of 12.5GW was recorded globally, it added. This is despite China cancelling 484GW of projects in the pipeline – a 74 per cent cut – since the Paris Agreement came into force in 2016. Project cancellations amounted to 85 per cent among developed countries and 77 per cent in the developing world outside China.
The country's coal-fired capacity currently stands at around 1,080GW – half the global total – with another 250GW under development, according to an estimate by non-profit environment group Greenpeace. The power sector accounts for about 40 per cent of China's carbon dioxide emissions.
China, the world's largest carbon dioxide emitter accounting for almost a third of global emissions, has yet to translate into detailed policies a commitment in April by Chinese President Xi Jinping to "strictly control" coal consumption between 2021-25 and phase it down in the following five years, E3G said.
China, as the last remaining major provider of public finance for overseas coal projects, should also follow Japan and South Korea's recent commitments to end international coal finance, which can halt more than 40GW of projects in 20 countries, it added.
After approving about 40GW of new coal power plants in the domestic market last year, the Chinese government has severely reined in new projects, amid rising pressure to meet Xi's commitment made last September for carbon emissions to peak before 2030.
In the first half of this year, 24 coal-fired power plants with a combined capacity of 5.2GW have been given the green light to start construction in China, down 78.8 per cent from the same period last year, according to Greenpeace.
Although the power sector has been subjected to carbon emission permits trading to incentivise transition to low-carbon alternatives since July, the impact has been insignificant, as the permit cost of US$7.7 a tonne accounts for only 0.5 to 0.7 per cent of annual generation costs for a typical coal-fired plant with two 300MW units, according to Wood Mackenzie.
"Carbon prices at these levels are unlikely to incentivise generators to improve emission intensity through fuel efficiency, never mind switch to renewables," said Zhou Yanting, the energy and commodities consultancy's senior economist.