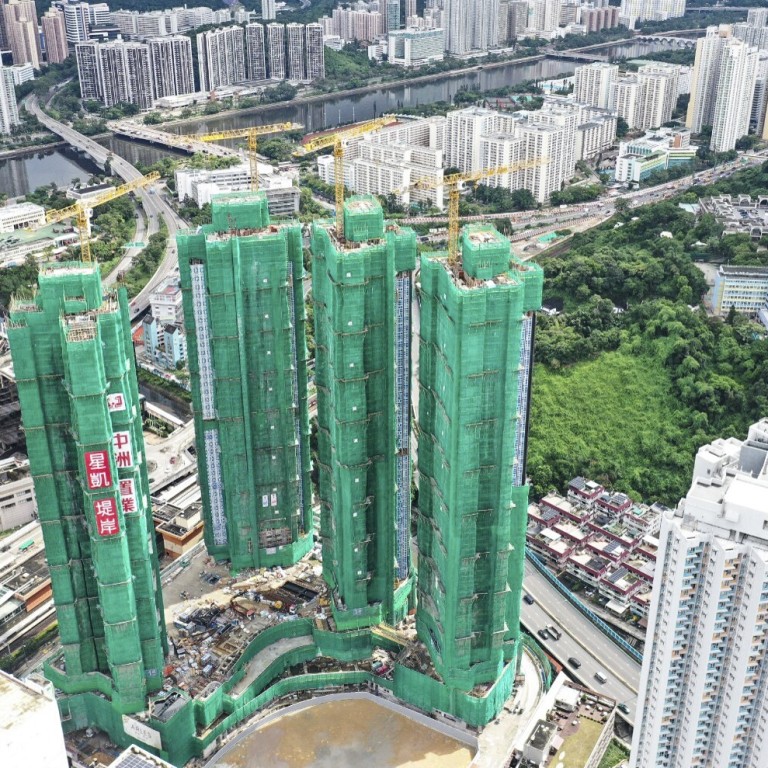 Carrie Lam's policy address could push Hong Kong developers to put 10,000 flats up for sale in fourth quarter
Lam's annual speech 'will definitely' focus on land and housing supply issues, says Sammy Po of Midland Realty
Developers will be pressured to sell faster, or not to sit on land banks for too long: analyst
As many as 10,000 new flats may become available for sale in the fourth quarter of this year in Hong Kong, after Carrie Lam Cheng Yuet-ngor, the city's leader, unveils a widely expected blueprint for increasing land supply to
alleviate a housing shortage
in her last policy address on October 6.
New residential projects will be launched after Lam's annual speech, which "will definitely" focus on land and housing supply issues, said Sammy Po, the CEO of Midland Realty's residential division.
"There were widespread rumours [last week] that the central government in Beijing
had spoken to Hong Kong's developers
[about helping to alleviate the housing shortage]," Po said. "Beijing said it was concerned about Hong Kong housing issues about a year ago. So the chief executive will definitely talk about supply."
Lam is expected to announce supply measures that could include speeding up the conversion of farmlands, the Land Sharing Pilot Scheme, the streamlining of the application process at the Town Planning Board, as well as possibly speeding up the funding for the
Lantau Tomorrow Vision
project.
The land sharing scheme is used to enhance the development potential of private land currently constrained by inadequate infrastructure.
Developers "will be pressured to sell faster, or not to sit on land banks for too long, given the political pressure", excluding factors such as demand, progress in construction and approval processes that might not have kept pace with faster sales, said Lung Siu-fung, an analyst with CCB International Securities. "They won't price [flats] lower though, unless [there is] further political pressure or direction – say the Hong Kong government imposes price caps or introduces other measures such as those in mainland China," he said, adding that these measures would be "difficult" to introduce in Hong Kong.
About 35 new projects might hit the market in the coming months. Among these will be Centralcon Properties Company's The Arles residential project in Fo Tan. The company is expected to announce the pricing for the 1,335-unit project in the next two weeks.
Sun Hung Kai Properties
, the city's largest developer by market value, has four projects in the pipeline. These include the 1,030-flat phase 1B of The Yoho Hub in Yuen Long, 388 apartments in the second phase of
Wetland Seasons Bay
, phase two of Victoria Harbour in North Point, as well as the second phase of Central Peak in East Mid-Levels.
"The market for new homes
has been lively recently
," said Louis Chan, Asia-Pacific vice-chairman and CEO of the residential division at Centaline Property Agency. The imminent launch of Centralcon's "large new project in Fo Tan attracted a lot of first-time buyers who want to wait and compare prices as they [consider] second-hand homes", he said.
Secondary market transactions are, in fact, expected to hit a 10-month low in September as turnover slows down, according to Centaline, amid potentially new supply becoming available in the fourth quarter.
The number of such transactions is expected to fall 18.7 per cent this month to about 3,600, the lowest since November 2020. The number of new homes sold in September, on the other hand, will be up 1.6 times to about 1,800.
This could also be attributed to high home prices, which have prompted some buyers to take more time to consider, as well as regulatory actions in mainland China that have sent the stock markets crashing, said Centaline's Chan.
The overall number of property transactions, including commercial, industrial and residential property, in the first nine months of this year will be up 44.5 per cent year on year to 75,568, according to data from Centaline.