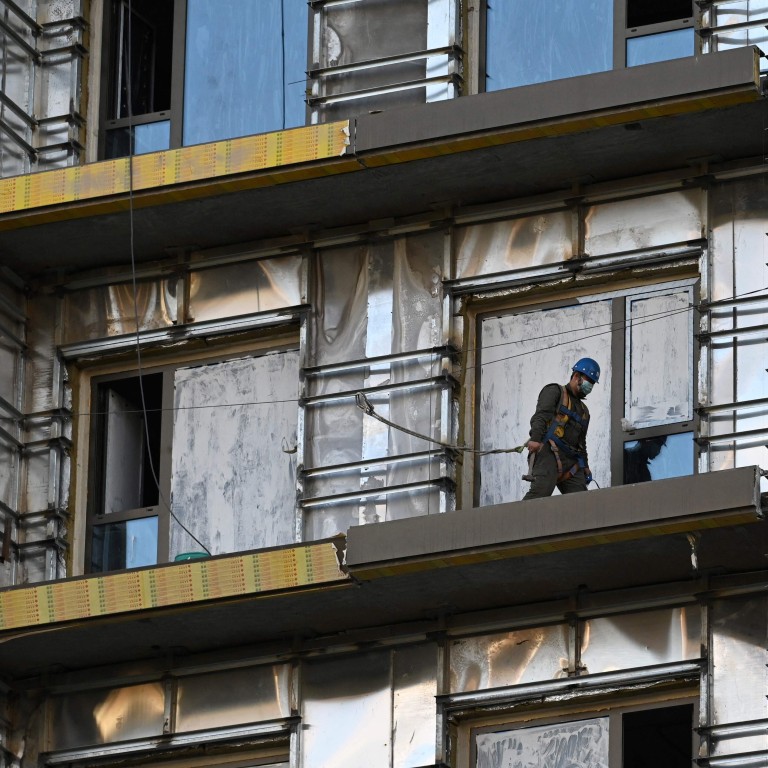 Worst yet to come for China's housing market as new home prices fall by most in 6 years
The average price across 70 cities dropped 0.25 per cent in October from the previous month, data shows, as analysts warn that doesn't give the full picture
Developers are seeing a big slump in sales amid a credit crunch sparked by the debt crisis at China Evergrande
The average price across 70 cities dropped 0.25 per cent from the previous month, according to figures released by the National Bureau of Statistics on Monday. That was much larger then the 0.08 per cent decline in September and the biggest monthly drop since 2015.
Fifty-two of the 70 cities tracked saw new homes prices slide, while the cost of a lived-in home declined in 64 of them, the data showed.
"China's home price correction
is likely to persist
until the second quarter of 2022 because of a dip in the confidence of buyers," said Raymond Cheng, head of China and Hong Kong research at CGS-CIMB Securities.
He said developers have had to cut prices by 10 to 15 per cent as the market reels from a liquidity crunch sparked by China Evergrande's debt crisis.
"The worst for the property market is yet to come," he added.
"Given the liquidity issue faced by the group, there is no guarantee that the group will be able to meet its financial obligations," Fantasia said in a filing to the stock exchange.
Fantasia's woes add to the strain being felt by China's heavily leveraged property developers, first sparked by industry giant China Evergrande Group's problems. Evergrande is struggling with liabilities of over US$300 billion and has missed payments, triggering a series of downgrades of Chinese real estate companies by major credit rating companies last week.
China's property market, which accounts for a quarter of gross domestic product by some metrics, has deteriorated since May as policymakers and monetary authorities have moved to cool the speculative fervour underpinning it.
Major developers are facing a significant decline in sales. Country Garden Holdings announced contracted sales of 45.83 billion yuan (US$7.18 billion) for October, down 15 per cent from a year ago.
Monday's data gives a misleading picture of the actual scale of the slump in house buying, according to Andy Lee Yiu-chi, chief executive for southern China at Centaline Property Agency.
"The government data is lagging behind the market. New home prices in major cities have fallen by up to 15 per cent from the peak early this year," he said.
In Shenzhen, the number of transactions in the primary residential market was down 75 per cent from early in the year to 2,000 in October. In Guangzhou the number of deals fell 50 per cent to 7,000, said Lee.
"Home prices have not bottomed out. Buyers are staying on the sidelines, wary that builders may fail to deliver their homes on schedule," he said.
This article appeared in the South China Morning Post print edition as: Home prices fall by the most in 6 years