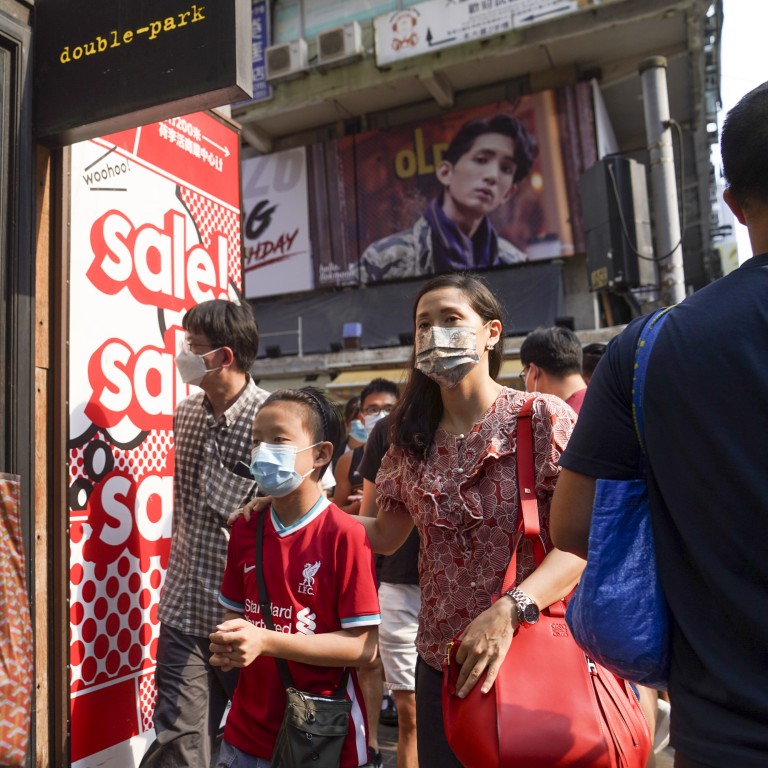 Veteran investors are snapping up Hong Kong retail property assets in sign market slump is ending, Colliers says
Local veteran investors accounted for all of the 15 major retail transactions in the third quarter, Colliers said, up from 20 per cent in the preceding three months
Volume has reached HK$22 billion this year through October 25, surpassing the HK$14 billion recorded in all of 2020 for deals above HK$100 million threshold
Hong Kong's retail
property
assets are attracting a slew of domestic individual buyers, suggesting the year-long market fallout induced by the Covid-19 pandemic and recession may be bottoming out, according to industry experts.
Local investors accounted for all of the 15 retail transactions last quarter, according to Colliers International, based on deals above the HK$100 million (US$12.8 million) threshold. They made up only 20 per cent in the second quarter and 80 per cent in the first quarter, with corporate and institutional investors picking up the rest.
Investors including Chang Miguel Yen Shee and Larry Chan Tzuenn Man, "big spenders" who have kept a low profile over the last couple of years, have snapped up retail assets in some core locations, the property consultancy said in a report on Wednesday.
Investors are "attracted by the potential for capital value growth after
the borders reopen next year
", it said in a report co-authored by Rosanna Tang, its head of research for Hong Kong and
Greater Bay Area
. "The return of these veteran investors suggests that the retail market is now close to the bottom of the cycle."
Retail investment transactions have reached HK$22 billion this year through October 25, Colliers said, citing data from Real Capital Analytics using deals of the same threshold value. They amounted to HK$14 billion in 2020 and HK$30 billion in 2019.
Tang said that November and December are traditionally quiet months for the broader investment market in the city. Activity should continue to gather momentum next year, she added.
Chang, known in the local market for his Taiwan origins and plastics business, bought a prominent shop in Central's Wheelock House occupied by Citibank for HK$710 million in August, Colliers said in its report.
Chan, known for his jewellery business, paid HK$110 million in July for a shop on Nathan Road in Mong Kok. Peter Yip Mow Lum, chairman of local brokerage Bright Smart Securities, spent HK$525 million in August on a shop on Lockhart Road in Causeway Bay.
JLL also noted a busy market carrying into this quarter, with several sizeable deals in noncore areas. New World Development reportedly sold a basket of shops at Mei Foo Sun Chuen in Lai Chi Kok for HK$455 million to private investors Raymond Tsoi Chi Chung and David Chan Ping Che.
This year's transactions represent a welcome sign of recovery as the city's government started to ease social-distancing rules. The market cracked under months of social unrest in 2019, before the onset of the coronavirus pandemic deepened the fallout.
While the city has maintained its strict quarantine requirements for inbound visitors, local residents will be allowed to enter mainland China without quarantine starting from early December, the Post reported earlier this month.
Colliers expects the next six months to be "a great time to invest" for several reasons. They include the Northern Metropolis plan, unveiled during the policy address last month, changes to local shopping habits that benefit neighbourhood retail properties and hopes for border reopening as early as February next year.
"Investors with defensive strategies should consider neighbourhood retail or retail podium assets," it said in today's report. "Investors with longer investment horizons of over five years should explore retail assets in the new Northern Metropolis area to capture the area's longer-term growth potential."
Occupiers with long-term occupancy plans should consider purchasing properties as pricing levels are currently attractive, it added.