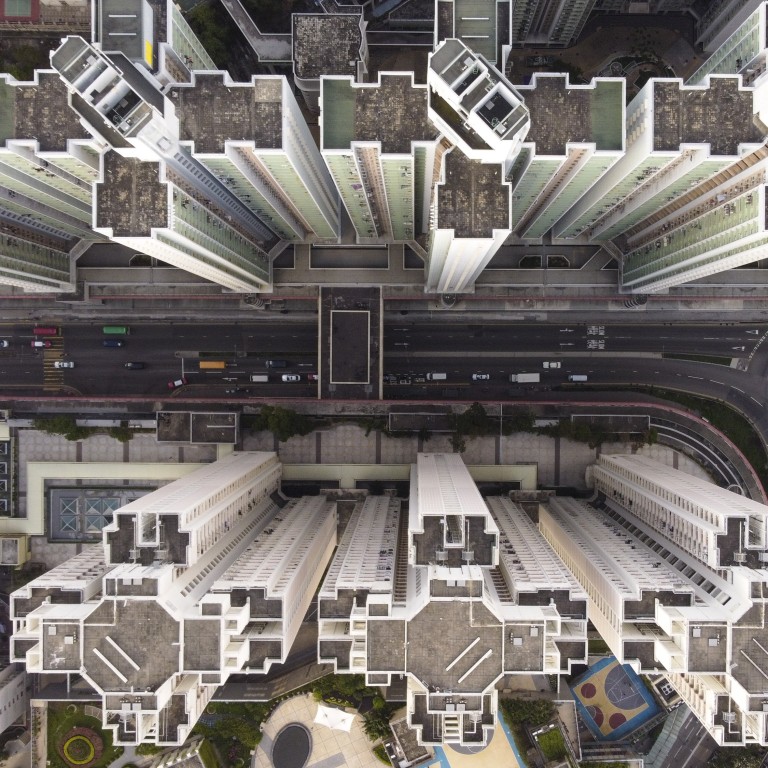 Hong Kong's secondary home prices fall by the most in 14 months in October as banks turn cautious on valuations
Lived-in home prices fell 0.86 per cent in October, the most since August 2020
The Centa Valuation Index, which tracks major banks' valuations in 133 housing estates, fell to 29.89 points last week, the lowest since it hit 18.88 in March last year
Hong Kong's lived-in home prices dropped by the most in 14 months in October after peaking in August, with buying sentiment cooling as banks become more cautious in valuating property.
Prices fell 0.85 per cent to 394.8 last month, according to an index published by the Rating and Valuation Department on Friday.
It was the sharpest drop since August 2020 when it retreated by 0.88 per cent, according to property consultancy Knight Frank. It was the second consecutive monthly decline since the index hit an all-time high in August, according to the government's latest revised data.
"The October data reflects the situation before [Carrie Lam's] Policy Address as buyers adopted a wait-and-see attitude," said Martin Wong, head of research and consultancy in Greater China at Knight Frank.
He said buyers were shifting their focus to new homes as developers continue to offer discounts and flexible financial plans to drum up sales.
The fall in home prices came as Centa Valuation Index (CVI), a weekly gauge which tracks major banks' valuations for used homes in 133 housing estates compiled by Centaline Property Agency, fell to 29.89 points for the week ended November 21. It was the lowest since the CVI plunged to 18.88 points in March 2020. The CVI slipped below 60 points in the first week of October and has continued to slide since.
A CVI below the 40-point threshold represents banks' bearish view on the market while above 60 points indicates a bullish trend.
"The index indicates banks tend to lower the property valuation when they extend a mortgage loan, as they believe home prices will continue to soften," said Wong Leung-sing, senior associate director of research at Centaline.
HSBC, Industrial and Commercial Bank of China (Asia) and other major banks have stopped offering mortgage loans for unfinished flats built by China Evergrande, the mainland's most indebted property developer, in Hong Kong since July.
Evergrande, struggling with US$305 billion of debt, currently has two residential projects under construction: phase two of Emerald Bay in Tuen Mun and The Vertex in Cheung Sha Wan.
Leung said banks have turned more conservative after the US Federal Reserve planned to reduce its bond-buying programme.
Early this month, Fed chairman Jerome Powell said the purchases of treasuries and mortgage-backed securities would be scaled back by US$15 billion a month.
"It is a sign that interest rates will rise," said Centaline's Wong, adding that it would dampen home-buying sentiment.
Meanwhile, transactions of secondary residential transactions continued to decline for the sixth month in a row in October, with the number of deals at 3,656, the lowest since August 2020 when 3,441 deals were concluded, according to data from Midland Realty.
Sales of new homes also fell 34 per cent month on month in October to 1,273 deals.
Still, Hong Kong's lived-in home prices have risen 3.9 per cent so far this year, with flats between 753 square feet and 1,075 sq ft gaining the most at 4.5 per cent.
Home prices in the city are likely to increase 0.5 per cent this month as Lam's policy speech did not have any cooling measures to curb price growth, said Derek Chan, head of research at Ricacorp Properties.
"The reopening of the border with the mainland next month is likely to boost the lived-in home price index to a new high and go past the 400-point mark," said Derek Chan, head of research at Ricacorp.