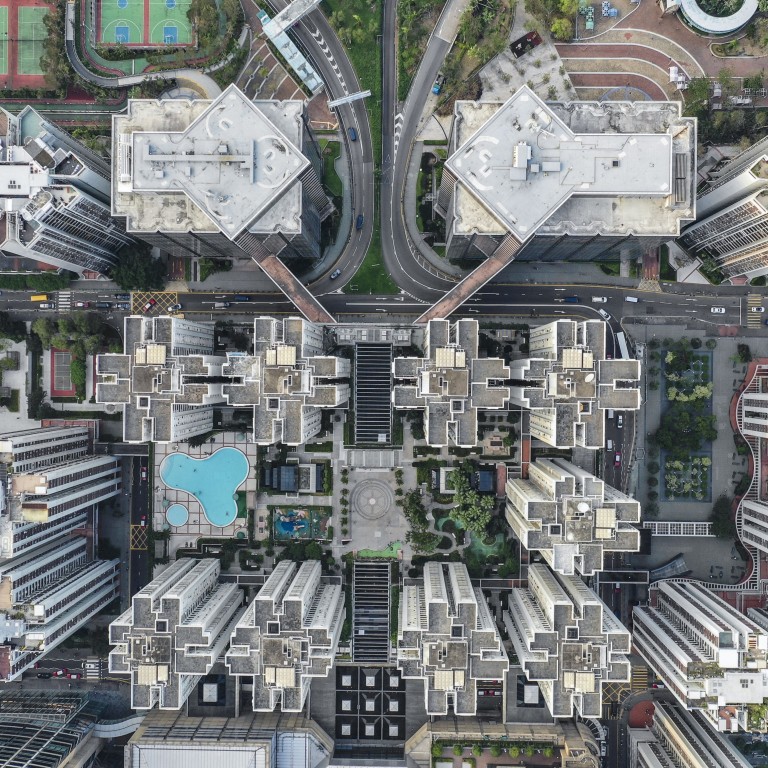 Hong Kong lived-in homes see valuations drop as fifth Covid-19 wave takes hold
Valuations will head south in February, as home prices in late January dropped and may be down this month too, Midland executive says
Surge in infections is likely to affect the usual seasonal boom that follows Lunar New Year
The valuations of Hong Kong's lived-in homes are expected to head south as a fifth Covid-19 wave linked to the Omicron variant takes hold and deals plunge because of fewer viewings, brokers said.
Banks may reduce valuations by 1 to 2 per cent in February and by another 1 per cent next month, with midscale estates like Kornhill Garden and Taikoo Shing expected to bear the brunt.
"The valuations will head south in February, as home prices in late January dropped and may be down this month too," said Sammy Po, CEO of residential in Hong Kong and Macau at Midland Realty.
With Hong Kong
confirming more than 600 new Covid-19 cases
on Monday, nearly twice as many as the day before, the Executive Council, the city leader's de facto cabinet, is expected to approve a further tightening of social-distancing measures on Tuesday, including which premises will be covered by a new vaccine pass.
This surge in infections is likely to affect the usual seasonal boom that follows Lunar New Year. Flat viewings are expected to go down or be suspended altogether, especially if owners are not in a rush to sell.
Eric Tso, chief vice-president at mReferral Mortgage Brokerage Services, echoed the view that overall bank valuations may drop 2 to 3 per cent in the coming month.
And while lower valuations will lead to lower mortgage loans, mortgages that are already fixed are not expected to be affected.
Estates such as Kornhill Garden and Taikoo Shing will see slightly bigger drops of about 3 to 4 per cent these two to three months, than estates targeting first-time buyers, said Midland's Po. The demand for such estates, whose buyers tend to be those seeking upgrades, is not as strong as that among first-time buyers, Po added. The buyers for these estates may adopt a wait-and-see approach amid the latest surge in cases.
For example, a 524 sq ft flat at Kornhill Garden reportedly saw a 3.4 per cent month-on-month drop, or a decline of about HK$310,000 (US$39,776), in an online valuation by HSBC, to HK$8.79 million in early February. Taikoo Shing also saw a 580 sq ft flat drop 3 per cent month on month to HK$10.49 million in early February. It is down 6 per cent from early November.
Homeowners offered bigger price reductions, leading to more deals at lower prices, which would gradually be reflected in valuations, said Ivy Wong, managing director at Centaline Mortgage Broker.
While valuations might drop by an average of 2 per cent in February, some estates may see isolated deals with a bigger price cut of up to 6 per cent, leading to bigger drops in valuations when valuers make reviews, she added.
Centa Valuation Index, a weekly gauge that tracks major banks' valuations for used homes in 133 housing estates compiled by Centaline, plummeted 75 per cent, from a peak of 93.42 in early August 2021, to 23.12 in late December. It then recovered to 39.85 for the week ended January 23.
An index reading below 40 indicates a bearish view among banks and a downward trend in home prices.
The number of transactions for lived-in homes in January marked a 23-month low of 2,944, down 11.2 per cent month on month, according to Centaline Property Agency. The corresponding value also set a 17-month low of HK$27.9 billion, down 7.8 per cent month on month.
"The figures mean secondary market turnover turned sour," said Wong Leung-sing, a senior associate director of research at Centaline, who expected the number of deals to remain below 3,000.
A survey by Citi Hong Kong of more than 500 Hongkongers on residential property ownership in the fourth quarter of 2021 found that more than 60 per cent were not interested in property ownership at present, the highest proportion in the past five years.