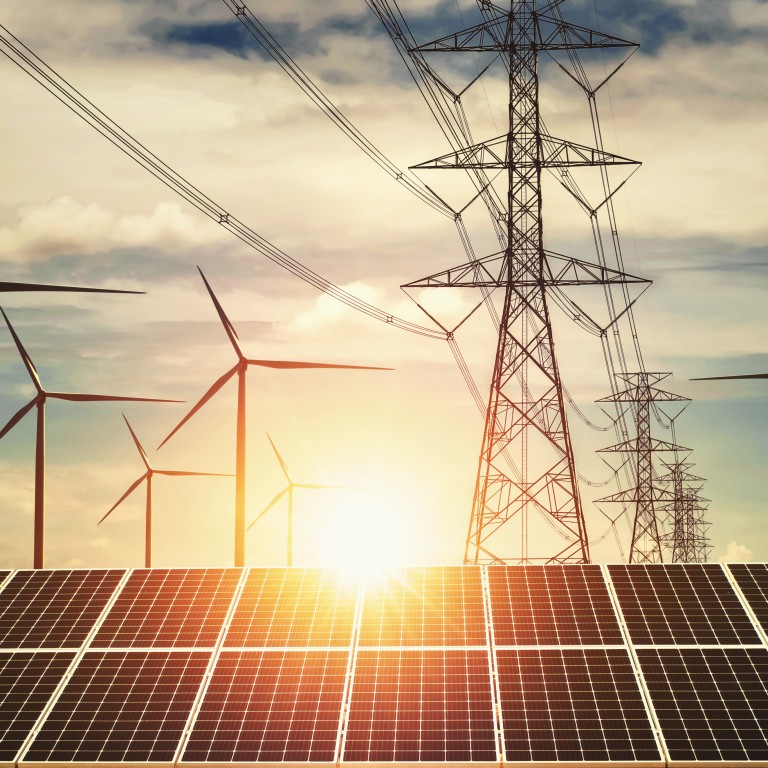 China's unified power market to give renewable energy a boost, but its implementation could be an uphill task, analysts say
China's ambition to build a national electricity market could be held back by ineffective power trading programmes and potentially large trading volumes
Regulators last week released a policy document to improve the mechanism of the nation's low-carbon transformation
China's ambition to build a unified electricity market to support its climate goals could lead the sector into a new era and give renewable energy a big push, analysts said. However, ineffective power trading programmes and potentially large trading volumes suggest the system could be difficult to implement.
China's top government agencies, the National Development and Reform Commission (NDRC) and the National Energy Administration, on Thursday jointly released a policy document to improve the mechanism of the nation's low-carbon transformation, reiterating the goal of forming a nationally unified power market.
The document comes close on the heels of guidelines introduced on January 28 by the same agencies, which said that China will study and promote the development of a national unified power market.
By 2025, a primary national market is expected to take shape to operate collaboratively with existing provincial markets and cover medium and long-term trading, spot power trading and ancillary services trading, according to the document. It also called for a national power trading system that includes renewable power producers to be completed by 2030.
"The directive to build a nationally unified power market signals that policymakers are committed to pursue a more renewables-based future," said Andy Chen, senior analyst at Trivium China, a Beijing-based consultancy.
Currently, China's power market is based primarily on provinces balancing electricity supply and demand, with extremely polluting thermal power playing a key role. Inter-provincial power transactions are governed by government contracts, which are based on prices that do not directly reflect actual supply or demand.
These fragmented power markets pose a huge challenge to China's aim of reaching peak carbon emissions by 2030 and achieving net-zero by 2060, which require more renewable energy to replace coal-fired power.
A unified power market could help improve cross-provincial power trading and realise the vast potential of renewables in China by promoting clean power generated in China's western region to fulfil demand in the power-hungry east, Chen said.
The announcement is an important milestone for the liberalisation of China's power sector, said Qin Yan, lead carbon analyst at data provider Refinitiv, who provided consultation to the guidelines introduced last month.
China's current strict power tariffs are only allowed to fluctuate above or below certain benchmarks. However, the adoption of market-based pricing tools, such as time-of-use tariffs which incentivise customers to use more energy at off-peak times to balance demand, or green power trading, could help consumers change their consumption patterns towards a greener one, according to Qin.
"This really signals a new era in China's power sector moving to a more market-based mechanism," said Qin.
To help resolve the electricity crisis last fall, the NDRC announced in October that industrial and commercial users had to enter the power market, a move that could boost trading volumes significantly. However, more players could also pose a challenge for energy regulators.
Currently, about 45 per cent of China's total power generation is included in the power market, but it is dominated by mid- to long-term trading while the short-term spot power market, which is relatively more flexible, is still in the pilot stage.
In 2017, China launched the first batch of spot trading pilot programmes in eight provinces, including Guangdong, Zhejiang, and Shandong. However, the programme ran into a spot of bother, including an imbalance in the tariffs collected from consumers in the spot trading market and the money paid to power generators, according to local media.
The NDRC said that the second batch of provincial spot trading pilot programmes will start in June, but these will also require at least five years to develop, according to Qin.
Meanwhile, trading by renewable power generators also poses technical challenges as it requires additional energy storage capacity for producers to take full advantage of the difference in peak and trough prices.
"Efforts to establish a nationally unified power market will gradually but fundamentally change the landscape of China's electricity market and renewable energy development," said Trivium's Chen.