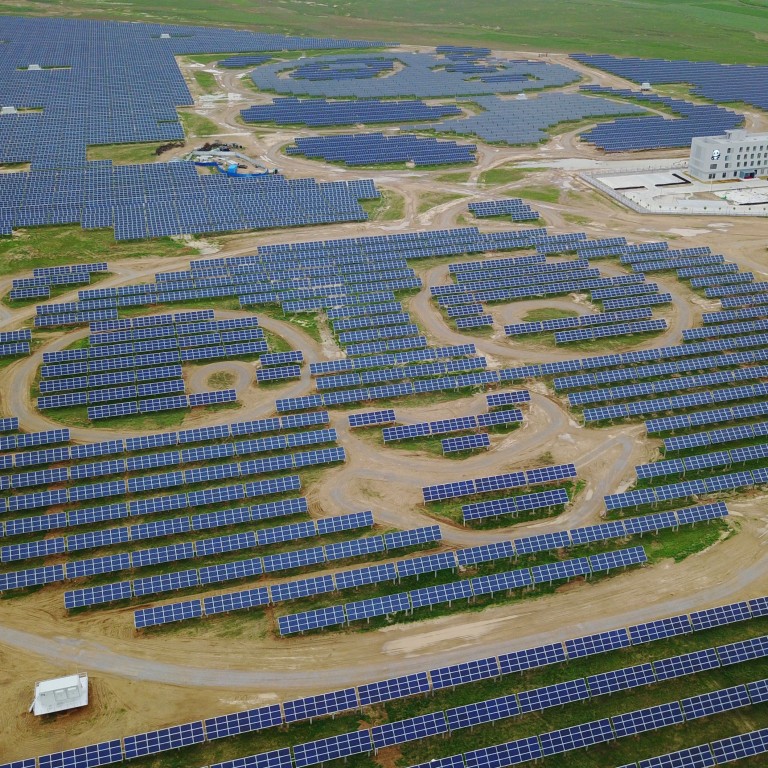 Climate Change: China to slash costs of energy-storage systems for industry to leapfrog the world by 2030, according to five-year plan
The production cost of large chemicals-based energy-storage systems will be cut by 30 per cent by 2025, putting the industry on path to leapfrog the world by 2030
Compressed air energy-storage technology would realise "engineering applications" in units with 100 megawatts of capacity, according to the government's plan
China's government plans to cut the cost of energy storage systems by 2025 to help local industries leapfrog the world as the vanguard of novel energy storage technology five years later.
The production cost of large chemicals-based systems will be cut by 30 per cent by 2025, while compressed air energy-storage technology would realise "engineering applications" in units with 100 megawatts of capacity, according to a five-year plan drafted by the
National Development and Reform Commission
(NDRC) and the National Energy Administration (NEA). The document has been sent to local government and central government-administered enterprises for implementation.
"By 2030, China's new energy storage should see well-rounded market-based development, with proprietary technology, world leading innovation and manufacturing capabilities," said the industry development plan for 2021-25.
Energy storage is a key part of the Chinese government strategy to decarbonise the energy system and put the world's second-largest economy on the path to achieve
carbon neutrality
by 2060. Affordable energy storage is vital in turning solar and wind energy into commercially viable substitutes of fossil-fuel energy, helping to compensate for the industry's volatility and reliance on weather patterns.
China is forecast to install 83 to 99 gigawatts of solar power capacity annually through 2025, Bloomberg reported this week, citing China Photovoltaic Industry Association's chairman Wang Bohua. The energy generated by solar farms rose 14 per cent last year to 54.9 gigawatts (GW), according to the National Energy Administration.
Still, high costs have been a barrier to the large-scale deployment of energy storage systems thus far. Those costs should fall drastically, starting in 2025.
Other emerging battery technologies that will be supported by the government include sodium-ion, novel lithium-ion, lead-carbon, redox flow and compressed air, said the plan.
Key demonstration projects will be rolled out in Hebei, Fujian, Guangdong, Jiangsu, and Qinghai provinces, while spot and futures trading of the power stored will be launched to support the nascent industry's growth.
The five-year plan has set the tone for the support of all types of battery energy storage systems, said Daiwa Capital Market's analysts in a report on Tuesday.
"We expect the clearer policy visibility to support a growth in energy storage demand, averaging 46 per cent between 2021 and 2025, versus the 20-per cent growth in global solar farms installations and 7 per cent for wind farms," they wrote. "We are more bullish on the lithium iron phosphate battery, given its cost and longevity advantages over lithium nickel manganese cobalt (NMC)."
More than 20 provinces have already announced plans to install energy storage systems over the past year, with the combined capacity of over 40 gigawatts, Daiwa said. Installed capacity may expand to 42.5GW in 2025, soaring to 128GW in 2030, they said.
Provincial authorities also required developers of new renewable energy projects to invest in storage systems to take care of at least 10 to 30 per cent of their projects' needs.
If storage system costs reach Beijing's 30 per cent reduction target, they would become commercially viable without subsidies, at 0.8 to 1.0 yuan per watt-hour, the Daiwa analysts estimated.
CICC's analysts concurred, forecasting an annual return rate of 15.6 per cent for an energy storage system installed at a solar farm if the cost reduction target is reached, according to a clients' note on Tuesday.
Energy storage system installations can be incentivised by expanding the differentials between retail power tariffs during peak and non-peak periods, to help installers recoup their investment, they said.