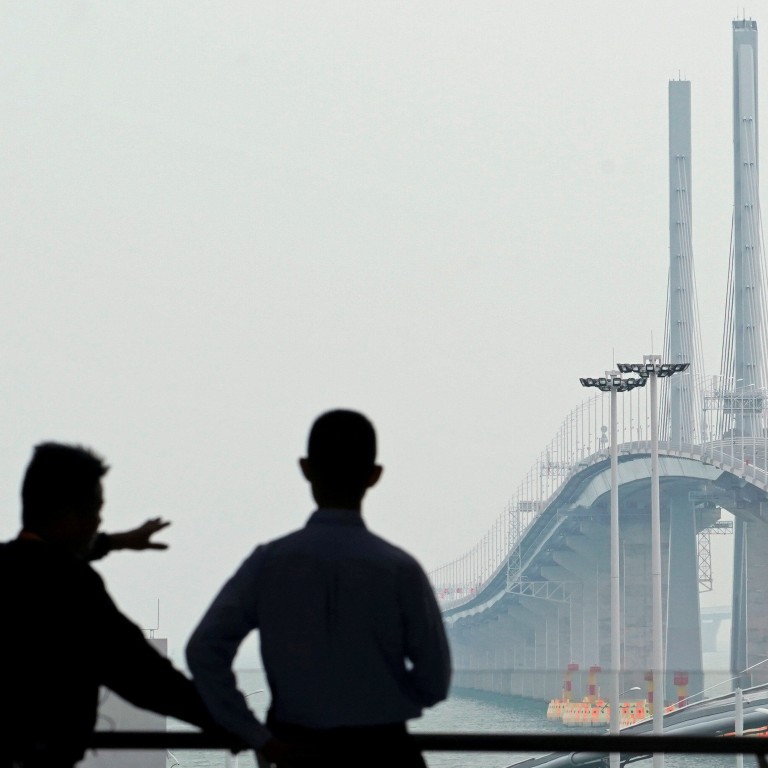 Opinion
Concrete Analysis
by Marcos Chan
Concrete Analysis
by Marcos Chan
Hong Kong's vision of Greater Bay Area is materialising with dual-metropolis concept, infrastructure drive
Infrastructure projects are paving the way for the realisation of a vision of a one-hour living circle in the Guangdong-Hong Kong-Macau Greater Bay Area
Despite the uncertainties Covid-19 has brought to Hong Kong, the city's long-term future is well supported by the government's policies
Major infrastructure projects in Hong Kong, such as the
Hong Kong-Zhuhai-Macau Bridge
and the
high-speed rail
, have been enhancing the city's connectivity, not only within the territory but also with the neighbouring region.
These projects, combined with many more that are currently under development, are paving the way for the realisation of a vision of a one-hour living circle in the Guangdong-Hong Kong-Macau
Greater Bay Area
.
Looking at these infrastructure projects from a macro view, we see Hong Kong's future development areas forming a dual-metropolis model, as suggested by Chief Executive
Carrie Lam
last year in her Policy Address.
The
Northern Metropolis
, set to span over 300 sq kilometres in the north of New Territories, will be developed as an international innovation and technology hub, while the Harbour Metropolis, which will include the existing commercial hubs alongside Kowloon and Hong Kong Island as well as artificial islands around Kau Yi Chau, is poised to strengthen Hong Kong's role as an international financial centre. In the long term, these two metropolises will form a major source of future residential supply, capable of accommodating 3.2 million to 3.6 million residents.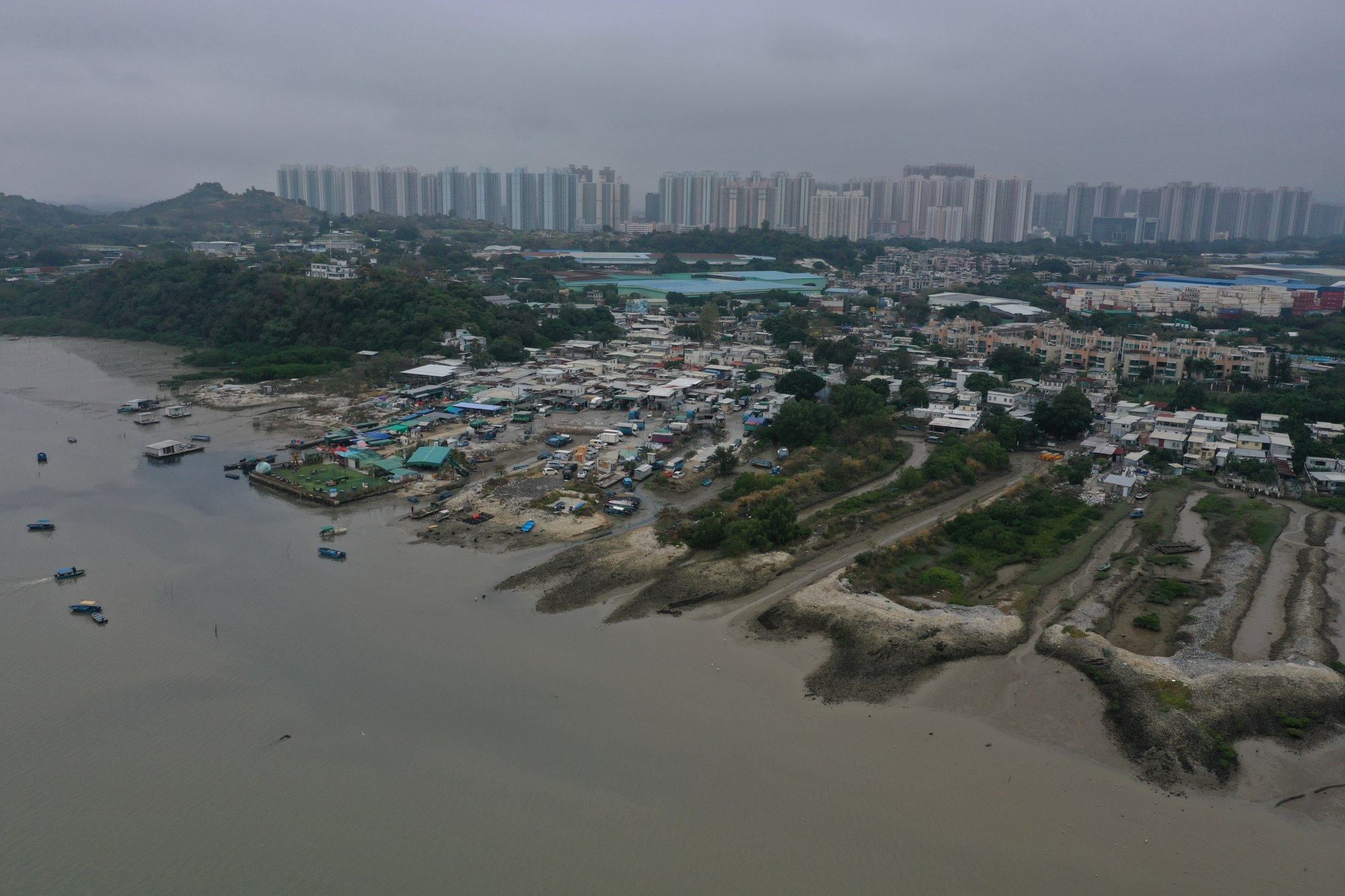 The two metropolises will not only serve the purpose of driving a diverse economy and blending into Greater Bay Area development, but also of harvesting land resources so that residents in Hong Kong can effectively improve their living environment and ultimately solve the housing issues that have ailed the city for many years.
However, any new built metropolis would require easy accessibility via well-planned transport links to enable its organic growth. Therefore, it was not a surprise that when the government proposed the dual-metropolis concept, it also announced plans to build multiple railways connecting the new development areas with the urban core.
Transport infrastructure will take on a more prominent role in the next two decades to facilitate a population shift between the urban core and the future metropolises in the New Territories.
Up to 15 new railways, involving over 40 new stations, are being planned or built to develop part of the vast transport network. Within the Northern Metropolis, five proposed railway projects will connect different future nodes while the Northern Link will close the missing link between the East Rail Line and Tuen Ma Line, forming a circular loop for Kowloon and the northern New Territories. Two of these new lines will also take passengers across the border to reach different sides of Shenzhen, promoting people flows between the two cities.
Proximity to Qianhai through the Hong Kong-Shenzhen West Rail Link will pave the way for areas in and around Hung Shui Kiu, Ha Tsuen and Lau Fau Shan to transform into a new central business district (CBD) for the New Territories North and a popular business hub for frequent travellers on both sides of the border.
Aside from railways, multiple highways of over 60km in total will be built across Hong Kong Island, Kowloon and New Territories. For example, Route 6, which is under construction, will significantly shorten commute time between Tseung Kwan O and the east and west of Kowloon. This will help strengthen Kowloon East's standing as what the government calls it, CBD2, and improve traffic conditions in many parts of Kowloon.
With the completion of the third runway at the airport, the planned Tuen Mun Bypass will form a seamless highway network linking Zhuhai and Macau to Shenzhen Bay via Tuen Mun, offering a strong boost to goods and logistics flow in and around Tuen Mun.
From an urban planning perspective, the two metropolises have no overlapping areas and will not diminish the role of Hong Kong Island and Kowloon. In fact, led by private developers and the government, pedestrian enhancement schemes in various Kowloon and Hong Kong Island locations will improve downtown walkability and heighten the appeal of offices in many existing commercial hubs, despite a potentially negative impact on some of the high-street shops in the area due to less footfall on the ground.
As mentioned in Financial Secretary
Paul Chan's
Budget Address in February, the ambitious plan to develop the Northern Metropolis will be backed by HK$100 billion (US$12.7 billion) funding. It will still take at least a decade for the plan to take shape. Such an ambitious plan will also support Hong Kong's economic growth in many aspects for many years down the road.
We expect Hong Kong's commercial property market to see a growing trend towards clustering and agglomeration in the future. Pillar industries such as banking, finance and professional services, along with the front
offices
of many traditional businesses, will retain a presence in the urban core of Hong Kong Island and Kowloon. The middle-office and back-office functions of these firms are likely to be based in urban decentralised locations. Technology and other innovative new industries may opt to grow their presence in the New Territories where newer purpose-built properties are more available.
In front of companies and investors is an ambitious city development blueprint that promises numerous opportunities in the two decades to come. Despite the uncertainties Covid-19 has brought to Hong Kong, particularly during the recent fifth wave of the pandemic, the city's long-term future is well supported by the government's policies. Once the pandemic is under control, Hong Kong is set to see a bright future.
Marcos Chan is head of research at CBRE Hong Kong