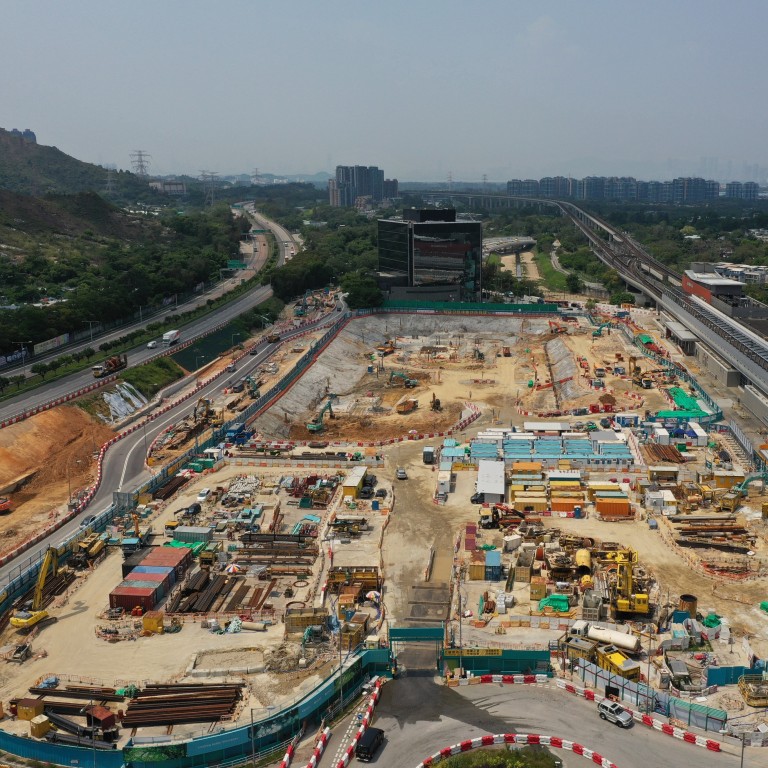 The Grand Mayfair I project in Yuen Long enjoys strong sales as discounts attract first-time buyers
The project, developed by Sino Land, K Wah International and China Overseas Land and Investment, found buyers for 322 of the 327 flats on offer on Wednesday
Analysts predict a surge in supply, as more cut-price projects are launched in the coming months, will suppress house prices
Almost all available units at The Grand Mayfair I in Yuen Long were sold on Wednesday as buyers
continue to snap up projects
launched after a three-month lull caused by the fifth wave of Covid-19.
The project, developed by Sino Land, K Wah International and China Overseas Land and Investment, found buyers for 322 of the 327 flats on offer, a company spokeswoman said. It was the second round of sales after the project at Kam Sheung Road Station
sold all 388 units on offer last Friday
.
"The pandemic has subsided significantly, and social distancing measures have been gradually relaxed, which is good for the property market," said Perry Fong, senior principal sales director at Centaline Property Agency. "Developers are taking advantage of the situation to push forward developments at full speed."
Sales are likely to have been boosted by the relatively cheap prices, as developers seek to make up for lost time by shifting as many units as possible.
Prices started at HK$6.45 million (US$821,784) for a 339 square-foot flat.
The average price this time worked out at HK$18,777 per square foot, after a discount of 16 per cent. That was about 1 per cent higher than the first round, but still 12 per cent lower than the prevailing secondary market price of HK$21,400 per sq ft seen at Ocean Pride in Tsuen Wan West, according to data from Centaline.
Fong said the relatively low prices helped boost sales as "the unit prices are suitable for first-time buyers."
The project fetched 7,393 registrations of intent, which meant about 23 people competed for each unit.
The first batch of 388 flats sold out in one day last Friday, pushing up the first-hand sales volume in April to about 1,030, which surpassed the total for the first quarter of the year, Fong said.
Midland Realty expects the overall number of property transactions in May to climb to a five-month high of some 7,000.
Analysts predict a surge in supply, as more cut-price projects are launched in the coming months, will suppress house prices.
JLL expects this year's mass home prices to drop by about 5 per cent, a downgrade of its previous forecast of a rise of up to 5 per cent.
"We expect a high concentration of launches in the second half of 2022, with potentially over 20,000 units to be issued with presale consent, similar to the previous peak in 2018," said Joseph Tsang, chairman of JLL in Hong Kong. "Combined with increasing interest rates, housing prices will be under pressure."
JLL said developers had postponed launches originally slated for the first few months of the year. Four projects consisting of 1,211 units acquired presale consent but were held back during the first quarter as fifth wave of coronavirus struck.
"The high level of expected supply in the primary market is likely to prompt developers to take on competitive pricing strategies, which in turn will exert pressure on the secondary market," said Norry Lee, senior director of projects strategy and the consultancy department at JLL.