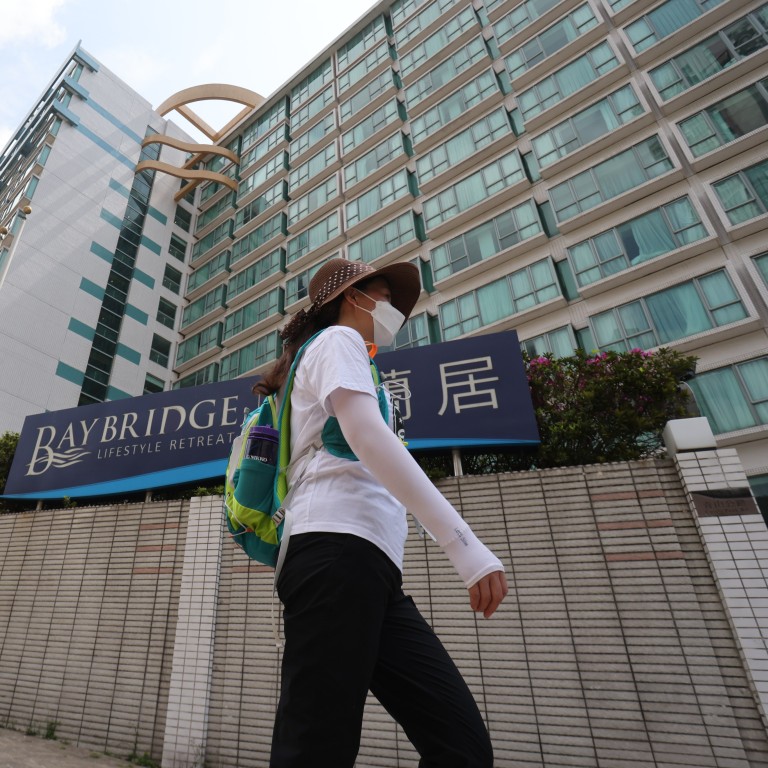 Two Hong Kong hotels sell for US$295 million, as cash-rich investors bet on hospitality sector rebound once borders reopen
Shun Ho Construction buys Bay Bridge Lifestyle Retreat in largest hotel transaction by a local buyer since December 2018
Weave Living acquires the former Grand City Hotel from Magnificent Hotel for HK$900 million
Two hotels changed hands in deals worth more than HK$2.3 billion (US$295 million) in Hong Kong on Wednesday, as cash-rich investors swooped in to pick up assets from the city's slumping hospitality industry, betting on the sector improving once Covid-19 has been contained and the city's borders have been reopened.
Shun Ho Construction (Holdings), the wholly-owned subsidiary of Hong Kong-listed Magnificent Hotel Investments, has agreed to buy
Bay Bridge Lifestyle Retreat
, a 435-room waterfront hotel in the western New Territories overlooking Tsing Ma Bridge, for HK$1.42 billion, according to a filing made to the Hong Kong stock exchange at noon on Wednesday.
Weave Living
, a Hong Kong-based shared-living spaces operator, said later in the afternoon that it had acquired the former Grand City Hotel in Sai Ying Pun from Magnificent Hotel for HK$900 million, in partnership with Angelo Gordon, a global privately held investment firm.
The Bay Bridge deal is the largest hotel transaction by a local buyer since December 2018.
"We are the first local firm to buy a hotel property for such a large amount of money. It shows our confidence in Hong Kong's tourism industry, which is bound to recover after the border with mainland China reopens," William Cheng, Magnificent Hotel's chairman, told the South China Morning Post.
The Bay Bridge transaction is the biggest hotel deal by a local buyer since the acquisition of Inn Hotel Hong Kong at 60 Portland Street by "Shop King" Tang Shing-bor's family from Emperor Group in December 2018 for HK$1.1 billion, according to JLL.
"If the mainland China border remains closed, occupancy levels will only be around 30 per cent. If all borders are reopened, it will jump to up to 80 per cent," said Jonathan Law, vice-president of JLL Hotels and Hospitality Group.
The 16-storey Bay Bridge, which is located an 11 minute's drive from Tsuen Wan West station, has a total gross floor area of 216,314 sq ft, and sold for HK$6,567 per square foot. "What we paid was just like its construction cost. The acquisition is likely to offer a handsome investment return for us," said Magnificent Hotel's Cheng.
The hotel was valuated at HK$2.5 billion as of December last year by Knight Frank, Magnificent Hotel said. It will invest an extra HK$100 million to renovate the hotel into a trendy property.
"When we relaunch the hotel 12 months from now, the border with the mainland should be open," Cheng said. "We made a profit of HK$500 million from selling the Grand City Hotel, and we reinvested the money in another hotel that was undervalued," he added.
Since the beginning of 2019, there have been 26 hotel transactions, with a total deal volume of just over HK$20 billion, according to Colliers.
Shared living was definitely a major focus at international funds buying hotels and converting them into co-living spaces, according to CBRE. "We do see the trend continuing in the rest of the year," said Reeves Yan, executive director and head of capital markets at CBRE Hong Kong.