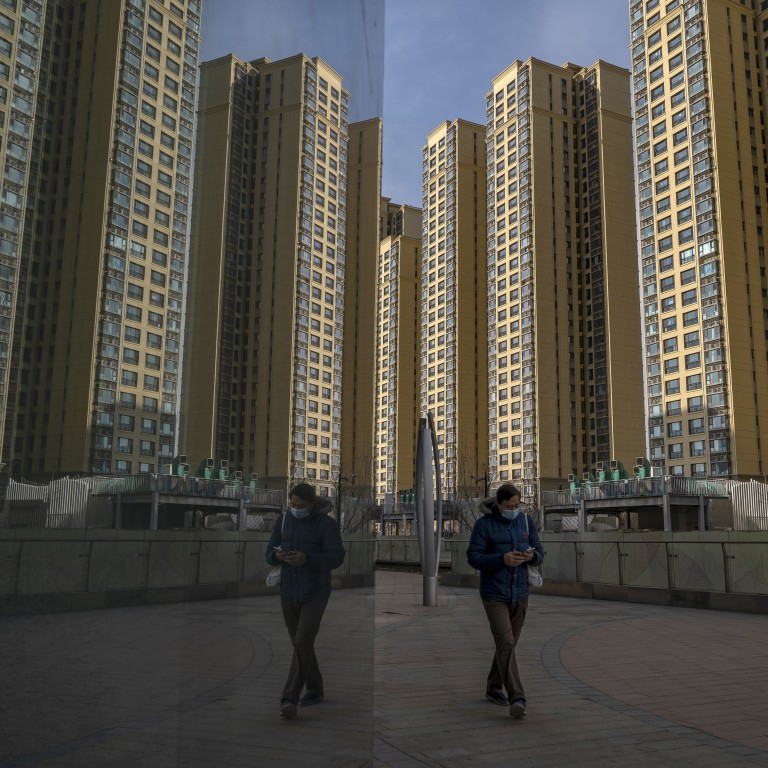 Beijing cuts mortgage rates for first-time homebuyers to revive property market
Sunday's announcement shows Beijing's commitment to reversing the recent slump in China's property market, analyst says
Regulators reiterate Xi comment that 'houses are for living in, not for speculation'
In an effort to revive the
country's property market
, Beijing will let banks cut the lower limits of interest rates for first-time homebuyers by 20 basis points, Chinese regulators said on Sunday.
The People's Bank of China (PBOC) and the China Banking and Insurance Regulatory Commission (CBIRC), two of the country's top financial regulators, said in a notice that they will make adjustments to China's differential housing credit policies.
For households that have borrowed to purchase their first homes, the lower limit of
the mortgage rate
will be reduced to 20 basis points below
the corresponding loan prime rate
, the notice said. The minimum mortgage rates for purchases of second homes will remain unchanged.
Sunday's announcement shows Beijing's commitment to reversing the recent slump in China's property market, said Yan Yuejin, director of Shanghai-based E-house China Research and Development Institute.
"Combined with policies such as lowered down payments, lowered mortgage interest rates, loosened restrictions on second-hand housing sales … [the new adjustments] will create better conditions for a more active market in mid-to-late May and even later," he said. The new minimum mortgage rate will guide local governments and banking institutions on their loan policies, encourage real estate developers to actively sell their projects and further reduce homebuyers' costs, he added.
The notice came amid expectations that China's gloomy housing market might continue to struggle despite the introduction of price cuts by developers and easing measures by regulators in Beijing to boost sales during the country's Labour Day holidays this month.
Sunday's notice reiterated Chinese president Xi Jinping's comment during the 19th Communist Party Congress in 2017 that "houses are for living in, not for speculation", and stated that the introduction of the new policy would promote the stable and healthy development of the real estate market.
The PBOC and CBIRC will guide banks in each city, helping them to adjust their own interest rates and pricing based on the national requirement and in accordance with their respective market situations.
China's economy has been hit by its latest Covid-19 outbreaks, with businesses downing shutters and people being placed under home quarantines. This has created more uncertainties as far as employment and the housing market are concerned.
During the five-day Labour Day holiday, the sales of new homes in 23 major Chinese cities plunged to 970,800 square metres, a 33 per cent decline year on year, according to China Real Estate Information Corporation (CRIC), a Shanghai-based provider of real estate information for China.
China's leading real estate developers, including Country Garden Holdings and China Evergrande Group, are offering discounts of up to 45 per cent on projects in more than 100 mainland cities between late April to mid this month, with the hope of boosting the housing market.
Local governments in about 70 cities have also rolled out easing policies, such as lowered mortgage rates and faster loan approval procedures, to revive the property market, which accounts for a third of China's economic growth.
"Home buying has been deterred by economic uncertainties. People would prefer to save money for a rainy day, in case they are sacked," Andy Lee, CEO for southern China at Centaline Property Agency (China), told the Post in an interview earlier. "Job security has become the major concern, rather than owning a home. What most people are worried about is their mortgage-repayment ability, particular in second or third-tier cities."
"Even banks cutting interest rates and developers offering bigger discounts may not stimulate buying desire," he added.
Additional reporting by Pearl Liu
.