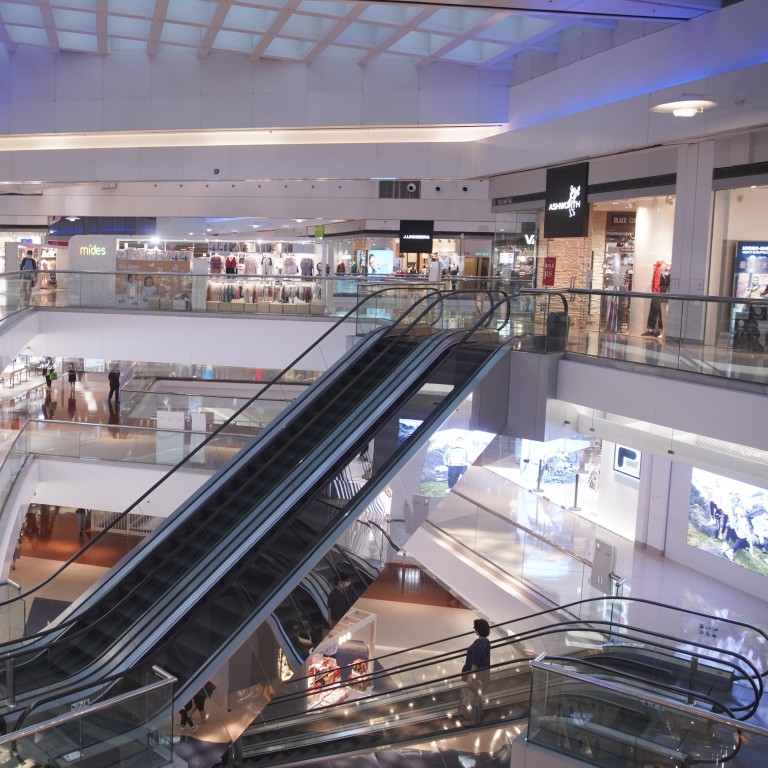 Festival Walk: Reit investors seek clarity on future of Hong Kong mall as US$7.6 billion merger of Temasek units nears
Temasek units Mapletree Commercial Trust and Mapletree North Asia Commercial Trust announced a US$7.6 billion merger in December
Anti-government protesters vandalised Festival Walk during the social unrest in November 2019
Investors have raised questions about the viability of Festival Walk, the upmarket Hong Kong shopping centre owned by a unit of Singapore's Temasek Holdings.
Rents in Festival Walk are likely to stabilise or decrease slightly this year even as the company continues to bet on Hong Kong's viability as an investment destination, according to Mapletree Commercial Trust (MCT), another Temasek subsidiary, which is merging with Mapletree North Asia Commercial Trust (MNACT), the mall's owner.
MCT made the assessment in reply to questions from investors who sought more details about its proposed merger with MNACT. The plan, first announced in December, will create the seventh largest real estate investment trust in Asia with an expected market value of about S$10.5 billion (US$7.6 billion), according to Reuters.
"Incremental [rental] growth is only likely to materialise once the current Omicron outbreak is brought under control and cross-border travel is back to normal," MCT said in a statement to unit holders.
Located in the upscale district of Kowloon Tong, Festival Walk was acquired by Mapletree Investments in 2011 for about S$2.9 billion, which became part of MNACT's assets after a reorganisation in 2013. It was Mapletree's first commercial property acquisition in Hong Kong.
Back in November 2019, the mall was
vandalised
by anti-government protesters who went on a rampage, smashing glass panels and damaging many of the 200-odd stores.
The extensive damage led to its closure for two months. Since then, just like other malls in Hong Kong, Festival Walk has had to contend with the Covid-19 pandemic and stringent social distancing restrictions imposed by the government to contain the spread of the disease.
As of March 2022, the office-cum-retail property, whose net lettable area of 74,171 square metres (798,370 square feet) consists of about 75 per cent of retail space, was valued at $4.46 billion, S$133.3 million lower than the previous year's valuation, according to MCT. This was "largely due to lower market rents assumed by the valuers due to the impact of Covid-19" on its performance.
Festival Walk, however, was the biggest contributor to MNACT's gross portfolio revenue of S$426.7 million for the financial year ended March 2022, accounting for nearly 50 per cent of the total.
"Performance reached peak levels in fiscal year 2018/19 but it has been affected by Covid-19 and social incidents since then," MCT said. "Although short- to medium-term challenges remain amidst uncertainties in recovery, the [asset] manager continues to see value in Festival Walk and in the long-term prospects of Hong Kong SAR."
Hong Kong's retail sector has been mired in a slump since late 2019 following the social unrest, with the coronavirus pandemic further worsening the situation.
Rents at prime street locations and shopping centres have fallen by 5 per cent in the first quarter, according to Savills. Meanwhile, vacancy rates in shopping districts rose to 11 per cent in the first quarter, from 9.9 per cent at the start of the year, Midland IC&I said.
Still, institutional investors from Singapore are unlikely to ignore Hong Kong, according to Sing Tien Foo, professor and director of the Institute of Real Estate and Urban Studies at the National University of Singapore.
"Hong Kong and China remain key investment markets for foreign investors, including Mapletree and other Singaporean institutional investors," he said. "They will wait for the Covid-19 situation to improve before expanding into mainland China and Hong Kong markets."