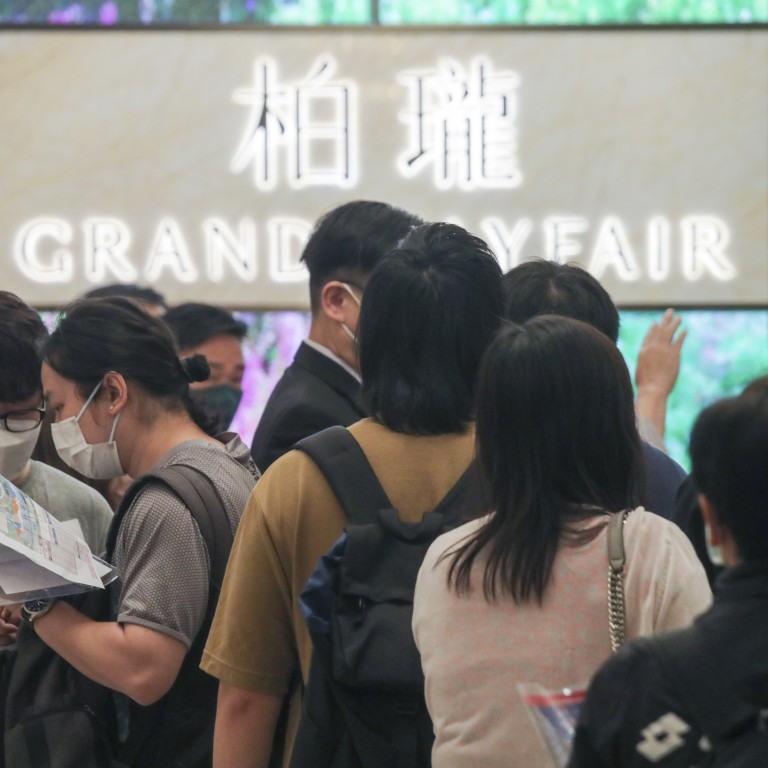 Most flats sell at Grand Mayfair project near Yuen Long, in sign Hongkongers prefer new homes over secondary market
Out of the 428 flats on offer at Grand Mayfair, 390 had been sold by the evening
Overall market sentiment was positive, says executive at Sino Land, one of the developers behind project
About 91 per cent of flats in a new development were snapped up by Hong Kong homebuyers on Friday, in a sign that the primary market was their preferred choice.
Out of the 428 flats on offer at Grand Mayfair near Yuen Long, which has been developed by
Sino Land
, K Wah International and China Overseas Land and Investment, 390 had been sold by 5.30pm, according to agents. Sales as of 4pm stood at about HK$3.5 billion (US$445.9 million), the developers' spokeswoman said.
Buyers were "optimistic about the
Northern Metropolis
development and its huge opportunities, seeking the concept of having innovation in northern Hong Kong and finance on the southern side", Victor Tin, group associate director of sales at Sino Land, said in a statement.
"The response was overwhelming," he said, adding that the project might have extra units to offer later. "The Hong Kong stock market
performed well today
as well, up nearly 600 points, and the overall market sentiment was positive."
The response to Grand Mayfair came despite rising interest and unemployment rates, and buyers were tempted by its transport links and growth potential.
Moreover, Friday's sale was for the first round of the project's phase two. Overall, the developers have earned more than HK$10.1 billion from close to 1,100 flats in three weeks, which made it the most popular project this year, according to the spokeswoman.
The project's phase one was the fastest-selling new property development over the past four years, after first phase of Kwun Tong's Grand Central in December 2018, where 871 units were sold within six days for more than HK$10.6 billion. During two rounds of sales for Grand Mayfair's phase one in early May, 710 flats – or 99 per cent of the offering – worth HK$6.6 billion were sold in six days.
"The primary market has a wide offering with restrained pricing that considers the impact of the pandemic," said Louis Chan, Asia-Pacific ­vice-chairman and CEO of the residential division at Centaline Property Agency. Buyers have benefited the most, "diverting buying power to the primary market", he added.
"This month, sentiment in the second-hand market declined … mainly due to the impact of interest rate hikes in the United States, stock market fluctuations and an increase in owners' asking prices," Chan said.
Centaline said that one buyer had bought two flats for HK$14.47 million. The agency expected the overall number of new homes sold in May to climb to a five-month high of about 1,400.
On Friday, prices started at HK$6.25 million for a 352 sq ft flat. The average price worked out at HK$18,326 per square foot, after a discount of 16 per cent. That was about 2.4 per cent lower than the HK$18,777 per square foot seen in the previous round, and 8.7 per cent lower than the prevailing secondary market price of HK$20,062 per square foot at Ocean Pride in Tsuen Wan West, according Centaline data.
Friday's sale drew 4,050 registrations of intent, which meant about nine buyers were competing for each unit. A middle-aged investor surnamed Chu, who bought a two-bedroom flat for about HK$10 million for investment, dismissed headwinds such as the US interest rate rises.
Meanwhile, HSBC said it would offer a cash reward of up to HK$6,888 for customers taking out green mortgages for the second phase of Grand Mayfair. Green mortgages involve banks or mortgage lenders offering preferential terms to a homebuyers if they can demonstrate that the property for which they are borrowing meets certain environmental standards.