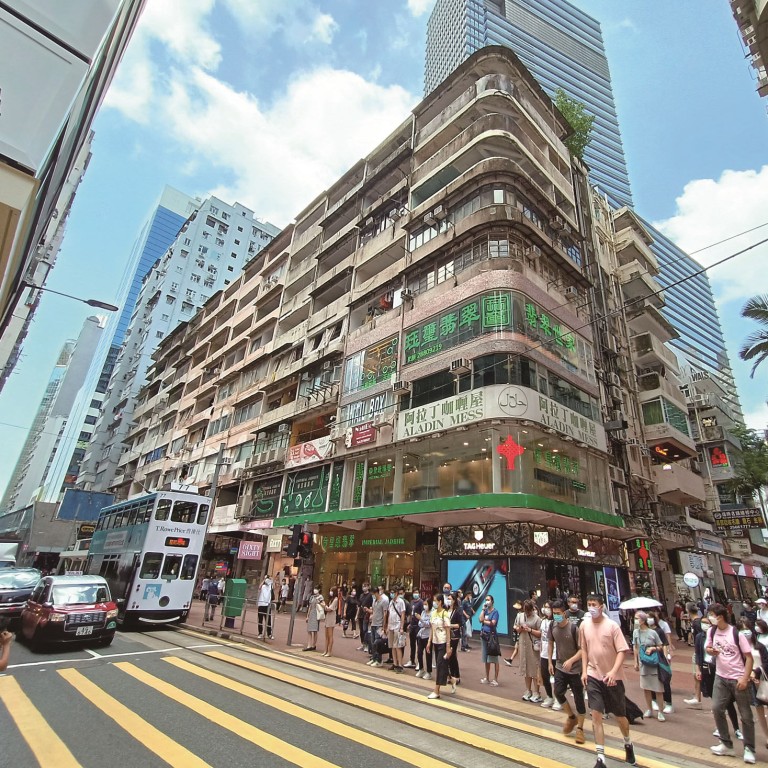 Hong Kong's New World Development to acquire remainder of three Causeway Bay buildings, set stage for more compulsory auctions of old structures
The number of compulsory sales applications will rise by as much as 20 per cent in the second half, Knight Frank executive says
The three buildings could be worth as much as US$573 million, the largest amount involved in a single compulsory auction at the application stage in history
Hong Kong's land-hungry developers are acquiring old buildings for redevelopment in the city centre amid
limited supply
and resilient property prices.
New World Development (NWD), for instance, plans to acquire the remaining 10 to 20 per cent that it does not own
of three buildings in Causeway Bay
through compulsory auction, according to Lands Tribunal documents.
"The number of compulsory sales applications will rise by as much as 20 per cent in the second half, due to the alleviation of the pandemic and gradual economic recovery," said Martin Wong, director and head of research and consultancy for Greater China at Knight Frank. "Developers will be more optimistic about market prospects and will be more likely to submit [such] applications."
Hong Kong allows the majority owners of buildings that are more than 50 years old and satisfy certain requirements under the Land (Compulsory Sale for Redevelopment) Ordinance to apply to the Lands Tribunal for a compulsory sale order,
to facilitate urban renewal
. As per the ordinance, developers can force a compulsory auction to buy the remaining stake in a building if they already own 80 per cent of it.
The total number of applications to acquire old buildings for redevelopment could come to between 16 and 20 instances this year, Knight Frank said. As of Tuesday, eight such applications had been made this year, their highest tally since the first half of 2020.
Companies including Kerryford Holdings and Time Pilot, whose directors include NWD executives, already own between 80.09 and 90.32 per cent of 54-76 Percival Street, 5-27 Lee Garden Road and 60 Russell Street in Causeway Bay.
The valuation of 100 per cent of all
three buildings
could be as high as HK$4.5 billion (US$573 million), which is the largest amount involved in a single compulsory auction case at the application stage in history.
The latest valuation for a ground level shop at 76 Percival Street was HK$184.26 million, more than half below the HK$380 million Emperor International paid for it in 2011.
The site area for all three buildings is about 19,831 sq ft. If a commercial development is built here, the gross floor area can reach about 297,465 sq ft with a plot ratio of 15 times. That would translate to about HK$15,145 per square foot.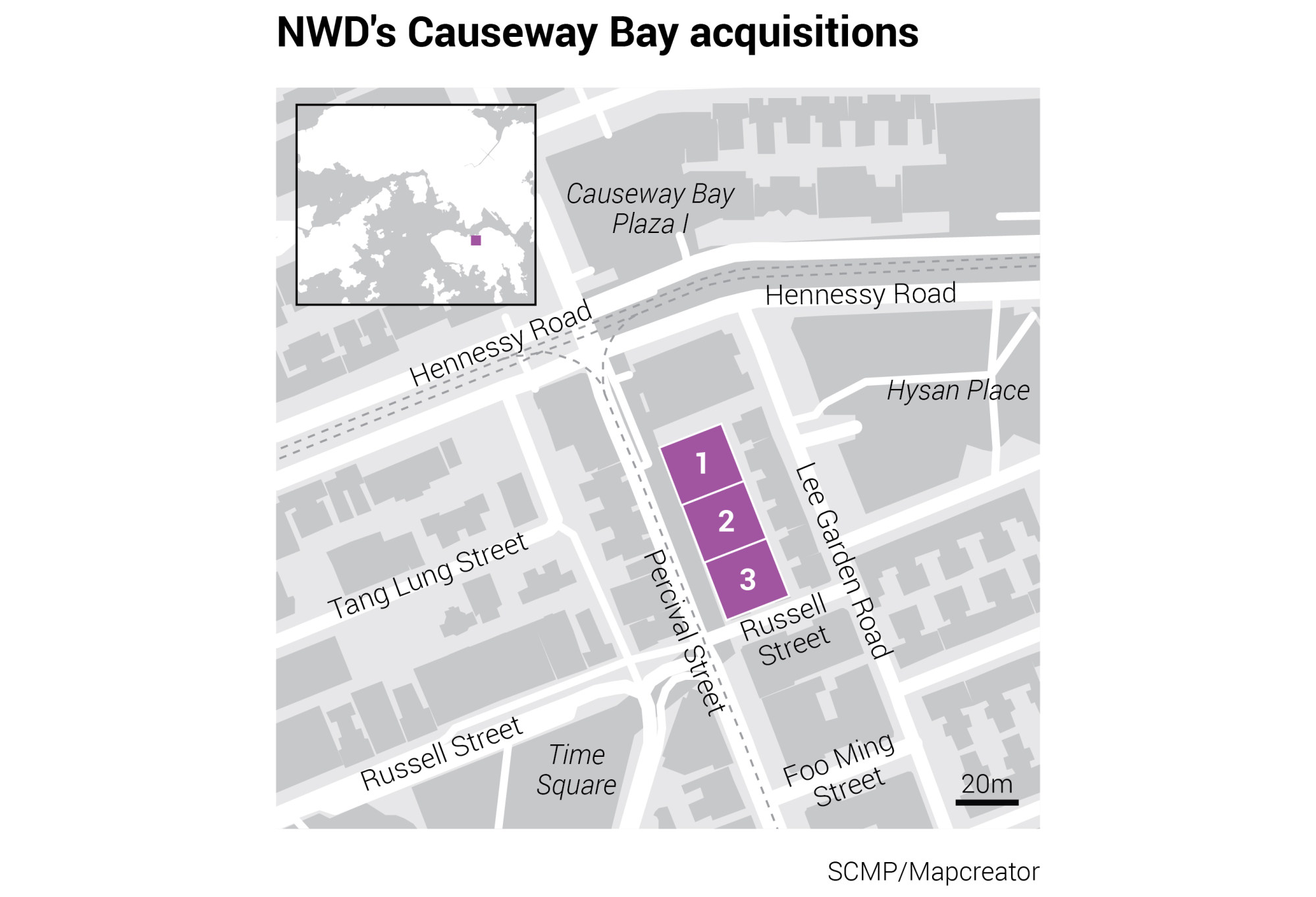 In May last year, Hysan Development won a commercial site in Causeway Bay in a joint venture with Chinachem Group for HK$19.78 billion, for about HK$18,400 per square foot.
It was reasonable for the price of old buildings to be lower than government land prices, to account for the extra time needed for and cost of demolition, said Vincent Cheung, managing director of Vincorn Consulting and Appraisal.
Elsewhere, JLL was marketing a tender for three commercial and residential properties with the potential for redevelopment in Central, Sai Ying Pun and Ma Tau Kok. The properties could be worth a total of HK$550 million, according to market estimates.
The rise in acquisition of old, cheaper buildings for redevelopment might coincide with a decline in developers' margins. In a report on May 10, Morgan Stanley said that it expected "Hong Kong development margins to go down meaningfully, as home prices have been flattish for the last four years".
Sun Hung Kai Properties, thanks to its exposure to the city's New Territories and farmland, and CK Asset could see more resilient margins, while Sino Land and NWD could see sharper declines, the report said.
The number of commercial real estate investment deals worth more than HK$100 million each was expected to reach 50 in the first half of this year, Cushman and Wakefield said on Tuesday.