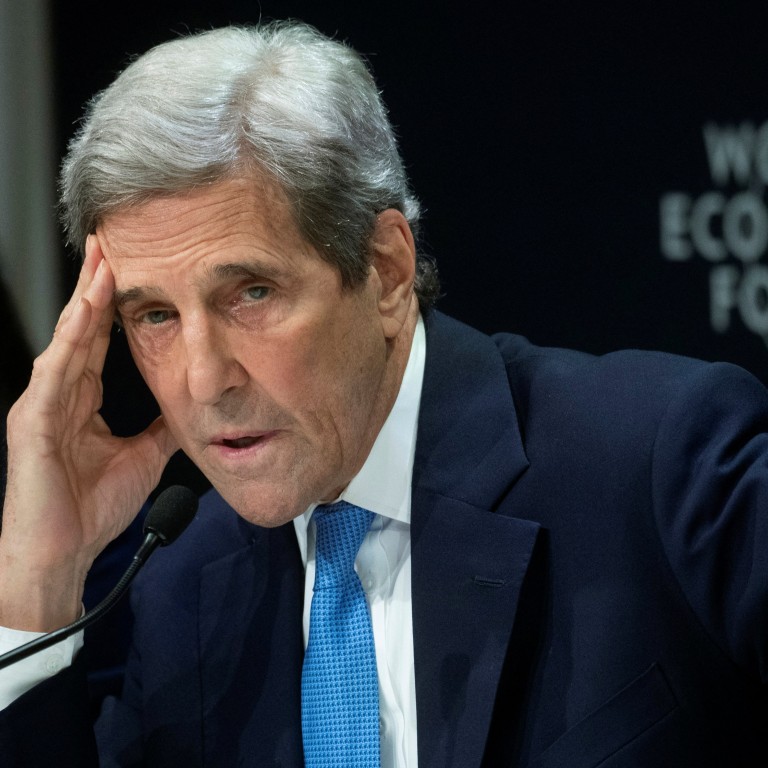 US and China close to teaming up on tackling climate change, but progress will hinge on trust and resolving technical issues, Peking University academic says
The countries 'will need to overcome practical issues, given the US has engaged in a technology war with China', researcher says
We are going to work on the 'practicalities of how we move faster', John Kerry says at WEF in Davos
The United States, which is on the verge of forming a working group with China to tackle
climate change
, could offer its
know-how
on improving energy efficiency and capturing methane leakage during oil and gas production, but some technical issues needed to be resolved, according to a Chinese energy academic.
China's manufacturing and buildings sectors, both with huge carbon footprints, can benefit from large-scale deployment of world-leading energy efficiency enhancement technology from the US, said Yang Fuqiang, a researcher with Peking University's Institute of Energy. The US's know-how on capturing methane leakage would also benefit China.
"However, since such technology is typically deployed over digitalised platforms enabled by 5G communications technology, such a technology transfer will need to overcome practical issues, given the US has engaged in a technology war with China," he said.
The two countries are battling for leadership in core technologies such as 5G, artificial intelligence and semiconductors.
US climate envoy John Kerry said the US and China were making progress on putting together a group to work towards quickly reducing greenhouse gas emissions, the Associated Press reported on Tuesday. The two countries, the world's largest emitters of greenhouse gases, were close to agreeing on the structure of the group, and how decisions would be made.
"We are going to work on the practicalities of how we move faster [to reduce emissions]," Kerry was quoted as saying in an interview during the World Economic Forum meeting in Davos. "Maybe we can help with technology of some kind, to help China move faster. Maybe China could help us better understand some things we could do better."
Although the US government considers China its biggest strategic rival and has placed restrictions on technological supplies to China, at the same time it has common interests, such as
climate change
and environmental protection. This is because climate change is a difficult global issue – the impact of greenhouse gases is
felt globally rather than locally
.
The US and China last November issued a joint declaration on enhancing climate action this decade. They have agreed to cooperate to strengthen the measurement of and to foster joint research into methane emissions reduction challenges and solutions.
Methane is the second-most abundant human caused greenhouse gas after carbon dioxide. Over a 20-year period, methane can warm the atmosphere 80 times more powerfully than carbon dioxide.
The two countries have committed to convening a meeting in the first half of this year to focus on the specifics of such an effort, especially on reducing methane emissions from fossil fuel production, waste treatment and agriculture.
The establishment and functioning of a US-China working group on climate change will be a test of their commitment to addressing this global issue despite their political tensions, said Li Shuo, a global policy adviser for Greenpeace East Asia.
"The working group won't miraculously solve all our climate challenges, but if no progress is made then it tells us of the absence of the essential ingredients for solving the climate crisis – mutual trust and willingness between the two largest emitters in the world," he said.
A key benchmark for the success of the working group would be new measures to rein in methane in both countries, including the launch of an ambitious national action plan on methane in China, said Byford Tsang, senior policy adviser at climate risk, finance and energy policy advocacy E3G.
"Delivering the global methane pledge to reduce methane emissions by 30 per cent by 2030 could prevent 0.2 degrees Celsius of global warming by 2050. However, this will be difficult without China, which has not signed up to the global pledge," Tsang said.
Most Chinese methane emissions come from coal mining, which has hit record levels over the past months, he added.