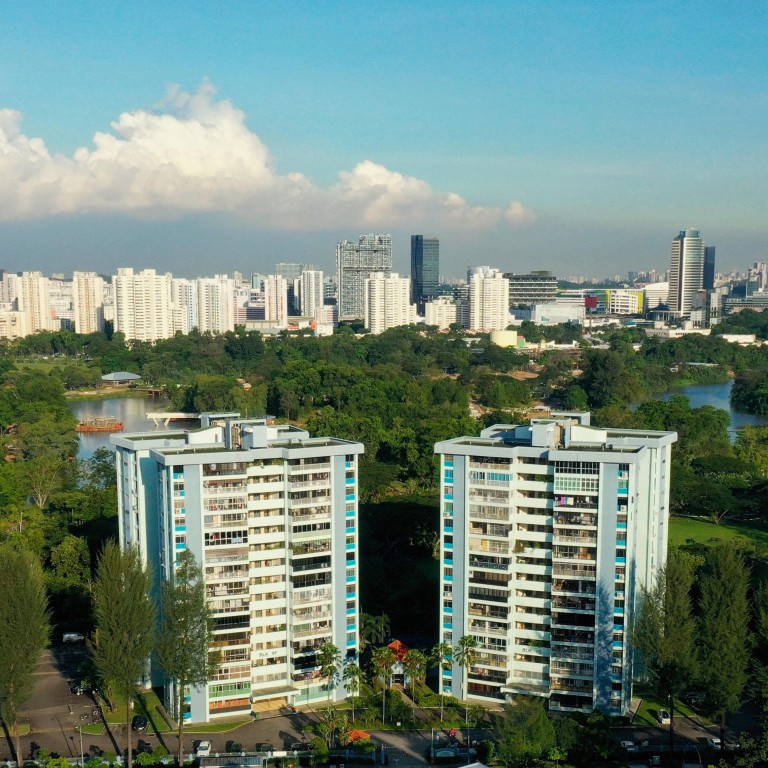 Wing Tai Holdings outguns rivals in en bloc Singapore residential tender with US$199 million bid
Lakeside Apartments, a 57-year-old residential building, sits on the edge of Jurong Lake Gardens
Wing Tai Holdings plans to redevelop the plot into an 'iconic' residential development of more than 300 units with unobstructed waterfront views
Singapore-listed property developer Wing Tai Holdings has won the tender for a residential property in one of the biggest collective sales in the Southeast Asian city state this year, paying 14 per cent more than the reserve price to outbid its rivals.
The firm agreed to pay S$273.9 million (US$199.2 million) for the 57-year-old Lakeside Apartments, which sits on the edge of Jurong Lake Gardens on the western side of the city.
Wing Tai Properties
, its Hong Kong-listed affiliate, bought a residential site in Kwu Tung for HK$2.61 billion (US$332.4 million) via a Hong Kong government tender in June last year.
A collective sale, also known as en bloc, is a sale of two or more property units to a single common purchaser. In Singapore, it requires residents of an older development agree to sell their homes in the entire block or project at the same time for redevelopment.
Wing Tai said it plans to redevelop the Singapore plot into an "iconic" residential development of more than 300 units with unobstructed waterfront views of Jurong Lake and its surroundings.
"Given the limited supply of new residential developments in the area, we are confident that demand for this new project will be strong," said Tan Hwee Bin, executive director of Wing Tai Holdings.
The winning bid for the site, which could yield a total gross floor area of about 281,773 sq ft, was about 14 per cent higher than the reserve price of S$240 million, according property agents. The price works out to S$972 per square foot.
Private homes sales in Singapore plunged 48.6 per cent to 653 units in April, from 1,270 units a year ago. But on a month-on-month basis, they matched the March sales of 654 units, data from the Urban Redevelopment Authority showed.
In the coming months, sales are expected to climb as major projects, such as the 407-unit Piccadilly Grand and 298-unit LIV@MB, are launched, according to Colliers.
"The residential sector seems to have stabilised post-cooling measures and is set for a stable recovery on the back of Singapore's reopening and firm demand-supply fundamentals," said Catherine He, head of research at Colliers' Singapore office.
Last December, the government increased the additional buyer's stamp duty imposed on foreigners from 20 per cent to 30 per cent. Entities, meanwhile, have to pay 35 per cent, up from 25 per cent.
Colliers noted that despite the heavier stamp duty the number of new sales to foreigners more than doubled from 26 units in March to 60 in April after borders were reopened.
"This is testament to the attractiveness of Singapore's residential market to foreigners," she said.