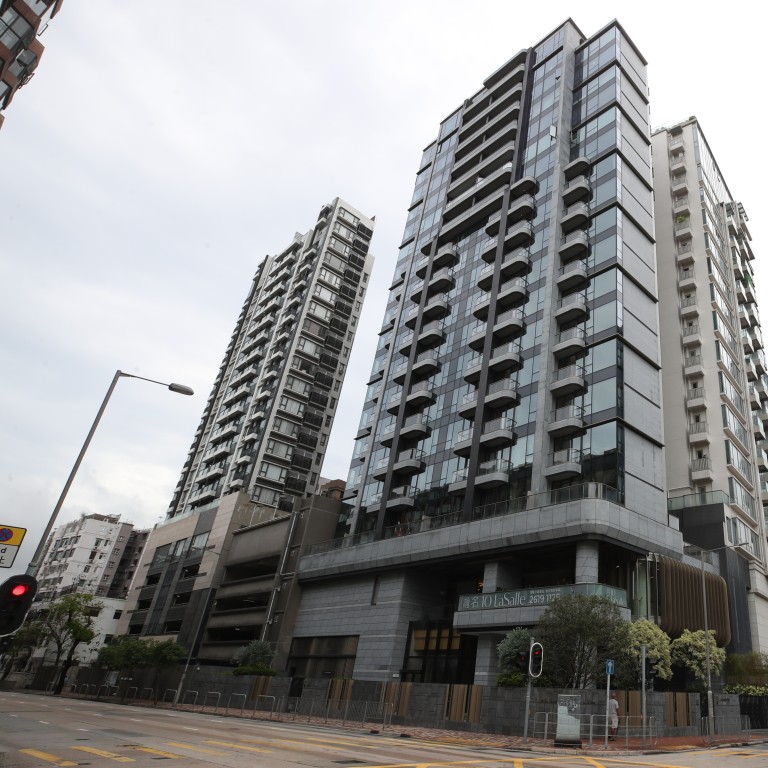 Departing Hong Kong property investors haunted by same dilemma of 1997, where will the best real estate returns be found?
Hong Kong is now facing its biggest exodus since 1997 amid concerns over the National Security Law and strict social-distancing measures
Mature residential property markets such as London and Vancouver may offer better prospects in years ahead, some analysts say
Ahead of Hong Kong's handover to China in 1997, it is estimated that between half a million and a million people left the city while others bought property in locations favoured by Hong Kong migrants, such as Canada and the UK, in anticipation of a widespread slump in home prices.
However, in the quarter century since the handover, investment in Hong Kong property – already expensive relative to other developed markets – has been one of the safest bets in the world and thousands of new mass market and luxury flats have sprung up from the New Territories to Repulse Bay.
Those who left Hong Kong and invested in certain suburbs of cities such as London, Vancouver and Sydney have not missed out on the global property boom though, with fivefold increases in average home prices in some areas.
Hong Kong is now facing its biggest exodus since 1997 amid concerns over the introduction of the national security law and strict social-distancing measures to cope with outbreaks of Covid-19. Over 120,000 people have left since 2020 and the city's resilient property market is starting to show the strain, amid interest rate hikes in the US and slowing economic growth at home. Hong Kong's currency is pegged to the US dollar.
Many of those now leaving are asking the same question property investors asked 25 years ago – over the next quarter century where will the best real estate returns be found – overseas or in Hong Kong?
Some analysts say cities such as London, Birmingham, Sydney or Perth have the potential to outperform the Hong Kong market, at least in the short term, due to limited fresh domestic supply, higher demand from local buyers and foreign investors – including those from Hong Kong – and strong employment levels. Western countries may also appeal to those investors who want to park their wealth in a free-market economy.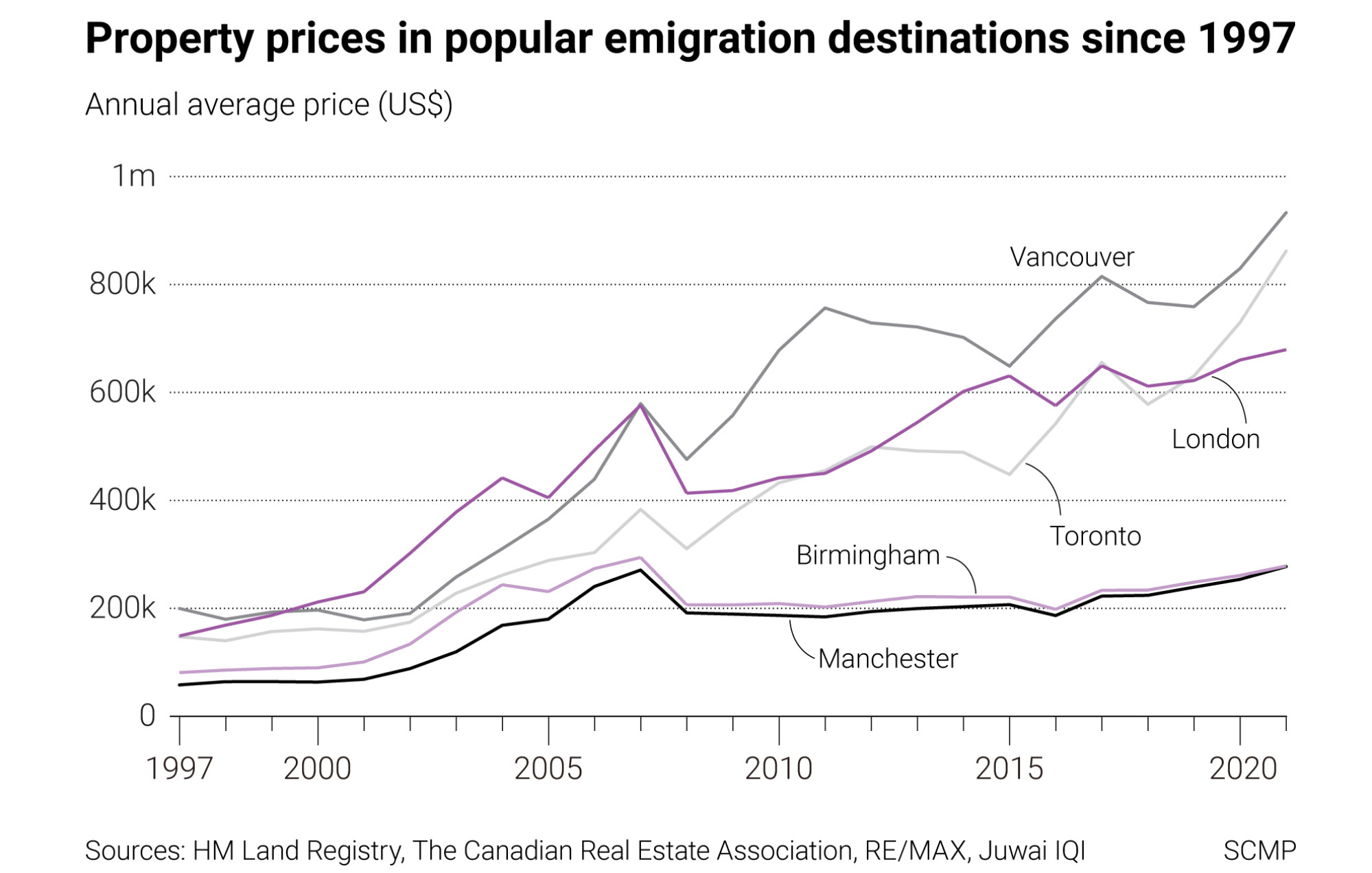 Although Beijing promised that Hong Kong would retain its capitalist economic system and own currency, legal and legislative system as a special administrative region of China for at least 50 years following the handover – as 2047 approaches, some analysts see the city moving closer to the mainland governance model.
Nevertheless, Xia Baolong, director of the State Council's Hong Kong and Macau Affairs Office, in March vowed that the 'one country, two systems' model would persist beyond 2047.
"Twenty-five years is a long time to predict house price growth. In the last 25 years there have been several economic shocks, including the Asian financial crisis, the dotcom boom-and-bust, the global financial crisis and the Covid-19 pandemic to name a few," said Eli McGeever, director of research and technology innovation at property research company One Global Labs. "It's hard to predict five or 10 years into the future when these events will happen, but markets have bounced back from them and property in most parts of the world is currently touching record highs."
The overseas data for the past 25 years is impressive.
Average home prices in London stood at £92,129 in July 1997 and sit at £523,666 (US$651,000) in March this year , representing growth of almost 470 per cent, according to UK government data. In Manchester, average home prices rose fivefold to £216,663 during the same period. Birmingham saw average prices grow by nearly 350 per cent to £221,077 from July 1997 to March 2022.
In Greater Toronto, official data shows that average home prices surged 511 per cent to C$1.3 million (US$1.01 million) during the same period, while prices in Greater Vancouver rose about 370 per cent, according to industry group the Canadian Real Estate Board.
In Sydney, median house prices surged just over fourfold from 1997 to the end of 2021, according to property consultant Juwai IQI.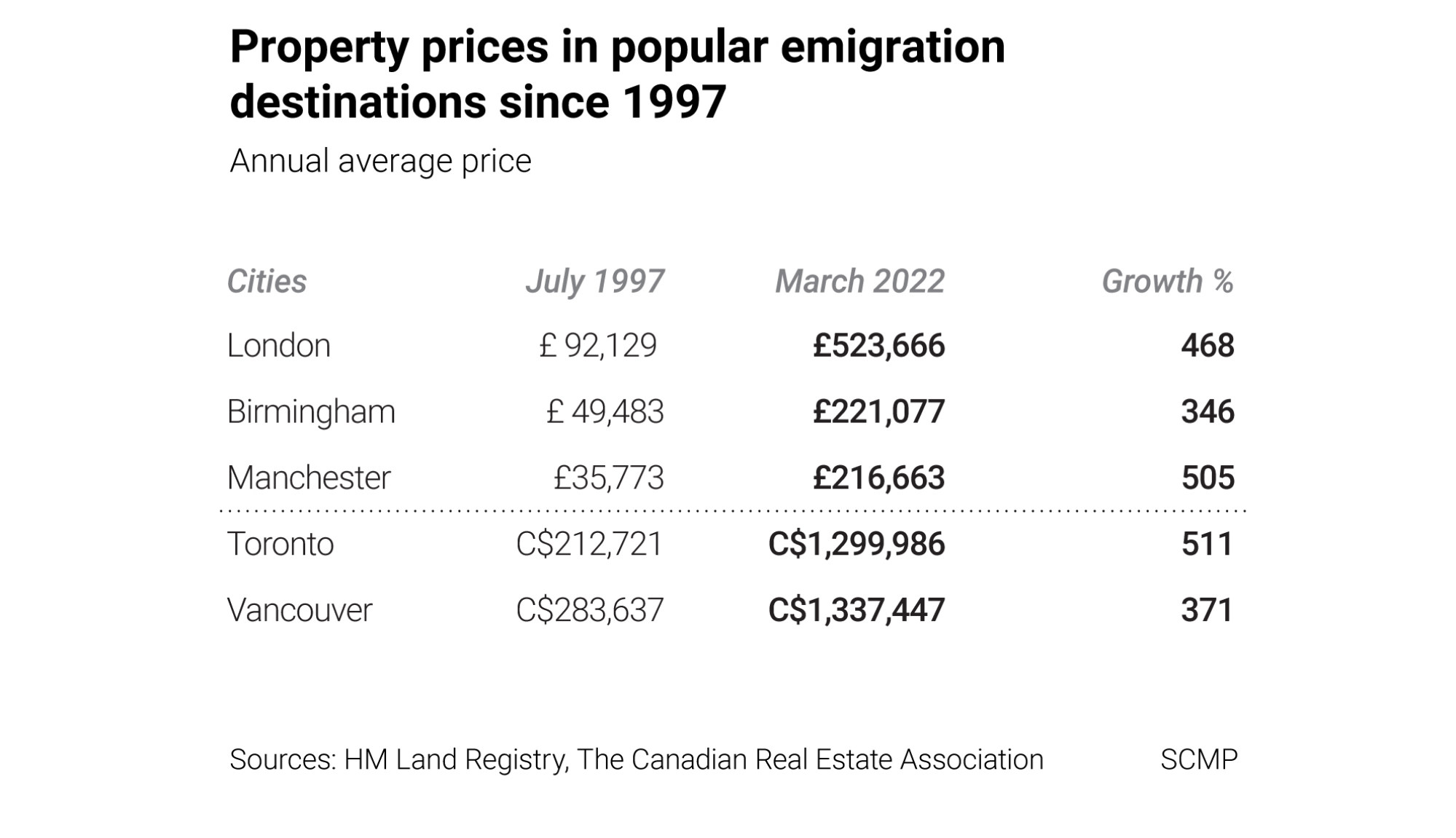 In Hong Kong, although average home prices have only increased 140 per cent since 1997, the headline figure conceals some interesting facts. Average prices were already very high relative to other places, and the city was on the receiving end of a double-whammy from the Asian financial crisis in 1998 and the outbreak of Sars (severe acute respiratory syndrome) in 2003. Since a post-handover low in 2003, average home prices increased 582 per cent, according to government statistics.
"In all these markets, a combination of insufficient new supply and inexpensive financing have driven prices to previously unheard of levels," said Juwai IQI co-founder and group chief executive Kashif Ansari. "Higher interest rates may remove one of those supports, but population growth and insufficient supply will continue to put a floor under house prices."
In Toronto, for example, immigration and limited land and housing supply are likely to push home prices higher in the coming years, according to Christan Bosley, president of Bosley Real Estate.
"I expect Toronto real estate to remain quite balanced with a slight lean towards a bullish mentality. Toronto has a large immigration factor and of course, slow building starts with continued low inventory," she said. "In addition, Toronto is a large financial and technology hub for the whole country."
Although global house prices are currently under some pressure from resurgent inflation, higher interest rates and supply chain disruptions due to the pandemic, moderate to strong price growth is still expected over the next five to 10 years in cities such as London, Sydney and Vancouver, says McGeever from One Global Labs.
The current situation in Hong Kong is mixed. Some owners are rushing to sell as they migrate to cities overseas, while some potential buyers are sitting on their hands in anticipation of higher interest rates in the city. Strong residual demand may also falter amid a stock market slump and rising unemployment.
Home prices in Hong Kong eased 3.2 per cent in the first three months of the year, wiping out the total 3.19 per cent gain in 2021. Some analysts expect home prices to tumble by 20 per cent over the next two years, noting that the Federal Reserve's aggressive policy tightening timetable could bring an end to an era of cheap money that fuelled
Hong Kong property
prices over the last two decades.
"For a long time Hong Kong has been one of China's and Asia's most significant business hubs. It has a natural allure for mainland China wealth which has made it a truly lucrative and dynamic residential property market," said Tasos Stavrou, director at Leading Real Estate Companies of the World. "However, residential prices in Hong Kong have been trending down over the past few quarters and … assessing current global economic conditions which influence international business hubs like Hong Kong, a quick recovery is not in sight."
Stavrou added that well-established, mature residential property markets such as London, Birmingham, Toronto, Vancouver and Sydney, might continue to enjoy an increased inflow of investments from Hong Kong investors and immigrants.
"These cities remain high-performing when it comes to property and social benefits, access and loan schemes from financial institutions and a more open economy compared to Hong Kong as we edge closer to 2047," said Stavrou.
Others do not see 2047 as such an obstacle though.
"We believe that, as far as real estate goes, 2047 will be a non-event," said Juwai's Ansari. "Hong Kong is already becoming more deeply tied to the mainland, and economically can only benefit from this process in the long run."